In a city stuffed full of Sunday brunch options, C's Steak and Seafood at the Grand Hyatt Jakarta appeals to both gastronomes and thinkers. With a stunning array of responsibly-sourced crustacean and carnivorous treats, it is a unique experience to be savoured.
Jakartans love to brunch. Across the city, hotels and restaurants are transformed every Sunday into bustling hubs where families and friends meet up, spend time together, and most importantly, gorge themselves on stupendous cornucopias of grub. C's Steak and Seafood is a keen contender in the game.
Occupying a sophisticated space in the interestingly-designed Grand Hyatt, C's Sunday brunch unfolds over several long counters of gourmet goodies, with a live-cooking grill in the middle of it all: the star attraction.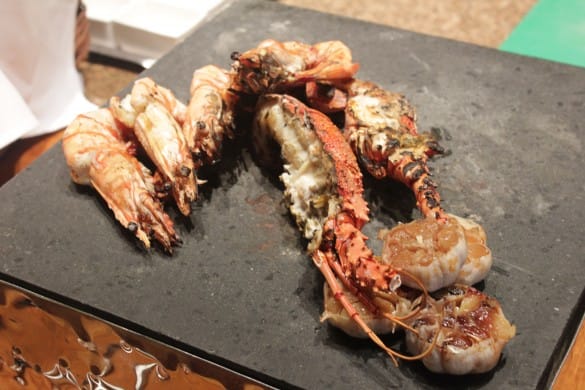 Start your repast off with a pass at the lovely starters and salads. There is a fine selection of top-notch fruits-de-mer, easily the freshest and best-tasting seafood I've had in the city. The crab claws were big and bountiful. The jumbo prawns were juicy and sweet – not at all the fluffy-meated versions I've had elsewhere. And the lobster was simply stunning: meticulously cooked and served simply, to allow the flavour of the sea to come through on its own. Rounding out the start offerings is a cute selection of rather modern salads: a zingy citrus and beetroot was refreshing, and a classic tomato and cheese went down well too. Take some fresh, crusty bread with homemade roasted eggplant dip on the side to mop up the juices with.
By now you have almost certainly started to smell the tantalising fumes drifting over from the grills. Just in time, as you begin to salivate for your main course. I recommend starting with a piece of fresh grilled salmon. Something happens to salmon when it is treated lovingly on a chargrill: the skin and the flesh caramelise and in turn intensify the distinct flavour of the fish. C's team of happy chefs have got this perfectly right. Have this along with a beautiful, plump prawn or two and a simple squeeze of lemon – close your eyes and the flavours transport you to Jimbaran's beach barbecues.
Now for the serious business of meat – after all, what's surf without the turf? At C's you can choose from some of the best cuts of lamb and beef around. US or Australian striploin and ribeye are two of the delicious types of beef on offer. Choose your piece, or have the chef slice it for you, and then if you wish, grill to your liking. The attentive staff will bring it to you when it is ready, or you can wait, watch and anticipate the smoky goodness. I also recommend a slice from the lovely rack of lamb. The meats are all extremely well-flavoured, benefiting from the proper hanging processes and, naturally, the expert treatment at the hands of this kitchen.
To go with the main attractions, there is a vast selection of classic, essential sauces from mustards to gravies and beyond. Have this with some of the decadent potato or pasta dishes served on the side. Or, take a detour around Asia with C's delicious dim sum, or the carefully prepared Indonesian curries, stir-fries, and noodle and rice dishes.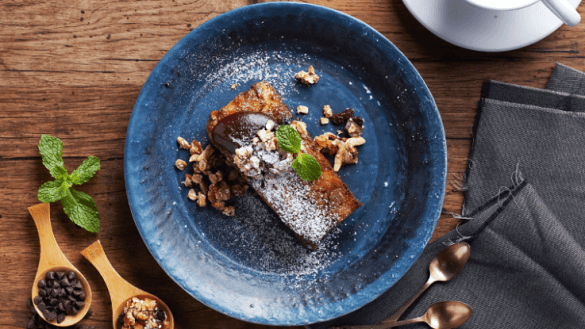 It's difficult with such enticing savouries to enjoy, but you must leave room for the incredible desserts. The shining star is the chocolate, which you can taste raw in different strengths or rendered into luxurious tarts, pies and cakes. The one I tasted was suitably bitter and satisfyingly rich. Homemade ice creams are a strong suit, and various other inventive dessert designs change frequently according to what inspires the talented pastry chef.
At the helm of it all is Chef Rolf Knecht. Chef Rolf has a mission. It has nothing to do with marketing or bums in seats. He's essentially a good guy who has worked out a couple of key things. First: Indonesia is blessed with wonderful produce. Second: it's up to people like him to champion the use of it.
As such, the most astounding thing about the C's brunch, apart from the exceptional taste and quality, is that the vast majority of the ingredients here are locally sourced. The freshness of the seafood makes sense when you think about the proximity of the bountiful waters off Lombok and Sumatra. So too do the sweet beets and tomatoes on the starter salads sing of the undulating Javanese hillsides.
But it doesn't stop there; there is a rather large cherry on top. A year or so ago Chef Rolf decided his job wasn't hard enough already. So he went sustainable too. This means frequent visits to producers to help teach them how to make sustainable products. He even invites his farmers to brunch, to witness what they often see as their humble product elevated and enjoyed by the city folk.
In terms of value, C's is certainly worth every penny of the Rp.700,000++ it costs you for all-you-can-eat plus Bloody Marys, Mojitos and softies.
When you consider the luxe setting and the high quality of service too, this is good value in anyone's book. I recommend you take the
Champagne package though, because you won't find many other brunches in this city serving up the good stuff – namely Bollinger, when I visited – over the more ordinary Moët or Veuve.
All in all, C's represents an exciting new angle on brunching in Jakarta. Here, you can yourself, tantalise your taste buds, at the same time satisfy your conscience that the sourcing of the ingredients is just as carefully thought through as the cooking of them.
C's Steak and Seafood

Jl. M. H. Thamrin Kav. 28-30, Jakarta 10350, Indonesia,
Tel: +62 21 2992 1234