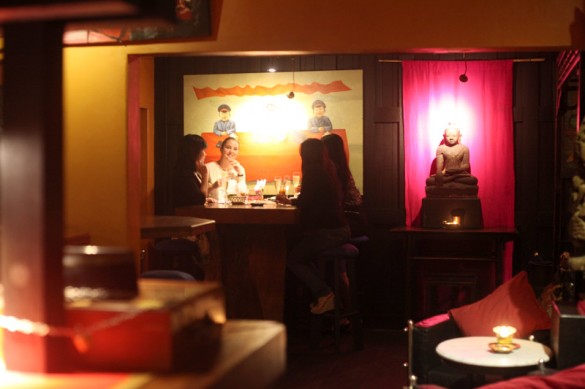 Wednesday night at around 7pm usually means business for Face Bar. This cosy joint at the end of Jalan Kusuma Atmaja, Menteng, just before it meets the HI roundabout, is the go-to watering hole for nearby office workers. For a place that's typically frequented by high-pressure professionals and journalists, NGO associates and diplomats (as embassies are found by the dozens around the area), it has a laid-back and homey atmosphere. I thought to myself, "Now this is the place to unwind."
Face Bar is part of the Face establishments; the chain has branches in Shanghai, Beijing and Bangkok. The Jakarta division, aptly named Face Jakarta, is the oldest of all four, conceived in the year 1992. All four venues have an oriental dining and bar concept. Face Jakarta is equipped with two restaurants and a bar; Lan Na Thai serves fine Thai cuisine, Hazara boasts fine Indian cuisine and Face Bar is its enchanting oriental-themed bar.
Face Bar is a place with no name signboards – only an address number on the front of the venue and a board portraying the face of Buddha on it – yet somehow people keep coming in. It's a charming little public secret of a joint. Sure, it's a place for creatures of habit who automatically make their ways to the bar after a long day at the office, but new converts seem to be coming by the lot as well.
Face Bar has a name that precedes its reputation and you will be glad that someone told you about this bar.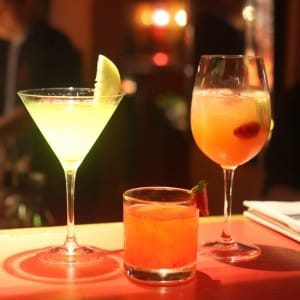 The outskirts of the venue is a big and busy street, but do not be fooled, there's intimate and exotic decor waiting inside. The philosophy that Face Bar wishes to convey is illustrated by creating an image of a Caravanserai; an inn along the busy Silk Route that, back then, was used for weary travellers from different corners of the earth to rest from the day's journey. As the trade routes of Jakarta come to a close after work hours, Face Bar becomes a place where people can rest and relax. The place was designed to include many Eastern influences, hence the Chinese bed dining area, the Indian-inspired mirrors adorning the corner walls and Thai interior designs among many other details. It's a genius melting pot of decorations and it's where people come together.
There were easily six full tables when I arrived and a bunch of people at the bar. Quite a busy night for a Wednesday, thanks to its happy hour, which is available daily from 5-8pm, and all night on Sundays. Incoming patrons greet friends and acquaintances as they enter the premises; there's an atmosphere of familiarity. While the men prefer beer or wine, it seems that the cocktails served at Face Bar are geared toward a more feminine persuasion, with elegant and alluring aesthetics. The green apple martini (Rp.80,000) was my favourite, among a couple of drinks ordered. There was a good balance between the sweetness and strength of alcohol. Mind you, the white wine Sangria (Rp.90,000) was also a refreshing classic; this fruity concoction was made with careful hands – not overpowered by the use of white wine, yet not just another fruity drink. Closing the night with a Gin Crush was a great decision; a smooth drink of muddled strawberry, lime and gin that I can see myself enjoying after a long day of work. Those who aren't big fans of gin could even grow to love it with this mix. I am convinced that drinks at Face Bar are very well-crafted classics; a testament to the phrase 'quality over quantity'. It's a proper bar with no excessive list of cocktail items, yet they are perfected and refined.
Straying away from the typical French fries and nuts as bar food, Face Bar went another direction with Thai and Indian appetizers to match their formula. The vegetarian spring rolls (Rp.45,000) were served with Thai dipping sauce and browned to a crisp, holding the integrity of crunchiness without the whole roll being soggy. It was a lovely, savoury complement to the drinks. Then came a taste from Face Jakarta's Indian kitchen; the Murgh Tikka (Rp.57,000), a tasty yoghurt-marinated chicken appetizer, and Paneer Pakora. The latter was an instant favourite, featuring fried cottage cheese with a piquant and lemony coating. It was a delightful mix of freshness and comfort, especially when adding a side of mint chutney into the equation; there's a bit of spiciness and an amusing zest to the chutney. It was a royal bar food spread.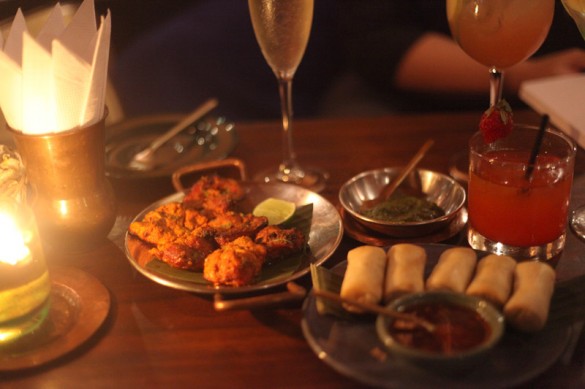 It's easy to appreciate the delectable authentic Pan-Asian flavours and quality drinks at Face Bar. But the real gem is the place itself; Face Bar is an intimate and calming rendezvous point. Mingling and conversations are nicely facilitated with background music that isn't too loud and dimmed lighting to set the mood. On some nights, there's even a jazz band to accompany guests' laid-back night out at Face Bar. On average, a typical night of drinks and food would set you back around Rp.390,000.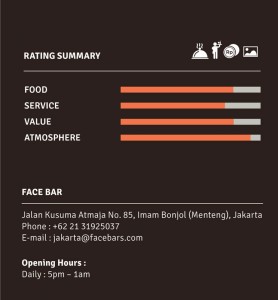 This particular area of Central Jakarta, although busy, is secluded enough that street noises do not bother your visit. Parking is available through a valet service; free of charge but kindly tip the attendant.
Some have said that this bar is an 'institution'; a place where a collection of driven people or societies with similar motives gather to achieve one simple task – relaxing. I find it to be quite a suitable term for Face Bar.
Address: Jalan Kusuma Atmaja No. 85, Imam Bonjol (Menteng), Jakarta
Phone: +62 21 31925037
E-mail: [email protected]
Hours : Daily – 5pm to 1am