It is official – I am a shoe addict! Four hundred pairs and counting! I don't care much for 'it' bags and I carry a leather tasselled bag, which was a display piece in a jewellery shop that became mine through my gentle persuasive powers and a little haranguing. The bag is now beat down and battered but always receives compliments! Who needs an 'it' bag?
But shoes, they are a different story. I've been known to live off rice and beans whilst employing Machiavellian tactics just to own a pair of shoes! And the usual line after mission accomplished is, "Oh these, had them for ages." There is something seductively gratifying when you slip on a pair of towering heels; the sexy swagger switch is ramped up and nothing can stand in the way of getting what you want!
Being in Jakarta (or the Jaks as I've come to know it), it has come to my attention that finding shoes can be difficult when you have rather large hooves like I do. I am not going to tell you my size but suffice to say 'ugly sisters' in Cinderella comes to mind when I desperately try to shove my feet into the largest size they have! I will simply have to order in my size.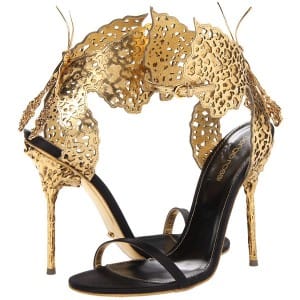 Wandering around the malls in the Jaks, I discovered the Sergio Rossi shoe boutique, shoe-be-do-manna filled with breathtakingly beautiful shoes. The boutique is boudoir chic personified and Sergio, may I please move in?
I remember, with great fondness, the first pair of Sergio Rossi shoes I bought in London. The beans and their accompanying flatulence programme were set in motion and like an expectant mother awaiting her new arrival, I would carry out my ritual of window shopping the shoes until they were mine.
When it was time, I glided into the boutique and while pretending to browse, I 'happened' to notice the shoes! Shallow, I know, but it made the purchase look spontaneous. Sometimes shop assistants can be rather snooty, so you wouldn't want them to know you had to do the 'programme' before you a purchase.
Fast forward a few years and both Sergio Rossi's Spring/Summer2014 and pre-Fall 2014 do not disappoint. I am in love; both collections are as alluringly lascivious, yet ravishing in a delightfully sublime way with a hint of frou-frou thrown in. A girl can never ever have enough shoes – if you are one of the few lucky ones to possess an American Express Centurion Card, then every pair can be yours! Visit SR in Senayan City and be dazzled. The opulence of the shop can only be compared to a modern day Hanging Gardens of Babylon, where shoes balance precariously on Perspex stands and look mystically serene as if suspended in the ether. Some of the shoes are in gilded gold cages, and did I mention the air, redolent of the most extravagant Oud? This is a shoeholic's account of getting a fix!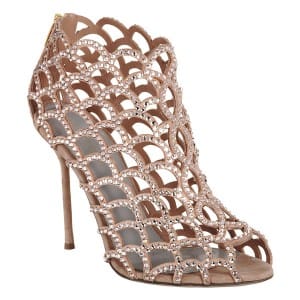 These shoes can only be described as Rubenesque; the cut is shapely and well proportioned. They are the sort of shoes that create a gangway when you sashay into a soiree, and will get you the coveted invite to the Ambassador's table. The male species in attendance will beg to be your chattel. You will experience a gamut of emotions by the way of glances from the female species present. From spleenful jealousy to admiration, the false smiles and the resistance to forcibly remove your shoe will make you secretly chuffed that you spent that cash money!
My wish list is as follows. A cage sandal, nude with crystal embellishments called MERMAID. It is sensually seductive and is the kind of shoe that you can throw on with a pair of ripped jeans (rolled up of course) with a white t-shirt and rock up to a party. LOVE is a high wedge black suede shoe with gold laminate calfskin. It will make your legs look endless and will give that 1940s sex siren appeal. Go and invest! JUNO is a strappy, barely there sandal that comes in a luscious green suede with embellishments; wear it with a Taj by Sabrina sexy kaftan and strut your stuff.
MEDEA is a suede patchwork, multicolour peep-toe ankle boot that screams "look at me!" and is downright libidinous. It has a matching clutch bag and where I would not normally purchase the matching bag, this simply has to be done. Hideous kinky comes to mind. Wear with the shortest black dress or nothing. Last but by no means least, the pièce de résistance of the collections is the recherché FILIGREE and if the Palace of Versailles were a shoe, this would be it.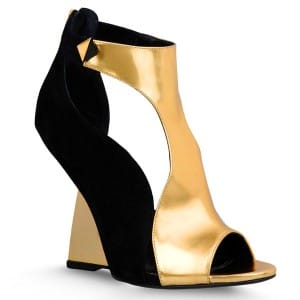 Imagine these on your perfectly manicured hooves. Their exquisitely charming gaudy persona makes them arrestingly alluring. The gold laminate butterfly effect of both the black satin sandal and the T-bar sandal is inconceivably beautiful and bewitching! If you are lucky to own a pair, only a glass box positioned on your impossibly large marble table on a sphinx in the middle of your three hundred square foot hall mansion for all to see is their only befitting home! So go on, float on the dance floor with MERMAID, kick ass with MEDEA, be a flirt with FILIGREE, be a goddess in JUNO and be virtuous in LOVE.
If your card is insisting on staying put in your wallet, then fear not. It will magically appear if you mention Kurt Geiger, an online store emporium (they have stores in London) and yes, I have checked, they deliver to Indonesia! Take a look at Glaze, Eva, Lalouche 4, Britton and Belgravia, and I dare you not to be tempted. Prices are pocket friendly and with a click of a mouse, ding dong and the shoes are at your door.
Here in Jakarta, Rococo stocks an amazing plethora of shoes from an eclectic range of designers. They can be found in malls like Pacific Place et al. Charles and Keith is also an affordable chain of shoe shops and of course you have your other usual suspects like Christian Louboutin, Roberto Cavalli, Valentino and Gucci.
I will never tire of buying shoes, the sensation of slipping them on is an incredibly hedonistic feeling and when I am a glamorous octogenarian you will find me hobbling in my heels humming, "I'm too sexy for my shoes."