Sprightful and vivacious – that's the spirit of Legian, Bali.
Sandy brown stretching along Legian Beach intertwines an energetic road bursting with sunkissed tourists painted in pure excitement passing by, carrying surfboards and one-litre bottles of water. Merely a step away on the southern tip is a cobbled pathway unfolding deep away from the bustle beholding a water fountain that slightly conceals the contemporary yet infused in Balinese ethos sprinkled here and there at the open-air entrance.
"Good afternoon. Welcome to The Stones Hotel, Legian Bali!" Enchanting ladies in traditional Balinese attire warmly smile as I walk towards the reception to check-in. It's a scorching day in Bali. I guess the staff understands that since a passionfruit popsicle is handed to welcome me. That's indeed refreshing.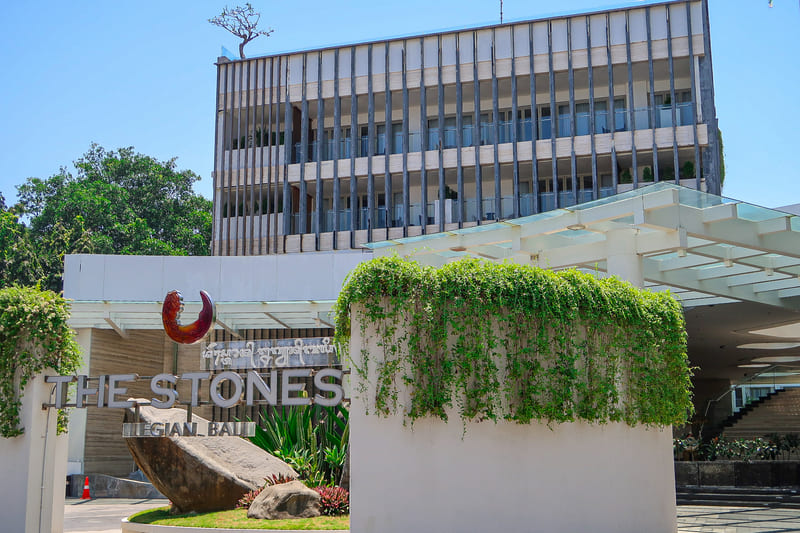 I arrive a tad early. "You can unwind at The Pool Bar if you'd like," says the front office staff. "Thank you, but I'd like to bask in the energy outside of the compound," I told him. The Stones is snuggled amongst many hotels, shops, restaurants, bars, and the mall known as Kuta Beachwalk; giving guests a chance to experience a laid-back island life to the maximum whenever they want to explore beyond this haven.
The Stones Hotel, Legian Bali's luxuriously appointed immaculate 307 guest rooms and 21 suites are sleekly designed for the stylish traveller. I'd like to consider myself a stylish traveller; someone who's seeking to play and unwind in a balanced aura implicitly desiring a fresh, inventive, and original experience.
As a one-of-a-kind premium lifestyle hotel in the Legian area, The Stones Hotel oozes a unique design. Its exemplary architectural design meets eclectic sophistication and manifests a haven of elegance and style with dazzling vertical gardens. This doesn't discriminate whether a guest is here for business or leisure purposes. It's a gateway to revel in peculiarly individual imprints exactly like nothing else considering the hotel's service experiences and marks of craft.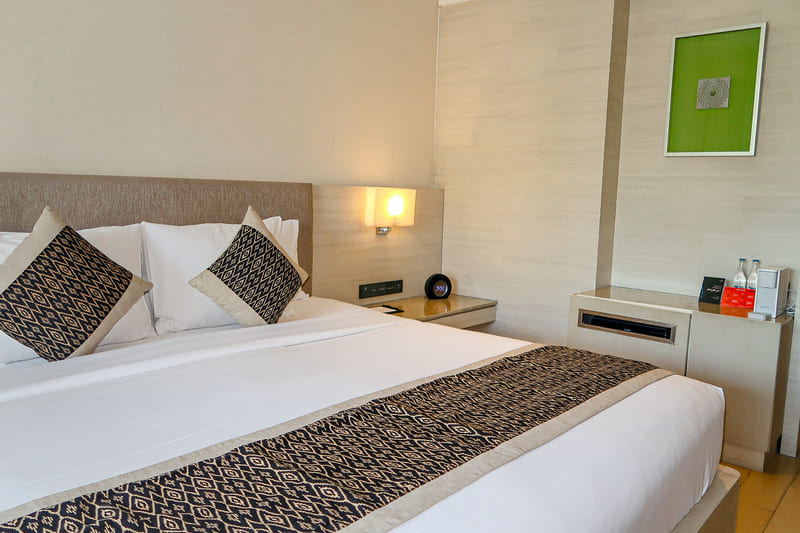 My Deluxe Pool View room on the second floor is conveniently reachable by the stairs near a full set of traditional Balinese Gamelan. Inside is modish; fresh whites and minimalistic. The curtains unseal natural sunlight from the balcony – my favourite spot for the next three days – facing a picturesque view of endless summer. I immediately sit on the outdoor sofa glancing at the sunseekers at the pool. A DJ spinning beach club-esque tunes and distant waves of water splashes serenade my late afternoon.
Now, I've seen outdoor bathtubs in other hotels beforehand but never facing a pool. So I wonder, why is that? The Stones Hotel is an Autograph Collection Hotel, therefore, it always has a unique twist in its story. That being said is the "Balcony Bathtub Experience", a blend of relaxation and adventure. Immerse yourself in pure opulence while soaking in a private bathtub perched on your own balcony, overlooking the beautiful 3,000 sqm pool and hotel's courtyard that is as unique as you are.
"Hello, ibu. Are you well adjusted to your room?" rings the phone. "Yes, I am, thank you very much."
Torn to nap or satisfy my famished stomach, I choose the latter and head downstairs to tantalise my taste buds at Stones Kitchen, a vibrant open-kitchen reminiscing of a classic European-style cafe serving international theatrical flavours. The lunch menu features everything local, Western, and Asian such as salad, mie goreng, satay, pizza, pasta, and desserts. The Stones Smash Burger catches my attention. Black Angus beef grilled to perfection, topped with tomato, pickle, roasted onion, and American cheese drizzled in a secret sauce is closed off with a toasted bun. The grease dripping through my fingers makes a splendid pair to my people-watching activity.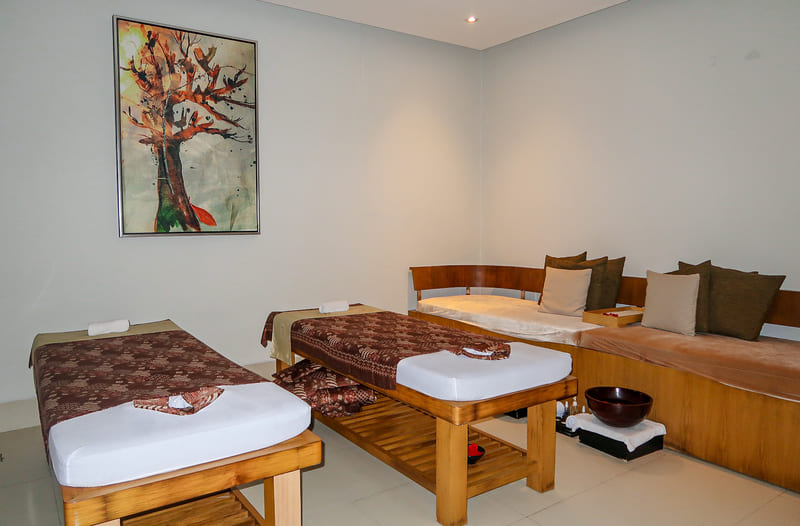 Time to stimulate my stay's "unwind" portion: pampering myself and letting the healing touch melt my physical and emotional stressors away with a 60-minute Balinese massage at Celestine Spa. Celestine Spa offers five-star amenities and pampering wellness services from Balinese massage, foot massage, and Swedish Massage to facials with Jade Stone. It's the embodiment of rejuvenation open every day from 11 AM to 10 PM.
A pre-treatment survey questions my preferred pressure points, which are shoulders and feet. Donning a silk batik kimono, I sit as I dip my feet for a foot scrub. Turns out my spa therapist is a fellow Jogja native – one thing's certain about Javanese women is they never fail to deliver an exceptional massage. Stoked and delighted laying head down, I am transferred to a surreal realm where my shoulders and feet are given the necessary tender loving care.
Back in my room feeling lifted, I return to my balcony. A magnificent fire dance performance starts! "This balcony has the perfect view," while I clap out of joy appreciating the show. Dinner time rolls but the strength residue I have left is merely enough to scoot over to the plush bedding, transforming bedtime into a sensory sanctuary.
Another light beams into my room. Legian's vibrant daytime mood calls me. A little bit of nature exploration is soothing at Legian Beach; be it a sand play, sunset watching, or simply chilling on the golden sandy beach.
Nonetheless, there's no boredom in sight at The Stones Hotel, including for the little ones. It's equipped with cosy beds and a plethora of in-room entertainment, namely a decorated kids tent, Harman Kardon speaker, free mini bar, and family-friendly TV shows to cater for the entire family feeling right at home. The Jasper Kids Club is a slice of heaven that provides a wide range of complimentary creative and enriching activities such as arts and crafts, sports to classic board games.
Saturdays are designated for the Balinese Activity "Base Genep Making" at the hotel's signature gamelan stage in the lobby. The Stones Hotel ensures some Balinese activities are also accessible for guests of all ages in light of cultural exposure. Within 15 minutes, essential seasoning spice paste for many Balinese dishes is demonstrated. The paste consists of a complete blend of locally grown spices such as ginger, turmeric, galangal, nutmeg, and more.
Lunch today follows a package. Choose a starter, main, and dessert from each four options. I opt for the Stones Chicken Caesar salad with parmesan dressing and crisp crouton; Beer Battered Fish of Barramundi fish, chips and tartare sauce; and Coconut Cheesecake with pickled strawberry, blueberry, white chocolate crumble, and raspberry puree. Each is generously served – highlighting creaminess, savouriness, and sweetness.
Surprisingly, my suitcase's handle is jammed. I previously wrote a note to the housekeeping in charge to assist but to no avail, I later consulted with the front desk who called an engineer. This isn't the first suitcase fiasco apparently, reveals the engineer. Unfortunately, my suitcase has to retire yet still functioning to its last drip.
Walking to the pool, two exotic birds from Bali Bird Park are encircled by guests. I join in the enthusiasm, reaching my arms to allow the birds to rest their tender feet and attempt to feed them.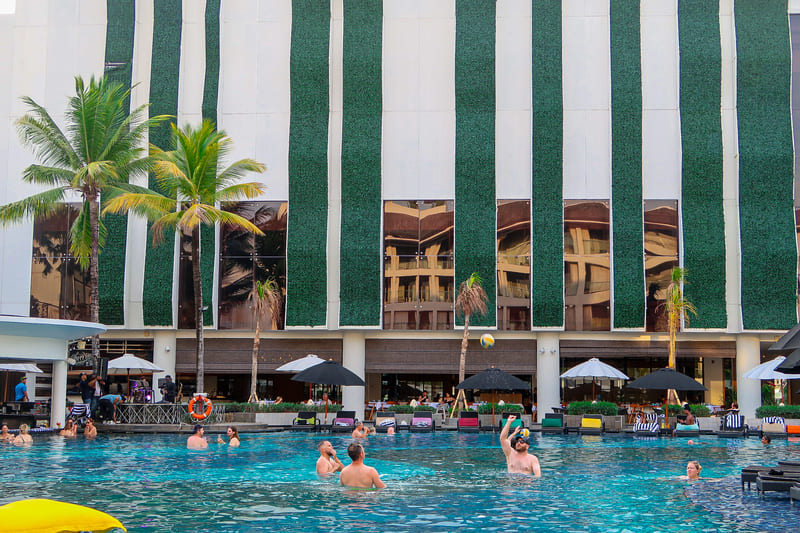 "I'll succumb to a bean bag," I told myself for the "adventurous" portion. I float my worries away in the 3,000 sqm lagoon-shaped swimming pool, one of the biggest pools in the Legian area. All ages are seen either floating yellow bean bags, tossing volleyballs from one direction to another, sipping happy hour cocktails by the pool bar or at the sun loungers, swimming from one corner to another – this is truly the personification of what a getaway in Bali has to offer. The pleasant glimpse of magic hour radiates from the hotel while I lay on the bean bag.
Back on my balcony, the DJ's lulling melody evaporates to a live band. I sought to have dinner this time at the casual poolside restaurant, Big Fish Grill, after my brief nap. This restaurant focuses on fresh locally sourced produce and sustainable seafood showcasing healthy salads, succulent steaks, and seafood amidst an evening lighting ambience that elevates the dining experience to a trendy level. This restaurant, alongside Stones Kitchen, offers twists to the typical international dishes best to cater for all types of travellers, mainly for the hotel's biggest markets: Australian, American, and Indonesian.
"What's a recommended seafood dish?" I asked a waiter. She suggests Red Snapper; cooked in a king prawn and clam stew, smoked pepper jam, and aioli. The seafood combination is light and succulent, whilst the stew has slightly sweet and sour tastes. Satiated, the balcony's serene chill air swifts my drowsy eyelids to a restful night.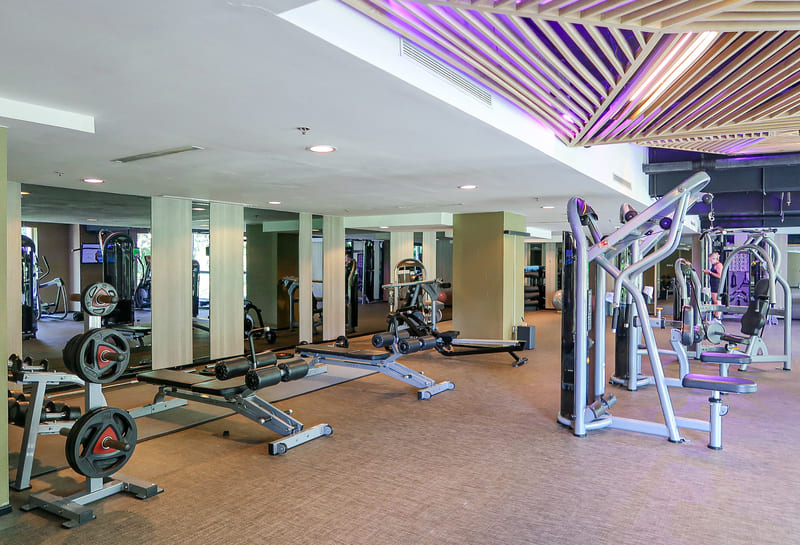 Two days of resting prompts me to keep up my fitness regime in the hotel's 24-hour Gaia Gym. This spacious room on the second floor is relatively complete supplied with various machines and a space targeting a full body workout and everything in between. Nourishment time! Stones Kitchen is the hotel's second signature restaurant serving signature buffets and a la carte offerings of Western and Indonesian cuisines for breakfast as well.
This sophisticated hotel transports me into a multisensory journey. The detail-oriented design, soothing melodies, tantalising bites, calming scent throughout the hotel, and lavish amenities are worthy to indulge in.
"Can I not move today?" as I gaze from my balcony, immersing in the fondness of fellow leisure and business travellers aged 20-50 years old enjoying their mornings at the pool. With a granted late check-out, I squeeze in a game of billiard at the lobby before sorrowfully departing to my next whirlwind Balinese adventure.
The Stones Hotel – Legian Bali, Autograph Collection
Address: The Stones Hotel Jl. Raya Pantai Kuta Banjar Legian Kelod, Legian, Bali, 80361.
WhatsApp: +62 8113975183
Phone: +62 361 3005888
Website: www.stoneshotelbali.com