Bali, often referred to as the "Island of the Gods," is a haven for outdoor enthusiasts seeking thrilling adventures and heart-pounding experiences.
With its stunning landscapes, clear waters, lush jungles, and rugged terrains, Bali offers a majority of exhilarating activities that cater to adrenaline junkies. Whether you're a seasoned adventurer or someone looking to step out of your comfort zone, these top 10 outdoor activities in Bali are sure to evoke your adrenaline and create unforgettable memories.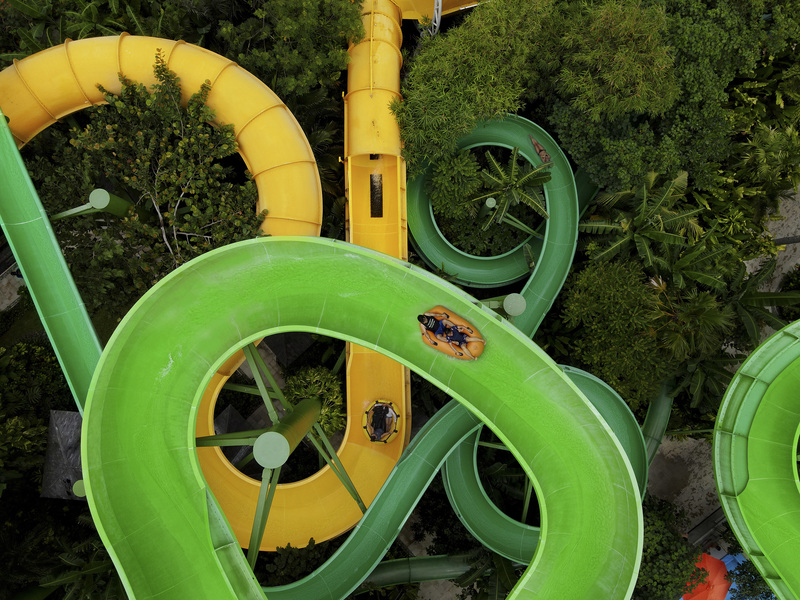 Waterbom Bali
Starting off the list is Waterbom Bali, which promises an exciting and refreshing day for visitors of all ages. With an array of water slides, lazy rivers, and pools designed to exhilarate, Waterbom Bali is the perfect place to kick-start your adventure-filled vacation.
Location: Jl. Kartika Plaza, Tuban, Kec. Kuta, Kabupaten Badung, Bali

Instagram:

@waterbombali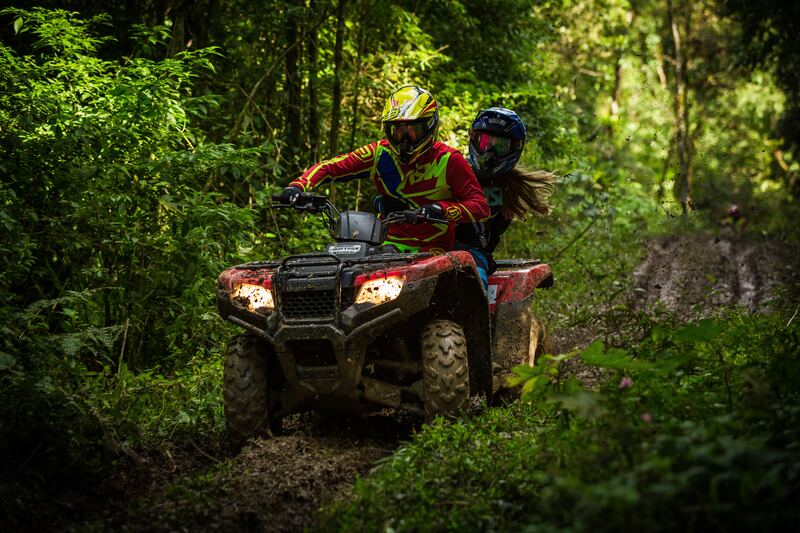 ATV Adventures at the Off-Road Terrain
For those seeking an off-road escapade, ATV rides through Bali's lush countryside offer an adrenaline-packed experience. Navigate through muddy tracks, rice terraces, and remote villages as you conquer challenging terrains and witness the island's rural beauty up close. Some recommended ATV locations are Ubud ATV Quad Bike Tour, Mount Batur Quad Biking, Kuber Bali Adventure, ATV Ride in Uluwatu, and ATV Ride in Badung.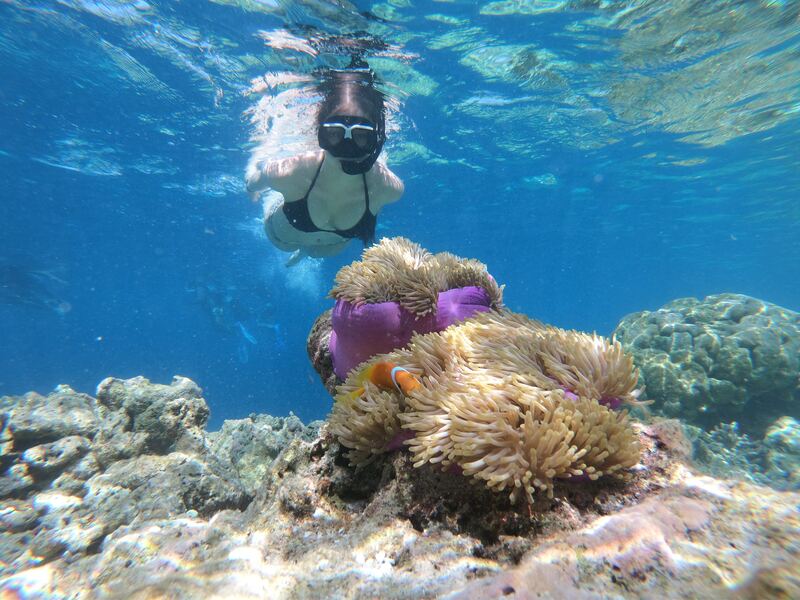 Snorkelling into Underwater Wonders
Bali's vibrant marine life and coral reefs make it a hotspot for snorkelling enthusiasts. Explore the underwater world as you swim alongside colourful fish and unique sea creatures, creating an unforgettable experience that allows you to connect with nature in a whole new way. Nusa Dua, Nusa Lembongan, Nusa Penida, Amed, Tulamben Beach, and Blue Lagoon are among the suggested locations for snorkelling.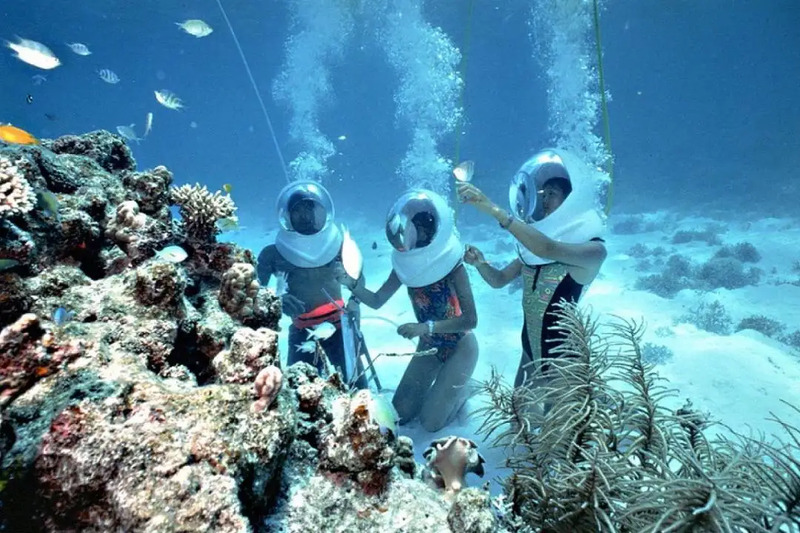 Sea Walking on the Ocean Floor
Experience the sensation of walking on the ocean floor with Bali's sea walking adventures. Wearing a specialised helmet that provides oxygen, you can explore Bali's underwater treasures without the need for extensive diving training. Walk among the marine life and coral formations, and immerse yourself in a stunning adventure. A few highly regarded places for sea walking include Nusa Lembongan, Tanjung Benoa, and Sanur Beach.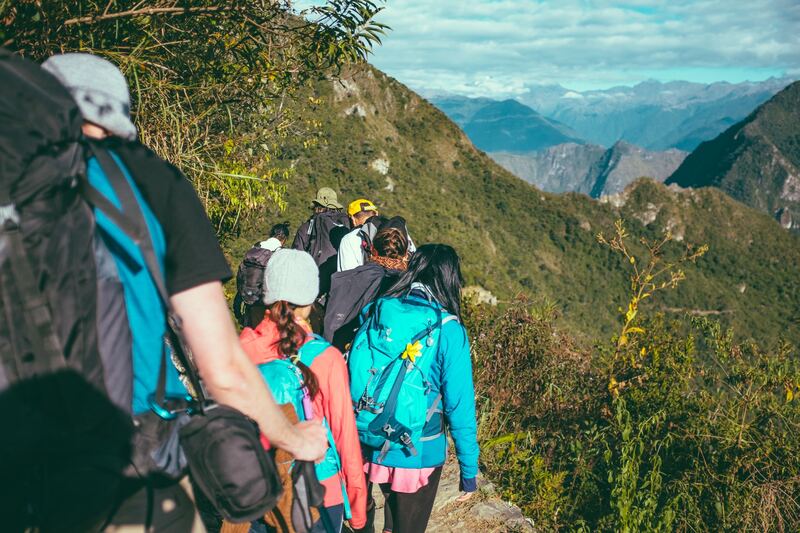 Trekking Bali's Mountains
For those seeking a more challenging adventure, trekking up Bali's mountains is an excellent option. Mount Batur and Mount Agung offer breathtaking sunrise views after a vigorous hike. The sense of accomplishment and the stunning panoramic views make this a must-do activity for adrenaline and nature enthusiasts alike.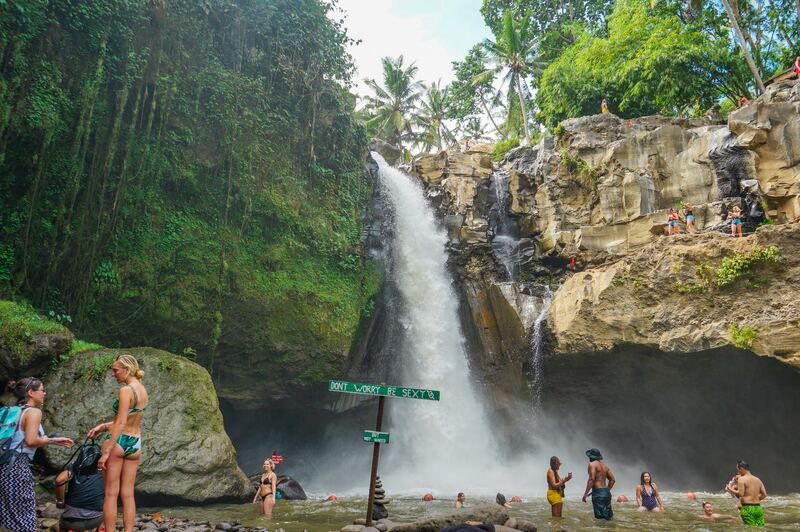 Waterfalls Tour
Bali is adorned with numerous waterfalls that provide both a serene escape and an adrenaline rush. Embark on a waterfalls tour, where you can trek through lush jungles, climb over rocks, and swim in refreshing pools beneath cascading waterfalls, connecting with Bali's natural beauty in an intimate and invigorating way. The most popular waterfalls in Bali include Gitgit Waterfall and Sekumpul Waterfall in Singaraja, North Bali Waterfall, Munduk Waterfall in Buleleng, Kanto Lampo Waterfall in Gianyar, and Aling-Aling Waterfall in Sambangan.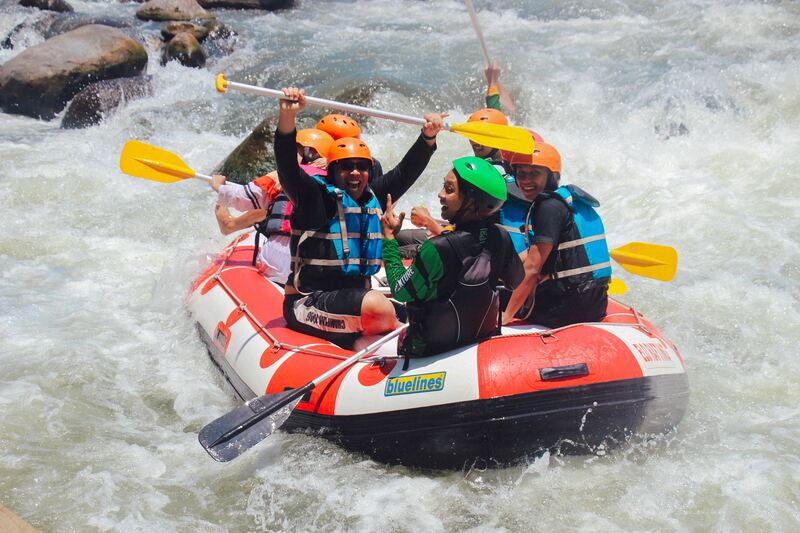 Rafting on the Stunning River Streams
Bali's rivers offer thrilling water rafting experiences suitable for adventurers of various skill levels. Navigate through turbulent rapids, enjoy the stunning river landscapes, and bond with your fellow rafters as you work together to conquer the challenges of the river. Several exciting destinations for rafting include Ayung River, Telaga Waja, Gekko Tubing in Gianyar, Melangit River, and White Water Ubud.
Exploring Bali's Countryside with Bicycle Tour
Take a leisurely cycling tour through Bali's picturesque countryside, exploring traditional villages, lush rice paddies, and serene landscapes. Feel the wind in your hair as you pedal past ancient temples and interact with the locals, gaining insights into the island's rich culture and heritage. Explore these cycling locations by riding your bicycle, such as Bali Bike Park in Buleleng, cycling around Mount Batur and Mount Kintamani, discovering Jatiluwih Rice Terraces, experiencing Putung Village and Sidemen Village in Karangasem, as well as navigating Carangsari Village in Badung.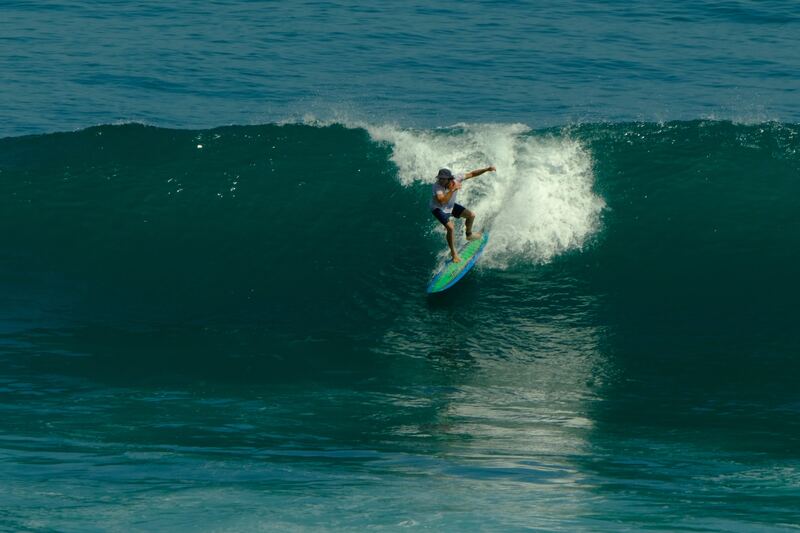 Surfing on the Bali Waves
No list of adrenaline-pumping outdoor activities in Bali would be complete without mentioning surfing. Bali's world-famous surf breaks attract surfers from around the globe, offering both beginners and experienced wave riders the chance to carve through the rolling ocean swells. The best surfing spots in Bali include Uluwatu, Canggu, Padang Padang, Medewi, Balangan Beach, and Nusa Dua.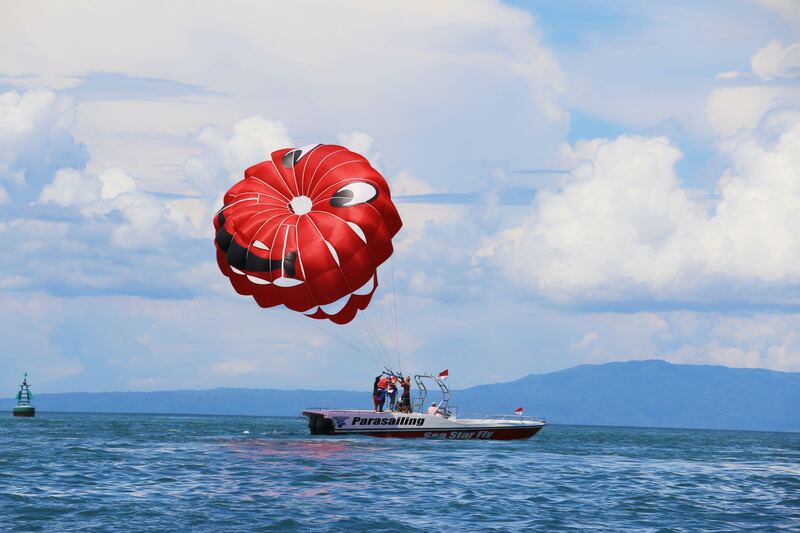 Parasailing
Parasailing in Bali is like flying while attached to a big, colourful parachute. You go up high in the sky and can see all the beautiful things around you. It's a really fun and exciting thing to do, especially if you like adventure. Even if you've never done it before, you'll still have a great time and get to enjoy the amazing views from up in the air. Here are a few recommended parasailing spots in Bali: Tanjung Benoa, Sanur, Nusa Dua, Jimbaran, Padang Padang, and Seminyak Beaches.
Bali's natural beauty, diverse landscapes, and vibrant culture provide the perfect place for a wide range of thrilling outdoor activities. Whether you're seeking to conquer challenging terrains, explore underwater wonders, or simply feel the rush of adventure, Bali has something to offer every adrenaline enthusiast.