There is a special feeling that Borneo invokes. There really is no other experience that comes close to cruising on a tranquil river in Central Kalimantan surrounded by lush tropical jungle while watching rehabilitated orangutans frolicking in nature reserves.
Inspired by the virtually untapped tourism potential of Central Kalimantan, two British ladies, Gaye Thavisin and Lorna Dowson-Collins, converted a traditional Kalimantan riverboat known as a rangkan into the comfortable cruise boat we now know as the Rahai'i Pangun. Their venture brought the first jungle cruise to the Rangun River in Palangkaraya, Central Kalimantan.
Ecotourism is at the heart of Kalimantan Tour Destinations. This social enterprise is a way of protecting the environment and creating alternative livelihoods in the region. Through this river cruise, they are able to demonstrate that business can be a vehicle to support development problems by demonstrating there is a different value for the forest, while supporting local inhabitants of the region.
Our journey onboard the Rahai'i Pangun began at 8.30am when we were picked up from our local hotel in Palangkaraya and brought by car to the river harbour. Here you can see how the river is a source of life to so many living along its riverbed; canoes with engines traverse up and down its waters, locals fish, bathe and find their livelihoods here.
Stepping onboard the Rahai'i Pangun, you feel instantly rejuvenated. It is a floating marvel with five bedrooms, an open-air dining area and living room with a large observation deck. All rooms are air-conditioned with en-suite bathrooms, and although not five-star luxury, the rooms are certainly comfortable.
The boat departed from the harbour at 9am and we began cruising upstream on the Rangun River. The first half hour or so we passed through villages and fishing boats with friendly locals waving at us. Then the forest engulfed us and after a couple of hours, we reached the island of Kaja, a 25-hectare sanctuary where rehabilitated orangutans live, still fed by rangers watching over them on the opposite side of the river. The sight of three furry, orange friends hanging out in the trees was breathtaking – but there were many more orangutan encounters to follow over the next couple of days.
As we continued upriver, the sights and sounds of rich, forest wildlife, complete with hornbills flying overhead, were a sensory delight.
But every now and then we would pass an illegal gold-miner, working on mobile gold-sifting units along the river, expelling smoke and loud noises from their engines. Our guide told us the river water is brown due to these illegal miners, churning up silt all along the river. "I will take you where the river is black tomorrow – that is the real colour of the river," he said.
A delicious lunch was served on the boat before we stopped at Kanarakan – a traditional Dayak village. Children welcomed us curiously and we were given a traditional Dayak welcome ritual to cleanse our spirits, ensuring no harm would come to us during our visit in their village. I must admit, I fell in love with the children, and walked through the village with a chain of girls holding my hands the entire length of the tour.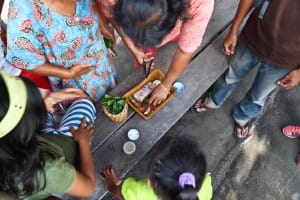 Invited into one of the villager's homes to sample local coffee, it was clear that this social enterprise puts the locals first and foremost. After every visit, the local representative is given a receipt, thus earning them a livelihood from hosting and entertaining tourists. Ecotourism at its finest.
One of the highlights of visiting this village was sampling betel nut, the region's equivalent to South America's coca leaves. The taste is foul and bitter, but the kick you get rivals that of coffee. It's no wonder villagers chew the nut throughout the day, resulting in darkened gums and teeth.
After a couple of very insightful hours spent in the village, we returned to the boat and a delicious dinner was served as we continued on upstream. The food onboard is certainly a highlight of this weekend – fresh and sourced locally, with the ability to cater to different dietary requirements.
The next morning, we departed on smaller boats at 7am to an island surrounded by black water. Cruising through thick, dense jungle on either side, we felt reassured that there was still hope in the world. With these canoes-like boats, we were able to get much closer to the orangutans on Kaja Island, this time spotting seven in total; relaxing, grooming and playing with one another, quite oblivious to our curious eyes.
After lunch, back on the Rahai'i Pangun, we fell into a gentle nap on the deck on the comfortable sofas to the sound of the soft breeze blowing through the jungle leaves. Feeling rejuvenated, we hopped on another, larger canoe complete with a canopy and cushions – all the local villagers' initiative – to Bapalas Island, another reserve, where 10 orangutans were hanging out.
Bapalas Island is a 14-hectare national park home to around 25 rehabilitated orangutans. One, in particular, caught my attention, whose name is Kesi. She was missing one hand. It turns out she was rescued from a palm oil plantation, where the plantation manager mutilated her.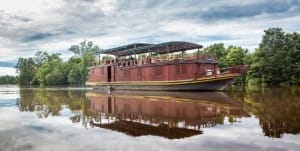 50 percent of rescued orangutans in the region are found on palm oil plantations, going astray when wondering into these areas as they continue to encroach on the orangutan's natural habitats. Plantation workers are often frightened of the creatures that they consider pests and order their staff to kill on sight.
Borneo Orangutan Survival Foundation (BOS) work hard in the region to rescue and rehabilitate these beautiful animals. Their sanctuary in Palangkaraya has a capacity of 500, currently over capacity with 600. The rehabilitated orangutans live on Kaja or Bapalas Island until they are ready to be taken individually by helicopter to Bukit Petikap in North Kalimantan, a region where ancient rainforest is still intact and they will hopefully find a forever home.
Seeing these stunning animals in the wild, albeit rehabilitated and protected by rangers, is both a hopeful sight and one with a poignant reminder – that our continued development threatens their survival. Participating in a sustainable social and environmental enterprise like Kalimantan Tour Destinations is a responsible way of seeing the orangutans up-close, while giving back to the people and ensuring traditional cultures in the area are kept for many more generations to follow.
—
Fast Facts
Country: Indonesia
Province: Central Kalimantan
Capital: Palangkaraya
Population: 2,368,654 (2014)
Land size: 153,564.5 km2
How to get there: Daily flights with Garuda Indonesia to Palangkaraya. To catch the river cruise with Kalimantan Tour Destinations, you can either fly in on a Friday night or take the first flight with Garuda on Saturday morning, which gets you in at 7.30am
What to bring: Long trousers, jumper, sun block, hat, mosquito repellant, camera, a good book