As I first lay eyes on Taman Daun, I had to ask myself, "Where am I?" Having spent the past three months wandering through the rainforests and coastal villages of Nusa Tenggara, I wasn't expecting to find a cozy, open-air library-café in a breezy garden, finely decorated with tasteful paintings, musical instruments, jars of seashells and inspirational quotes in English.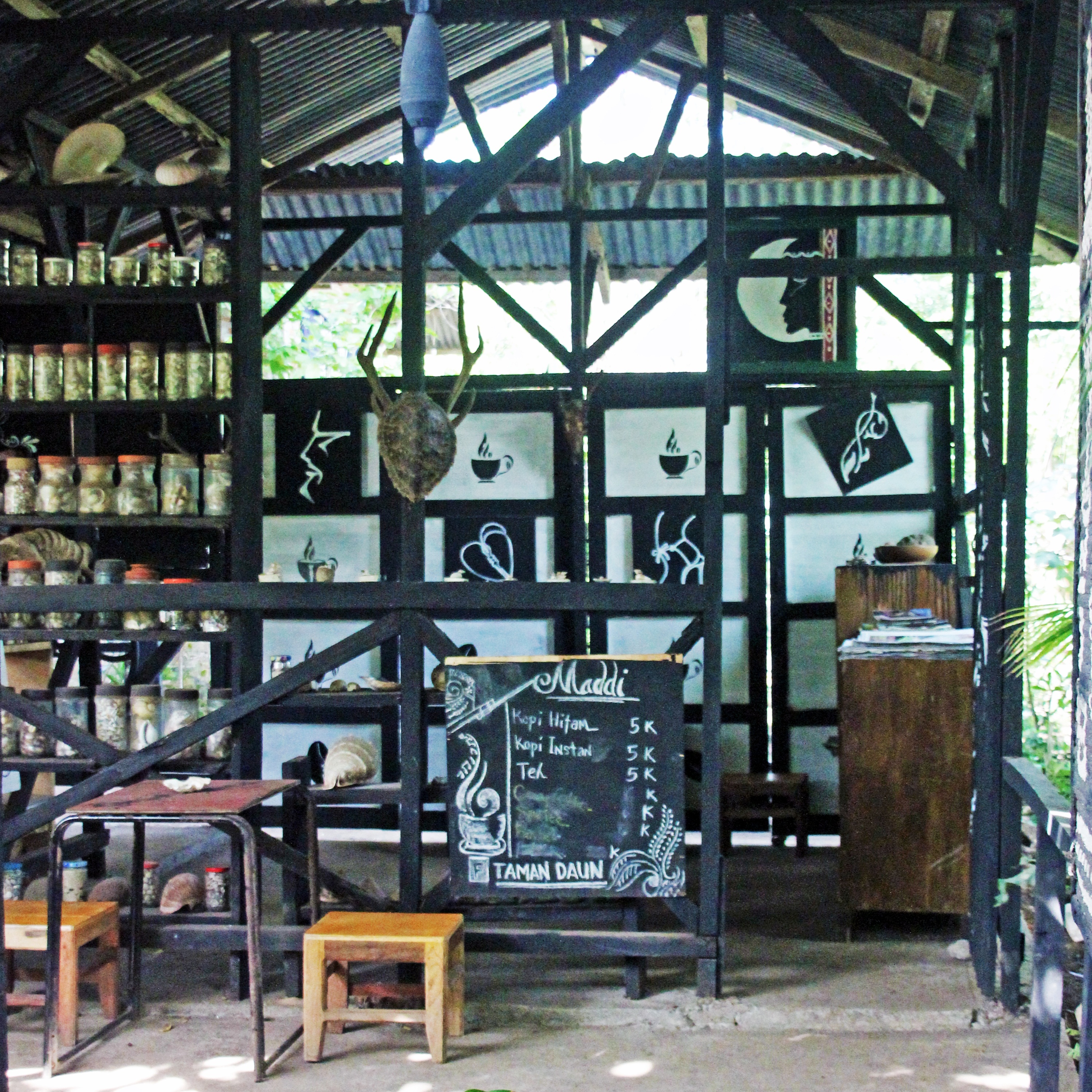 Then I saw the monstrous whale bones displayed underneath a series of paintings of whale tails. Inside, I was welcomed by weavers Mama Gita and Mama Lisa who were arranging resist-dyed threads to be woven into a fabric bearing the local whale motif.
In their culture, not only do women make tenun ikat fabric to wear and sell, but they also hold regular social gatherings for spinning threads out of cotton and ceremonies for weaving these threads into ropes to moor their husbands' anchors and hoist their sails.
A banner flying over the cozy art gallery says 'Gerakan Seribu Buku untuk Lembata' – One Thousand Books for Lembata.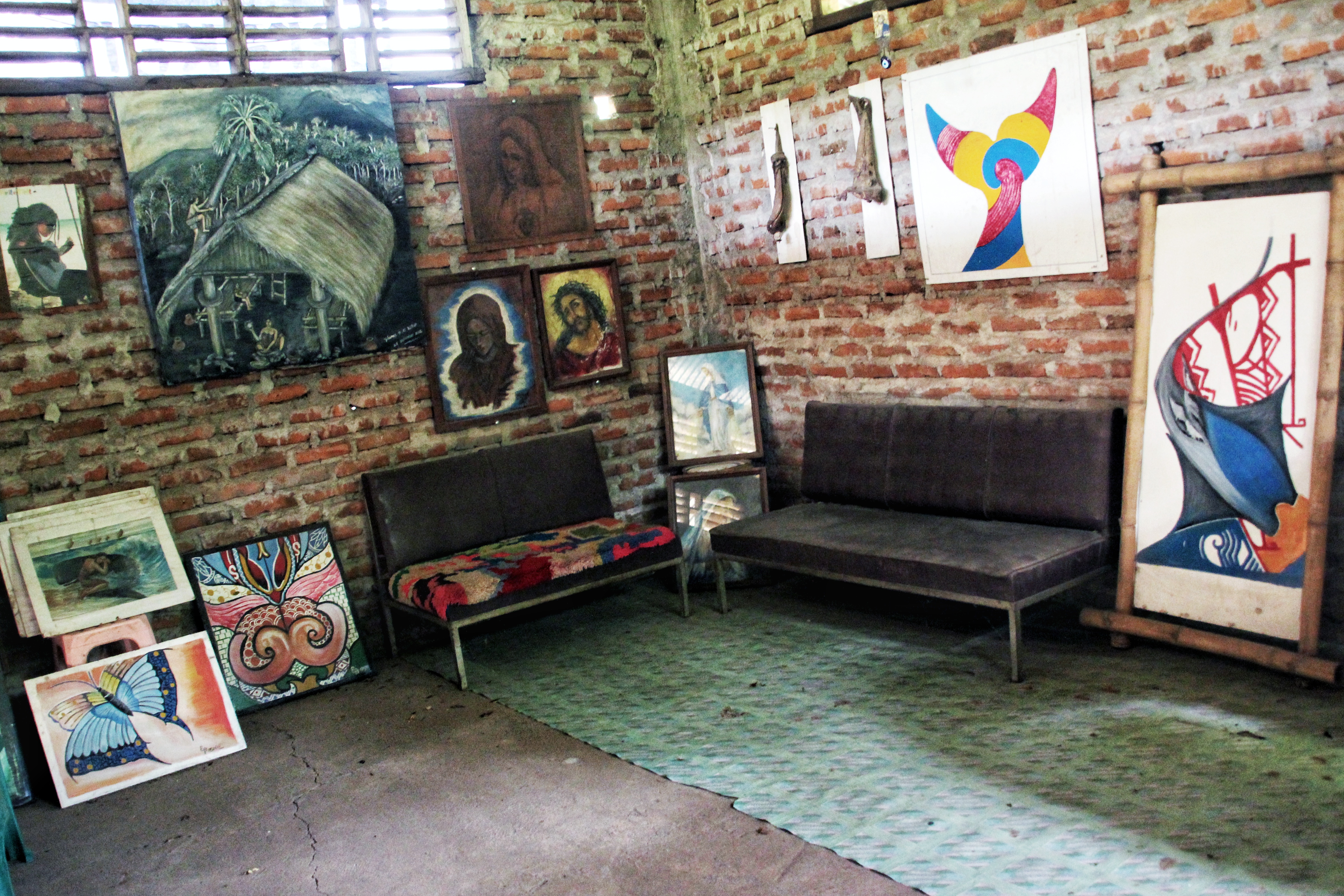 Taman Daun started as a simple library, playhouse and cultural space in the late 1980s in the home of local painter and lamafa (whale hunter) Goris Batafor. In 1984, Batafor gave up a promising job with the Department of Fisheries in Bali to take care of his aging parents in Lewoleba and spent his time volunteering for public health, agricultural and cultural causes. Today, Taman Daun has been running three generations strong.
Originally from Lamalera – a village in South Lembata best known for the lamafa tradition and its association with local Roman Catholicism – but unable to return due to customary restrictions, Batafor aspires to build a 'mini Lamalera' in Lembata's capital town.
To the people of Lamalera, lamafa culture is not just a means of putting food on the table or gaining power and wealth. It is the very backbone of their society through which social structures are built and skills and values are transmitted intergenerationally.
"I envision Taman Daun as a space for stories of the lamafa to live on, even if the practice ceases," Batafor explains his unfinished dream. "We need a museum to store our pledang clan boats and other artefacts and keep them in prime condition. We need a space where local lamafa communities can meet outsiders who open our minds to the importance of passing our stories to the next generation."
But finding funding has been a challenge, as well as standing up to Lamalera culture's resistant status quo.
With the rise of tourism and social media, there is a great interest in 'selling' Lamalera for its controversial whale hunting traditions. But this, said Batafor, is ironically one of the causes of the culture's demise.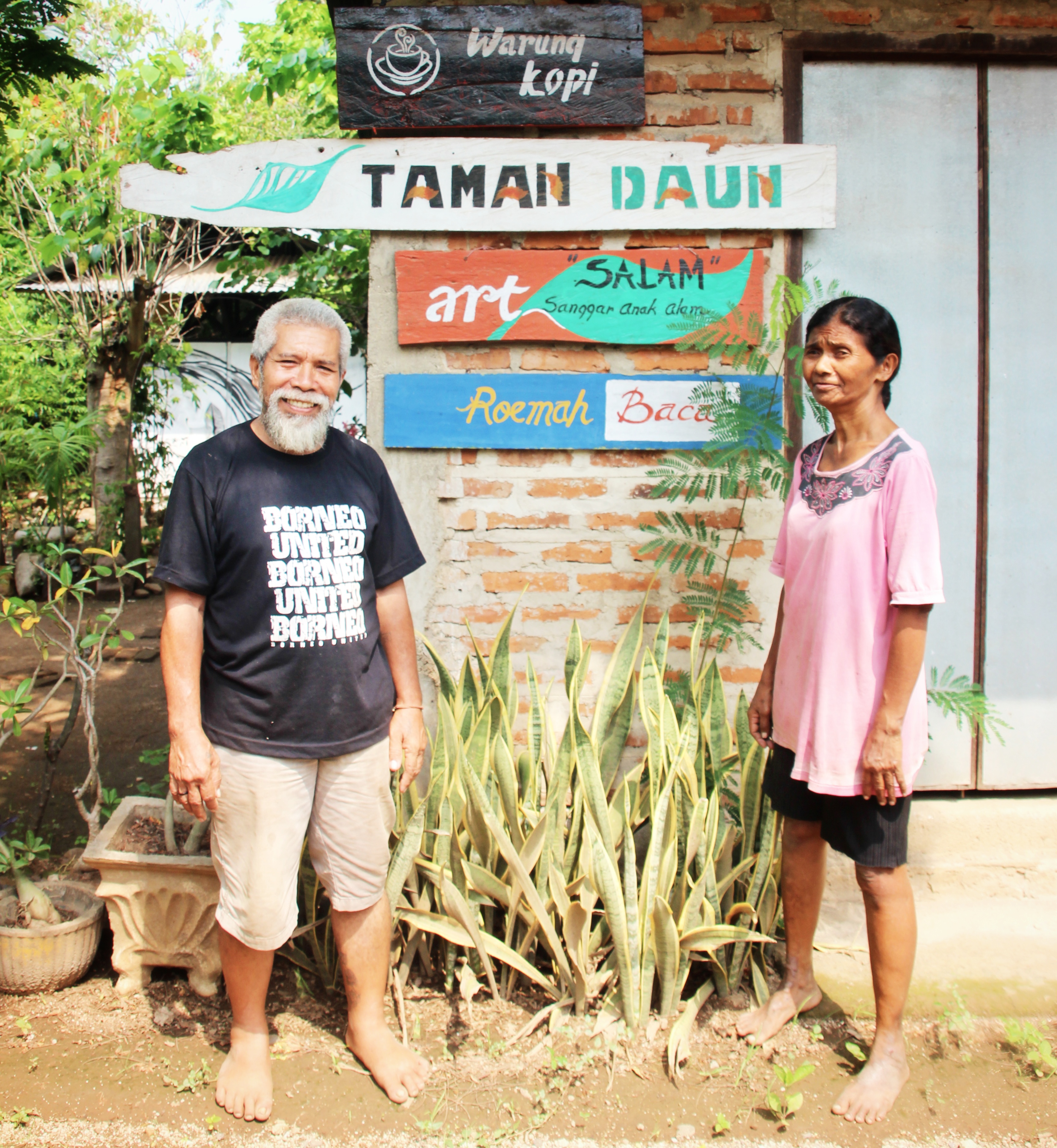 "We complain that young men no longer sail our pledang or sing our ancestors' lamafa songs. Tourists go to sea on motorized Johnson boats and play recorded pop music," said Batafor. "Commercializing lamafa culture also causes a disregard for cultural protocols. For example, tradition forbids a lamafa to go to sea when he has a falling out with someone else. But with tourism, the show must go on. At sea, they kill whale species that our ancestors forbade hunting, or [even] a mother whale nursing her calf. Then they easily write it off as an innocent mistake to be absolved through an apology ritual to the sea."
While lamafa culture remains central to the Lamalera identity, Batafor said he believes in the importance of seeking a culture's vision to change with the times and the form in which this generation's culture is to be perpetuated.
Tensions are rising, as the international community scrutinizes lamafa culture for animal cruelty and sustainability issues, while lamafa clans also fight for the ownership of their culture among divided interests.
"The M?ori of New Zealand also have a whaling culture. But today they manage to find sustainable ways of keeping the culture alive," noted Batafor. The M?ori regard the whale as a sacred incarnate of the ocean god Tangaroa – a story that continues to be told through M?ori art, literature and education. M?ori whale bone carving remains a thriving craft that utilizes the bones of beached whales.
In the early 2010s, the World Wide Fund for Nature started a whale conservation project in Lembata, which assisted lamafa in switching to tuna fishing and attempted to introduce whale watching tourism."That way, the whale continues to sustain our widows and orphans, but they need not be killed for it," said Batafor. "But the idea of going from 'hunter' to 'watcher' offends many lamafa."
Batafor started Taman Daun as a collaborative space where Lembata's children and youth can find cultural vision amid these tensions by reading books that enhance their education, learning local wisdom from their elders and gaining multicultural knowledge and innovation from visiting volunteers.
Without this contextual three-way collaboration, Batafor added, education alone tends to attract young people's interests to the vanity and convenience of modern technology at the expense of learning traditional knowledge. "But it's not fair either to curb our kids' attraction to the modern," said Batafor. "It's as if Lembata is about to experience the comfort of its first sofa and Jakarta tells us, 'No, go back to your old bamboo benches.'"
Batafor added that "going back" is nevertheless important when it means reconnecting to the intergenerational spaces that nourish the youth's sense of identity and belonging to the culture. It's also ken when looking to regenerate leaders with a sustainable cultural vision for the next generation. In the context of Lamalera, this may mean reinventing the learning and leadership spaces that lamafa used to serve.
"['Going back'] has not been easy," said Mama Gita. At age 53, she is currently the youngest weaver in Lewoleba. While Batafor and the women in his family have attempted to bring weaving classes into local schools, children and teens today do not have the patience and attention spans that older generations had. The closest to success they've had teaching kids was having them make tie-dye tablecloths.
Despite social media and television competing for young people's attention today, Taman Daun continues to attract children and young adults looking for enlightening alternatives.
To get in touch with Taman Daun, contact local volunteer Fino Monteiro at +62 812 8485 6950. Monteiro runs a dive operator in Lewoleba and is conducting research on Lamalera's pledang clan boats.
Fast Facts
Country:                                  Indonesia
Province:                                Nusa Tenggara Timur (NTT)
Land area:                               1266.39 square kilometres (Lembata Regency)
Largest city:                           Lewoleba, Lembata Island
Population:                           117,638 (2010 estimate for Lembata Regency)
How to get there:              Daily flights into Larantuka (East Flores) from Kupang
One-hour fast boat ride from Larantuka to Lewoleba
Alternatively, take an overnight PELNI ship from Kupang to Lewoleba.
Organise seaport pickup in advance with your accommodation if arriving at night/before dawn.
Car rental from Lewoleba if you wish to continue to Lamalera.
What to bring:                     Camera, hat, sunscreen, insect repellent.
Books to donate.
                                                      Swimming costume and snorkelling gear—Lembata has great beaches and dive spots.