This cultural capital of the Lanna Kingdom wows visitors with ancient wonders while keeping pace with a modern enthusiasm for adventure, all set amongst the fragrant backdrop of the city's annual Flower Festival.
It is said that in 1296, when King Mengrai saw a large mouse and four smaller ones scurry down a hole under a holy Bodhi tree, he established this city to stand as the heart of his Lanna Kingdom. A moat surrounds old Chiang Mai, and its corner defensive bastions remain, reminders of early battles for control. After more than 700 years, this population of 200,000 on the Ping River still boasts the greatest concentration of handicrafts in Thailand.
My husband and I chose Chiang Mai for its historic sites and welcoming hospitality. With an ethnically diverse population and treasures matching Bangkok, this transportation hub offers a concentrated, user-friendly package. The old city makes a good base to reach local attractions on foot or by tuk tuk with easy day trips to the mountains. Our timing coincided with the annual Flower Festival, set to mark the end of the cool season in early February. The month's warm, comfortable days and refreshing nights average only one rainy day, making it perfect for every outdoor pursuit.
We arrived two days before the festival, and within minutes of stepping onto the street, we passed through the gate of our first wat, or Buddhist monastery. There are over 120 wats within the city limits, and two famous temples are only blocks apart. Wat Chedi Luang has a massive, ruined chedi, or memorial, from the mid-1400s pointing skyward. Wat Phra Singh holds the most revered Lion Buddha. In honour of the event, the grounds boasted festival finery with pennants flapping and altar offerings that included pig heads and floral displays. Wizened monks meditated in the chapel.
Hiring a taxi made day trips flexible and is cheaper than standard tours. Negotiate with drivers and plan a personalized outing. On one day, we took the winding road to Doi Suthep. Wat Phra That sits atop the mountain, above the city congestion, projecting calm. Pilgrims pray to the gold-plated, gleaming chedi, which enshrines a Buddha relic. Pushing further up the road to Bhubing Palace, we visited the royal winter residence with acres of rose, fern and formal gardens, offering picturesque strolling.
West of Chiang Mai, we enjoyed Maesa Elephant Camp, where the chang, or elephant, showed great strength and personality. Mahouts live and work with the chang in their forest homes, and the trained animals entertain audiences by kicking a ball, painting a picture and more. Nearby are the Hill Tribes, set in traditional villages, where guests can interact and buy vibrantly-hued handiwork.  Among them are the famed Karen people, whose women's necks are elongated with a long, copper band. On our return, we stopped at Bai Orchid Farm to see vivid, alien blooms hanging in hothouses in bushy rows.
City sights beckoned, too. We hopped on the Scorpion-Tailed River Cruise for a historical and cultural lesson on the Ping River, visited the night markets and enjoyed the traditional Khantoke dinner and ceremonial dances at the Old Chiang Mai Cultural Centre.
Flower Festival events were scheduled Friday through Sunday with night music and food stalls at Suan Bak Hat, the city park. These included an open-air exhibition of judged flowers and plants, a beauty contest, mini-concerts and endless food stalls, hawking every delectable delicacy. We sampled stir-fries, grilled pork, stews, coconut dumplings, plus spicy peanuts with lemongrass.
The festival's signature floral affair is the parade. It would begin before Nawarat Bridge, rolling to Tha Phae Gate and along the inner moat road to finish at the park. Beforehand, we had scored a preview as parade floats pushed vehicles off the road, trundling to the staging site. On Saturday afternoon, thirty-five floats—bedecked in blooms, seeds and beauty queens—slowly made their way along the route, stopping often for photographs by the dazzled crowd. Marching bands, some costumed in riotous gear, showcased their brass. Masses lined the main roads, cheering, sipping fruit shakes or munching satay.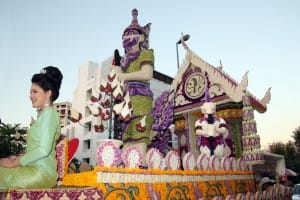 As Thailand's tourism bureau had promised, "a magnificent tapestry of floral splendour blanketed" every main street, bridge and corner. The streets pulsed with a vibrant energy and the perfume of a million blooms permeated the air.
In the Tha Phae Gate area, speeches and narration echoed across the throngs. Day gave way to pinky twilight, cuing fairy-lit trees and glistening swans and serpents. The gathering place held a stage, where dance teams performed later.
After walking the length of the parade route, we stood on Nawarat Bridge, surveying the last float as it scooted along. Earlier that day, the elephant on top had lost its trunk to some low wires on the road. Men had pegged it together, but, already, it had fallen the wrong way down and made us laugh at the happy delights our Chiang Mai visit had held. On a patio along the river, we supped and watched the fireworks shoot above the trees. The city's many festivals are celebratory affairs.
—
Country: Thailand
Province: Chiang Mai
Land Area: 510,890 km2
Highest Elevation: Doi Inthanon 2,565 m
Largest city: Bangkok
Population: 65 million
How to get there:
No direct flights. Air Asia flies through Phuket, and most large carriers, like Thai Airways fly via Bangkok.
What to bring:
Walking shoes and an umbrella.