For people who've been caught up in the hustle and bustle of city living in Jakarta, a short trip to Bali will surely feel like the ultimate and grand escape. Most tourists are familiar with the southern side of Bali, where you can hit the pubs in Kuta, go shopping in Seminyak or grab a car to check out the surfers in Uluwatu. The north side of Bali, however, is a different story altogether.
The island's northwest region offers a more natural and relaxing retreat from the crowded downtown areas of Kuta or Denpasar. Menjangan Dynasty Resort is popularly known as one of Bali's best diving spots, if you have it in you to make it there, of course.
The resort is indeed off the beaten path. Reaching this little paradise usually takes a four-hour road trip from Ngurah Rai International Airport through a mountain road less travelled.
But as the old saying goes "There are a lot of ways to get to Rome," and the land route is not the only way to reach Menjangan Dynasty Resort. You can use a waterway option from Ketapang harbour in Banyuwangi and dock at Gilimanuk Harbour in Bali. This cuts around 80 to 90 percent of the time you would otherwise spend in the car (Tip: If you're coming from Jakarta, it might be best to book your ticket to Blimbingsari Airport near Banyuwangi). Future infrastructure developers on the island aim to provide helicopter and seaplane transfers from the airport.
Despite the inherent challenges of getting to the area, travellers will see what the fuss is all about once they arrive at Menjangan Dynasty Resort. The eco-friendly beachfront 'glamping' resort was built in a coastal area across from West Bali National Park, and serves as a bona fide hotspot for hiking and diving enthusiasts in Indonesia.
Water adventures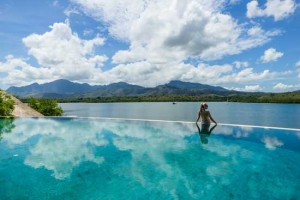 After spending a few hours in the car, I was pretty tired from my journey and this made me want to approach my exploration to a nearby mangrove forest in a more relaxing way. Kayaks or paddle boards are a super fun options, and because the wind was quite friendly on this day, it was easy for me to make my way to the nearby lagoon via paddle board.
Menjangan also offers snorkelling and diving at the PADI Dive Centre on nearby Menjangan Island. This is said to be one of the most pristine diving spots in all of Bali.
Living in the tent
I thoroughly enjoyed the serene experience of paddle boarding through a peaceful mangrove forest, but by this time, it was already getting late and I thought it was time to get back to my tent. I use the word "tent" not as a figure of speech, but in fact because at Menjangan Dynasty Resort, guests stay in luxurious tents. If you've ever heard the term 'glamping' you will get what I mean.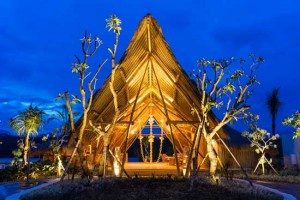 Perched on a terrace that faces the national park and lagoon, the site's tranquil atmosphere is only interrupted by the sounds of small boat engines in the distance. The beach is surrounded by nature and is extraordinarily quiet – a far cry from the chaos of the city and sunburned tourist families on the south side.
If you're looking for a pampering experience, you may visit Pasir Putih spa where you can enjoy a variety of massages or beauty treatments inside a charming hut that also faces the lagoon. Another option is taking a dip in the resort's infinity pool. Whatever you desire, all facilities are provided.
Menjangan Dynasty Resort also offer cabanas with private pools where you can enjoy a more private escape with loves ones. This is likely an ideal option for honeymooners.
A variety of tastes
As an architecture graduate student, I can't stop admiring the design of Menjangan Dynasty Resort. While all the materials are made from things found in nature, the structures are designed and laid out in a striking and unique way. The aesthetics are delicious for my personal taste, almost as delicious as the food on offer.
Guests can meander over to Pasir Putih beach club where they can partake in boozy drinks, grab brunch or stay for dinner. This restaurant will serve you with a smorgasbord of Asian or western cuisines.
Another way to enjoy the food is to have it delivered to your terrace, as you watch the National Park boats floating in the lagoon. Having breakfast in the infinity pool is a delectable experience in and of itself. If you are coming with your fiancé, ask the resort to set up a romantic dinner for two on the beach.
When all was said and done, my trip to Menjangan Dynasty Resort was short but wonderful, to say the least. The long road to a secluded paradise will give me a lasting impression for years to come, and I now look at the north side of Bali with a new set of eyes.
For more information about Menjangan Dynasty Resort, check out mdr.pphotels.com