Think it's time for you to unknot your stress tangles? Then, Santorini, an island in Greece, would be the perfect place to satisfy your thirst for relaxation! It is widely known for its architectural grandness and purity of its natural beauty. The sky is often seen displaying a harmonised combination of Persian, sapphire and Bleu De France blue shades. It would have seemed that the sky was conjoined with the equally crystal clear sea if it wasn't for the volcanic rock below the water's surface giving it's dark shades. Vivid cerise and crimson Bougainvillea flowers seems to be pleasant bombs, exploding out from the window of an occasional house.
Even though Santorini might be rubbing off the vibe that it is a huge place that needs weeks on end to get the pleasure of a full experience of the island, believe it or not, a four-day trip is enough to experience the main highlights of the island.
You start the first day in Athens, the large capital city in Greece. Then, find your way to Santorini, whether by ferry or by flight. Some people prefer the latter as it only takes 30-45 minutes, but the price is steeper. People who ride the ferry get to admire the view and scenery but they would have to endure between five and eight hours of travel time.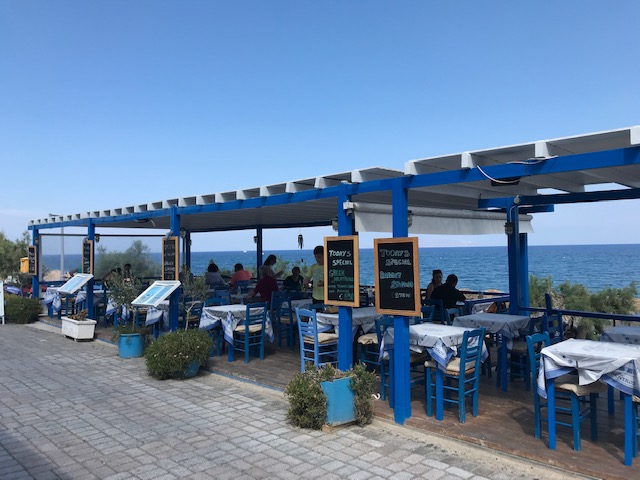 When you arrive, take a vehicle, preferably a taxi, to Fira, the main town. Fira got its name from an alternative pronunciation of Thíra, an ancient name of the island. It is a city filled with white-washed houses built on the edge of a high caldera. Two quite popular museums of interest there are the Archaeological Museum of Thera – a museum that houses precious artifacts including Proto-Cycladic marble figurines of the third millennium BC – and the other is one that houses antiques that cover the island's history, starting from the Late Neolithic period to the Late Cycladic I period; namely, The Museum of Prehistoric Thera. The town also has a number of churches, including the impressive Cathedral of Ypapanti and the well-known, much-photographed blue-domed church, the Three Bells of Fira. From Fira, you can get a panoramic view of the 11-mile- long caldera from Southern Caoe Akrotiri to Northern Cape Ag. Nikolaos and the volcanic island, Nea Kameni, in the centre along with Thirassia Island. It is common for large cruise ships to be seen anchoring in the small harbour between Nea Kameni and Fira.
Access to Fira can be granted mainly by roads on its eastern side, climbing from its port through the Z-shaped footpath on foot or on donkeys, or riding a steep cable car from its lower terminal by the port.
There is also a bus and taxi station, along with banks and pharmacies, in the beautiful city's central square, also known as Plateia Theotokopoulou.
After strolling around the town, you can end the day with watching the sunset. Yes, it is very crowded. Yes, you might not have the place all to yourself. However, the sunset is too beautiful to miss. The glowing ball of light slowly descending, at first seemingly to be a distinct colour contrast to the clear sky, but turning out to be perfectly harmonised at the end – it's one of nature's beauties that is really worth sharing. Depending on one's mood, it can be simply something to admire, something to share with a loved one or something to relax your soul. It is truly a moment worth your smile.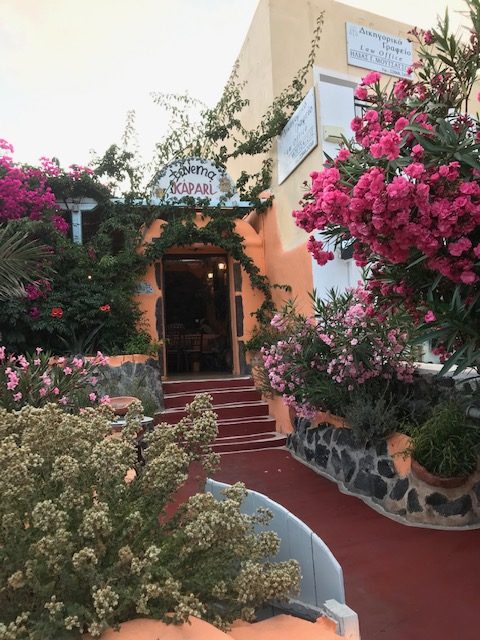 On the second day, take a local bus with the price range between 1.80 to 2.40 euro to Oia. Oia is a small village. It was also previously known as "Apano Meria", meaning 'upper side', a name that is still locally known as "Pano Meria", where its citizens are called Apanomerities. Ancient Greek Oia was one of the two harbours of ancient Thera and was previously located southeast of the island. This village prospered in the late 19th and early 20th centuries. Economic wise, it was visited by merchant fleet that plied their trade in the eastern Mediterranean, especially from Alexandria to Russia. It is here where you can find the famous blue domes of Santorini!
There are two impressively built mansions initially inhabited by sea captains in Oia. One of them is a two-storey Venetian Renaissance inspired 1864 mansion originally built on the caldera by the Sigouras Sarris family with a panoramic view previously only a sea captain could select, but in 2002, it was transformed to a private luxury hotel, namely "1864 The Sea Captain's House & Spa". The original characteristics that made these two houses stand out were maintained, resulting in the guests each feeling as if they were the captain of the house. The other one that can be found on the main village pathway was reconstructed in 1986 to a restaurant called "Oia 1800". Although each house has its own unique traits that differentiates it from the other, they share a similarity in their distinct high vaulted ceilings, imported wood planked floors, exteriors of beautiful hand carved volcanic stone combined with marble, flat terraced rooftops on the arched roofs of the cave homes – and one important detail- they are all always in the best locations.
Pleased after a whole day of sight-seeing? End it with a refreshing view of the sun setting! Mind you, it will be very crowded – a jumble of hustling and bustling of people, all wanting to be allowed the chance to witness the wonder of Oia's world famous sunset. It is advisable to come hours earlier so that you can book a comfortable spot from which to witness the sunset. Remember to come equipped with water and snacks!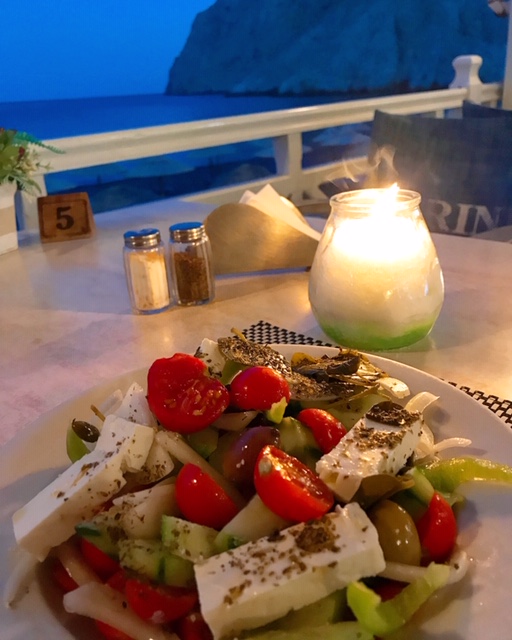 When it gets dark, proceed to dinner. With 26 euros, you can satisfy yourself with Greek coffee, grilled fish and vegetables. If you feel particularly homesick, missing your loved ones, or simply the romantic fancy seizing you – with just 1.50 euros, you can purchase a postcard and send it at the local post office.
Got enough beauty sleep already? Well, it's day three – time to go back to Fira! Not exactly in the centre of it, but more like on the outskirts. Although it might be a tad more costly than the places you previously stayed in during the trip, Altemar Suites can be booked through the booking site Agoda and is totally worth its cost.  It is a spacious area consisting of a number of comfortable suites located just a few steps from Fira and in the lovely village, Firostefani. Each suite presents to you a private veranda with a jacuzzi and wonderful scenery of the sea. You would be in a state of pure relaxation, your suite's premise being the perfect final touch to your overall quality holiday time. It displays traditional architectural intelligence of Santorini, but is also furnished with modern touches and amenities.
Wondering where you should go to eat dinner – to find a meal that would be the perfect missing piece to complete the overall wonderful time you just had? No problem – just go to the Salt and Pepper restaurant! It is just eight miles away from famous recognisable landmarks, the Cathedral of Saint John the Baptist, Megaro Gyzi Museum, and the Archaeological Museum Fira. This restaurant serves seafood, Mediterranean and Greek dishes, and also both vegan and gluten free meals. With just 25 euros, you can get an absolutely filling meal consisting of grilled calamari, vegetables and even a free dessert! No wonder, with such a great selection of food, comfortable environment and amazing host, it is often referred to as 'a fantastic dining experience truly worth trying'. The restaurant is highly recommended by TripAdvisor. Don't forget to catch the sunset in Fira and walk around the shops for some night shopping!
The next day, take a local bus for 1.80 euros and proceed to the truly unique Kamari Beach. Located ten km in Southeast Fira, the island's capital, this beach shares quite a few traits of the scenery of Perissa.
Unlike other pearly white beaches, Kamari beach has a blanket of black sand on it while on its left side, there is a gigantic rock with the name Mesa Vouno that rose from the sea. This beach always attracts large groups of people like tourists – even at night – because of just how unique and attractive it is! At night, when the moonlight streams descend upon the land, the rock reflects the light, making an illusion of a glow. Not only that, Kamari beach is very organised and offers a full, wide range of facilities like umbrellas, sun beds and various types of water sports. Visitors can also take a nice stroll along the waterfront. Shops and convenient stores are available. There is also a diving centre, and as for food, you can get a wonderful dinner consisting of an appetizer of fava beans and nan, a main dish of sea bass, rice and vegetables, and two sodas – all just for 32 Euros!
After a whole day of chilling, relaxing, every adjective possible that defines your current state of euphoria and calm, end the day, just like the previous wonderful days with a lovely moment to enjoy the sunset.
On the last day, wake up earlier than usual. Well, for the past days you have been admiring the sunset – why not marvel at the wonder of the sun rising for a change? Might as well do it – it's your last day here!
Purchase a few souvenirs for your family and friends if you like in nearby shops, and when you are done, take one full last look at the place that just gave you an unforgettable moment in your life- then board your plane and fly back home.
You will forever miss the beautiful Santorini sunsets, the beautiful whitewashed houses with blue window frames, the famous blue domes and the delicious Greek cuisine.