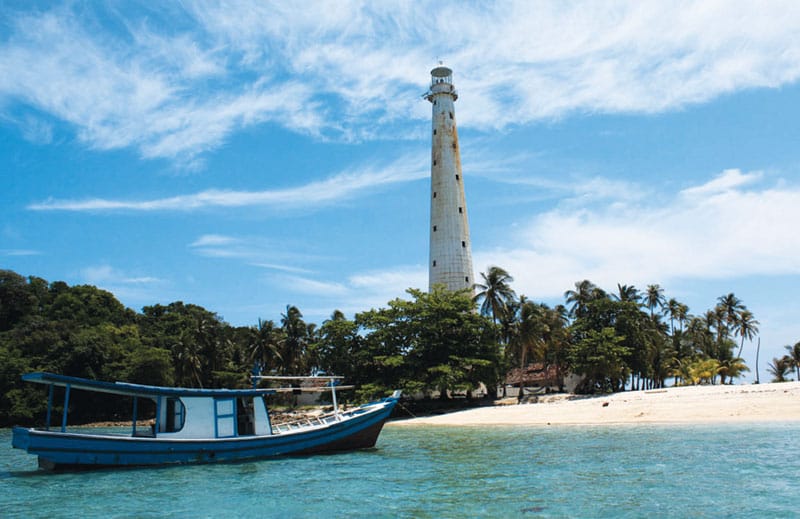 Tucked away on the east coast of Sumatra in the Java Sea lies a hidden gem, untouched by commercialism and the hoards of tourists usually found in such an idyllic location. This is the home to Belitung island, a land of pristine white sand and crystal clear waters and the setting for Indonesia's biggest blockbuster movie 'Laskar Pelangi' (Rainbow Warriors) in 2008, which was an adaptation of native writer Andrea Hirata's best-selling novel of the same name in 2005.
It is a short three hour trip from Bali, flying via Jakarta with AirAsia, Batavia Air or Sriwijaya Air, to Tanjung Pandan, Belitung's main town. Taxis are non-existent and public transport on the island is hard to find, so the most practical way to navigate your way around is to hire a motorbike or a car and driver for the duration of your trip. Starting from Tanjung Pandan, you can choose to take a leisurely stroll through this tin mining town and enjoy a bowl of their famous delicacy, the Belitung noodle, which originated from the island's Chinese immigrants or head straight towards the breathtaking coastal areas.
Tanjung Tinggi is a 20-minute drive from the main town and you will pass by abandoned Kaolin (clay) mining sites along the way, the environmental damage is easy to see although they do look somehow beautiful filled with azure water, before arriving at this postcard-perfect destination. This was also a setting made famous by the Laskar Pelangi movie and with huge granite boulders jutting from the shallow clear waters, virgin white sands, blue skies and sunshine it is so serene and picturesque and you may likely have the whole place to yourself to enjoy and take a refreshing dip in the water. The sands here are of such a high quality that some has been imported to Singapore and Malaysia for their own artificial beaches. It is no wonder that this destination has become very popular with photographers for its stunning and unique scenery. A short walk from the rocks, there are traditional beach hut cafes lining the beach, serving fresh seafood, and a little further along is the 'Lor-In' accommodation with incredible views out to the ocean.
Accommodation on Belitung is currently limited to the beautiful and upscale Lor-In at Tanjung Tinggi, the newly finished Bahamas on the coast in Tanjung Padang, Bukit Berahu in Tanjung Bingga or the very reasonably priced Kelayang Beach Cottages in Tanjung Kelayang. Tanjung Kelayang Cottages are set in a charming beachfront location, with cottages overlooking the water and are run by a Western-Indonesian family. Here you are able to enjoy a meal in the open air cafe as you watch the fishermen in their boats going about their duties, sit on the huge boulders and take in the view or enjoy snorkelling in the crystal clear waters. It is also from here that you can set off on a day of island hopping on a colourful traditional fishing boat, but you may want to remember to pack your own lunch and drinks as cafes are not a common sight on this journey.
There are many islands scattered around the coast, some of which consist only of huge granite boulders and sand which is only visible at low tide, and others which are great to explore, and surrounding each you can enjoy a swim or snorkel amongst the tropical fish and corals lining the ocean floor. Pulau Lengkaus is a small island that would take no longer than 20 minutes to walk around, and it is home to the Lighthouse which was built in numbered sections in England and assembled by the Dutch on the island in 1882, and still, serves as a guide for fishing boats in the rocky waters.  If you have the stamina to climb the 18 flights of stairs to the top you will be rewarded with breathtaking views out over the ocean and you can watch the fishing boats as they sail over the calm waters. After descending from the lighthouse, you can sit under the palm trees and eat freshly cut coconut or swing in the hammock and just take in the views and simply relax.
Pulau Burung (Bird Island) is yet another tropical paradise, great for snorkelling and is lined with coconut trees and washed up driftwood and is a great place to just soak up the scenery.  Pulau Babi (Pig Island), which is the largest island on the North coast of west Belitung, is also worth stopping at. Heading inwards from the shoreline, you can walk through the lush forests to the opposite side of the island where a new eco-friendly resort has been built. The wooden huts lining the beach are very basic and great for people who love nature and outdoor living, and there is also a cafe shaded by tall trees with stunning views out to the ocean. Pulau Babi also has a turtle conservation area, where you can view newly born turtles, kept on site for a couple of months before being released into the sea.
Before heading back to Tanjung Kelayang you can have the boat stop to look over the endless horizon and watch as the sky becomes illuminated with bright colours of the sunset, before lighting up with thousands of stars in the unpolluted skies. If it is star gazing and relaxation in its purest form that you are after, without the hoards of people and nightclubs and bars lining the shores, then you are in for a real treat in this hidden paradise and I'm certain the serenity and views will leave you refreshed and rejuvenated in beautiful Belitung Island.