An unspoiled island off the northern coast of Sulawesi is scheduled for partial destruction despite a Supreme Court ruling that it cannot be mined. Local villagers and operators of the island's five small eco-resorts face an uncertain future.
The day before departing Jakarta for North Sulawesi, I witnessed two pickpockets attempting to flee from a crowded bus terminal. Within seconds, they were caught by an angry mob and beaten savagely until some guards saved them. It was a vivid reminder that in Indonesia, petty theft is met with swift, sometimes deadly retribution. Grand larceny, on the other hand, when perpetrated by those in positions of wealth and power, is all too often accepted as normal.
I was going to North Sulawesi to visit Bangka Island. No, not Bangka Island located off Sumatra. Sulawesi's Bangka is much smaller, covering an area of just 4,778 hectares. Part of North Minahasa regency, it is located on a whale migration path in one of the most marine biodiverse areas of the world. The island is home to about 2,400 people, most of whom make a living from fishing and farming.
Unlike Bali and Lombok, Bangka is not polluted by development and tourism. No one tries to sell you anything. There are no clubs, bars or golf courses. There are just three villages and the simple eco-resorts offering serenity, tranquillity and natural beauty.
Being at the epicentre of species divergence, Bangka's waters offer spectacular diving and snorkelling. The island also has deposits of iron ore. Western mining companies have avoided Bangka because it is protected under a law that prohibits mining on islands smaller than 200,000 hectares. Moreover, extracting the iron ore would destroy the fragile ecosystem, including protected dugongs and other rare marine life.
An American geologist on the island for a diving holiday tells me that mining Bangka would likely be unprofitable if conducted in an environmentally sustainable manner and local residents given appropriate compensation. "I'm in favour of mining in general, provided it is done responsibly. But only a rogue company that does not follow protocol and exploits all of the resources could make a profit on Bangka," he says.
North Minahasa Regent Sompie Singal in 2008 issued a permit to PT Mikgro Metal Perdana (MMP), a subsidiary of Hong Kong-based Aempire Resource Group, to explore for iron ore on Bangka. The permit has been extended twice, despite opposition from the islanders. The concession area covers 2,000 hectares and in 2012 was broadened to cover "iron ore and other minerals".
The permits were issued without an Environmental Impact Assessment (AMDAL), one of the key regulatory approvals required for mining projects. The AMDAL was later pushed through after the head of the local environment office was reassigned to another job. One member of the assessment team refused to sign the document, arguing the mining plan lacked a detailed engineering design. She also said that mining could destroy the island, leaving the North Sulawesi capital of Manado more susceptible to tsunamis.
Bangka residents and the resort operators have taken legal action in an effort to stop the mining. Their first lawsuit was rejected by Manado Administrative Court in August 2012. They appealed to Makassar Administrative High Court, which in March 2013 ordered the mining permits be revoked. The Supreme Court in September 2013 upheld that decision. Yet the regent and MMP are determined to press ahead with the mining and a planned smelter, arguing they will create revenue and jobs.
Islanders have warned they will fight if the Chinese company tries to unload drilling equipment and excavators on their land. Minor skirmishes occurred last year, resulting in some locals being injured and arrested. MMP's director, Yang Yongjian, has accused a non-government organisation of masterminding anti-mining protests in an effort to extort money from his company.
Pinehas Lombonoang, a resident of Bangka's Kahuku village, says authorities should uphold the Supreme Court's ruling, rather than protect the Chinese mining company. "Bangka residents are law-abiding people … but the government is not upholding the law. What's more, police are protecting MMP, instead of enforcing the law and defending the people."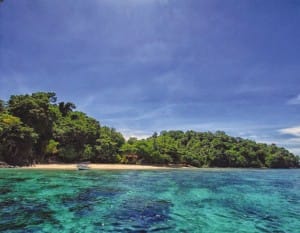 Elections
Religious scholar and human rights activist Romo Benny Susetyo says mining a protected island would set a bad precedent for the rest of the country. He suspects the mining issue is strongly linked to this year's elections, as candidates need funding for their campaigns.
North Sulawesi Governor Sinyo Harry Sarundajang, who has publicly declared himself to be a "green governor", supports the planned mining, although he has kept his name off the exploration permits. Sarundajang bends to whichever political wind is favourable. He has been a member of Golkar Party, the Indonesian Democratic Party of Struggle and the Democrat Party. He is presently a candidate for the Democrat Party's presidential convention, although just to make up the numbers. Four of the governor's five children either hold, or are running for public office, something that requires a lot of funding.
Roads in North Sulawesi are decorated by a sea of billboards and banners, mostly for upcoming elections. There are also numerous banners exhorting people to avoid AIDS, drugs and drunkenness. But never once did I see a banner decrying corruption.
The local government's spending priorities are glaringly evident. Senior officials are driven about in luxury cars well beyond the means of their salaries, while right outside the governor's office there are massive holes in the sidewalk. Manado is becoming a traffic-clogged eyesore because of short-sighted urban planning. The city's once beautiful seafront promenade and magnificent views have been replaced by a series of ugly malls built on reclaimed land.
Bangka's oldest resort is Murex, which was founded by Dr. Hani Batuna and is now run by his daughter Angelique and her American husband Danny. Then there's Coral Eye resort, which also functions as a coral research laboratory, run by an Italian marine biologist married to a local fisherman. The other three resorts also have expat stakeholders.
The resort owners have been informed that dive tourism can co-exist with full-scale mining and smelting, but no one believes that. Like the villagers, they are hoping that someone in the central government will force the provincial authorities to obey the Supreme Court's ruling and the law protecting their island.
Ultimately, this issue is not merely about a small group of eco-resort operators providing holidays for mostly foreign divers. It's not even about the lives of the villagers who will lose their land and livelihoods. This is about the future of Indonesia and what sort of country it wants to become.
Edo Rakhman of the Indonesian Forum for the Environment says allowing foreign companies to mine protected islands under the auspices of regional autonomy is a threat to the national integrity of Indonesia. Coral reefs, which cover less than 1% of the ocean floor, require protection from irresponsible mining because they are the breeding grounds for fish that provide a livelihood and sustenance for millions of Indonesians.
A campaign to save Bangka is attracting strong support in Jakarta, most prominently from singer Kaka Slank of veteran rock band, Slank. He describes Bangka's islanders as heroes for having the courage to defend their land against powerful local authorities that are intent on profiting from its destruction. The singer has set up an online petition which has attracted nearly 18,000 signatures.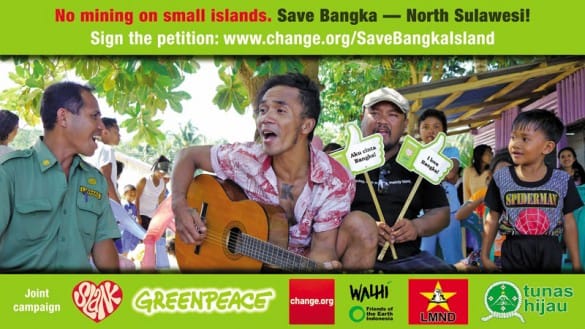 If you want a holiday with a difference, visit Bangka and enjoy its beautiful reefs. It may not be around for much longer if the central government fails to protect the country's marine resources for future generations.
Kaka Slank's petition is at www.change.org/petitions/gov-sarundajang2014-bupati-sompie-singal-no-mining-on-small-islands-save-bangka-north-sulawesi