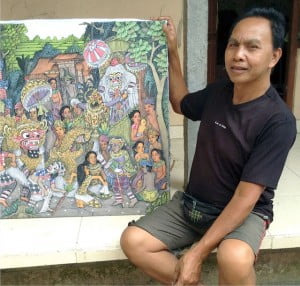 Wayan lives in Ubud, but as an artist who paints for a living, he does not turn to Ubud to sell his work, but supplies to a wholesale market in Sukawati, Gianyar, which gives him regular cash flow and enables him to continue his passion; to paint every day.
Things changed after the (first) bombing in 2002. This is Wayan's story.
Business was thriving pre-2002 and more than 70% of people in his village were gainfully employed as artists and painters. "It was very good money and easy to sell your artwork," Wayan explained to me. "Many people would come and pay upfront before the painting was completed but suddenly that stopped. The orders just stopped. The bombing changed many things for many locals."
I Wayan Sanggra is 54 years old and his sole income is from painting.  He started in 1975, but he has seen many changes in his 38 years of crafting beautiful Balinese traditional paintings.
He now sells his work to a wholesaler from Sukawati Market, who on-sells his work. Most of the customers are Indonesian now, many from Jakarta. He receives Rp.100,000 for a small painting and Rp.200,000 for a large painting. He sells about five per month. His paintings take three to five days to make and he has the paintbrush in his hand at 7am and works all the way through to 10pm, but often he is up till midnight. He does this seven days a week. He breaks for lunch, dinner and a shower only, and of course, when there are temple ceremonies to attend, he stops work.
He used to paint with extreme intricate detail, taking care with the fine features of the hand and fingers and facial expression in his paintings. It would take him one month to complete a painting. He has now adapted his skills to produce what he calls quick turnaround paintings and has had to compromise on the quality of paint he uses.
The price of canvasses has risen in the last 10 years from Rp.5,000 to Rp.30,000, but the selling price has remained the same. He used to paint with the highest quality paint, however this now runs at five times the price and if he reflected this in his pricing, he would not sell one painting. The going rate for high quality paint is Rp.50,000 per unit and the low quality paint is Rp.10,000, so the economic realty dictates that the cheaper alternative must be used to remain competitive.
Cheap paintings sell quickly and Wayan is happy to have had a 10-year relationship now with his wholesaler who gives him regular orders. The biggest sellers being Barong dance paintings, traditional market scenes and farmers in the rice fields.
Wayan demonstrated how you do a quick painting. In a Barong dancing painting, for example, there might be 30 dancers, so he does the sketch first in pencil and in his words "makes all their heads look like eggs".  Then, he hastily fills in all the colour and does the details of the face last, finishing with the eyes. A one-month painting would start with the detail of the eyes and work out.
Wayan is an acclaimed artist in his village. One of the best. His work is very fine, but he does not get to practice this technique often these days.  He is happy to take commissioned assignments, with payment up front (like it used to be in the old days), but he does not market himself and just ekes out a living the best way he knows how. He is very happy, because he is painting every day and doing what he does best and most of all, what he loves.
If you would like a painting done, call Wayan on 0852 38451543 or his daughter-in-law (speaks English – Ketut on 0852 384 14177). Wayan lives in Banjar Kutuh Kaja, on Jl. Tirta Tawar, Ubud.