A dry look at what's left on Sulawesi
After 12 years working in Makassar and Manado, I came to view Sulawesi as home. The port city of Makassar was my first job abroad after University and despite leaving after the first year; it lured me back repeatedly, until I left again.
If anyone has the notion to visit this peculiar island, why should they make haste? Well, let's start at its hub, Makassar. Factoids regarding this city are redundant. The census never changes and the temperature is always pounding except at Christmas when the streets try to impersonate Venice. For example, when I arrived, Makassar was a 2 million-strong, low-rise hive of cheeky corruption and oozing an indescribable charm from all its ramshackle pores and sphincters covering some 70sq miles. Years on, it's still a 2 million-strong eye-sore, but of myriad extraneous high-rise hotels and newfangled restaurants adopting the potted roads as parking areas. It also still covers 70sq miles – it's just that other towns have grown to meet it. If it had open-top bus tours, they would rap: and on the left look out for another opening Alfa Mart and big hotel. They stand where someone of note used to live in an historical building.
The seafront has fared no better. Once a strip of bars and warung beholding golden sunsets, now my local looks out over a narrow slit of sea between hotels.
Indeed, if coming to Makassar, the best I can offer is to laugh at everyone stuck in traffic for a day and then go to see the highlights before the same happens to you.
Highlights in order of near to far:
Bantimurung, 45mins from Makassar – where Alfred Russell Wallace once saw butterflies at a waterfall.
This is a stunning limestone cask area, and all the butterflies Alfred saw are still there – in display cases. There are virtually no other butterflies, however. In typical fashion, local authorities concreted over the heritage site. But, on the plus, it's very wheelchair-friendly. There's also rock art from long ago, which might also be graffiti. And guides will take you through caves if you're interested in paying Rp.60,000 to have lewd rock formations pointed out. Golden rule: never go on a weekend or public holiday unless you relish throngs.
Bulukumba and Bira, 5hrs – where the Bugis construct their hulls.
10 years ago, this was where you came to escape the insanity of humanity, snorkel off white-sand beaches and see turtles. Luckily, you can still see turtles because they've all been put in a lagoon on Liukang Island (a 20-minute boat ride away) to be molested by local tourists inflicting deadly skin conditions and stress. On the plus the food is excellent, but the prime restaurant for sunsets has stopped selling beer. And, like Makassar, what was once a sleepy backwater is now heaving with accommodation, so same rule applies about weekends and holidays. It's still a draw for divers and, more recently, bananaboatists who've caused fatalities and left nothing for honest snorkelers to see until the drop-off. I really hate banana boats…and jet boats.
The Kajang – 2hrs north of Bira – A sight of cultural interest where the Kajang folk blended their animist ways with Islam.
I never made it there, but friends report special exhibitions of culture for outsiders who ask permission.
By all accounts, it's a stunning area and exhibitions of culture you can expect to find run along the lines of mystic mind-over-matter, such as lifting extremely heavy rocks with twine around scrotum. If this list was in order of wow-factor, that would take top spot.
Sengkang and Lake Tempe – 5hrs north of Makassar.
This is the kind of place you go because it's in Lonely Planet and, where once you felt you just had to tick it off to make yourself more interesting at dinner parties, now you can do the same on Facebook. It has a floating village. I went there. It floats. Curiously the houses drift, so feuds with neighbours are rare. Other than that, there are no hotels or restaurants of note and the floating villagers do have cell phones which dampens the feeling of having discovered something timeless.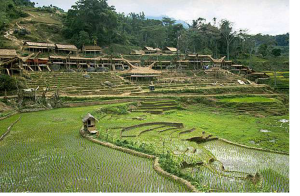 Toraja – 10 gruelling hours from Makassar but worth it.
Stunning limestone mountains and padi gone mad, this is the setting for the world-renowned funeral ritual where hundreds of buffalo end up regretting having no RSPCA in Indonesia (UK: Royal Society for the Prevention of Cruelty to Animals). It's a blood- and viscera-fest unsuitable for vegans. I couldn't watch…and what they did to the pigs! But even here time has taken its toll and the main town of Rantepao is a localised traffic jam and rubbish tip surrounded by empty, upper-end hotels. I stayed in one for my honeymoon and fully expected Jack Nicholson to be in the next room. Also, against prediction, the lavish funeral sacrifices have not bankrupted the region, quite the contrary. Where once stood quaint villages, there now sit tacky concrete houses with SUVs parked under big satellite dishes. The traditional look and feel is disappearing, so get there soon. But avoid holiday periods!
Manado – far north.
A small seaside city noted for cannibalising its offshore reefs to make lime for the grotesque strip malls. The surrounding area is an awe-inspiring patchwork of active volcanoes and jungle, most of which is inaccessible. The real draw here is diving, with Bunaken Island the popular base. It's a featureless flat besieged by mangrove and litter and possibly the most poorly-managed marine park in the world due to recent offshore mining.
And there's more. Much, much more. Sulawesi's national parks are stunning and if it's an adventure you want, it's still well off the beaten track. But if you want to see the hotspots, get there quick. Such charm as was and could yet be is not being developed, but sold off.