"When you start your journey as a chef, you know it will never end," said Roberto Fiorini, who's had a passion for cooking from a young age.
Roberto Fiorini is a professional chef who has made a name for himself on the culinary scene, having worked in various restaurants around the world and is now working in two restaurants in Jakarta; Inferno The Grill and Casa Alba Ristorante. His culinary expertise also expanded to the Royal Family of Saudi Arabia for one and a half years. Let's delve into Fiorini's journey and his experience as a chef.
Hi Roberto, let's get started by asking you to introduce yourself.
My name is Roberto Fiorini. I was born in Rome, Italy and at the age of 14, I moved to Senigallia, a small city on the Adriatic Coast in the Province of Ancona, Italy, to study at the hotel school specialising in cooking.
There, I met Mauro Uliassi, my mentor and one of the most famous chefs in the world. He filled me with a passion for this job, and working for him in his restaurant gave me a chance to develop my knowledge and the strength to be a chef. I have to thank him since I started my journey in this industry with passion and I am ready to spend the rest of my life in the kitchen around the world.
How long have you been a chef? Please share with us about your journey to becoming a chef.
I went to the hotel school at the age of 14 but I started working in the kitchen at age of 13 as a cook helper in a very old trattoria in Rome. After that, I started following Mauro Uliassi in many places until he brought me to his new restaurant in Senigallia where I'd been working for four years.
At the age of 20, I went to Moscow to help with the opening of the first Italian restaurant in Russia. At that time, the Berlin Wall was just torn down and Russia had opened a joint venture with Italian companies. I also had some experience in France in a few Michelin-starred restaurants and went back to Ulassi's restaurant for a while until I decided to open my own restaurant in Italy when I was 25. That restaurant became very famous and during the closing time, I had the chance to work with some popular chefs like Gordon Ramsey and Luis Andoni. I also attended the first course of Ferran Adria in 1999.
I also gained experience at the Grand Ecole du Chocolate Valrhona in Tain-l'Hermitage, France to improve my pastry skills and also spent many years at Lombardi Osimo, one of the bakery pastries in Italy, to learn the secret of bakery and the art of panettone and mother yeast.
We've heard that you once served the Royal Family of Saudi Arabia. How could you be the chosen one?
Out of nowhere, I received a mysterious call asking me if I want to go to work in Saudi Arabia for a very important person and obviously, I refused the offer since the idea of working in Saudi Arabia doesn't make me comfortable due to many restrictions I heard about that country.
After several calls, I was convinced to go for a food tasting but he never told me who was the one who wanted to hire me until I finally accepted the offer.
In the end, I found out that the Royal Family heard about me from one of my loyal customers in the restaurant I used to work at before. It was a great experience and an honour to cook for one of the most important families in the world. I'm sorry that the other details are classified and cannot be shared.
I worked for the Royal Family of Saudi Arabia from 2019-2020. However, after I got stuck in Indonesia due to the pandemic, I decided to quit.
It's been a decade since you've worked back and forth in Indonesia and overseas. What keeps you coming back to Indonesia?
The first time I decided to move to Indonesia was in 2012 and I didn't really choose it. It was fate that brought me here.
After I decided to start a new life, I applied to one of the chef platforms just to see if something happened and I got a call from Hotel Mulia Senayan, Jakarta. I didn't even know where Jakarta was at that time since my only experience in Asia was in Tokyo for a month as a guest chef.
I asked some random questions to my colleagues but none of them could say anything about Hotel Mulia, so it triggered me to explore something new and I found a big family that welcomed me with enthusiasm and passion. I literally fell in love with Indonesian people.
After I left Indonesia due to family matters in Italy, I got the chance to come back by the time I got stuck in Jakarta during my holiday because of the closing borders all over the world. Therefore, I took it as a sign of fate and I decided to quit my previous job and stay in Jakarta.
Your cooking style emphasises the use of charcoal. Are there any reasons behind it?
The use of charcoal has been with me since my first experience at 13. In that trattoria, we didn't use a burner but a big wood stove and oven and all the food was cooked that way. So, what is new for many people is part of my childhood. I pictured myself in the kitchen as if seeing my dad and my uncles cooking around a big fire and their happiness were very contagious.
In all restaurants I've worked in, I always add some food cooked on charcoal. The smell of burning and the sound of fire give a romantic tonality to the food once you serve it to your customer. Also, the taste of charcoal is easy to recognise so you can give a specific identity to your food from the first touch.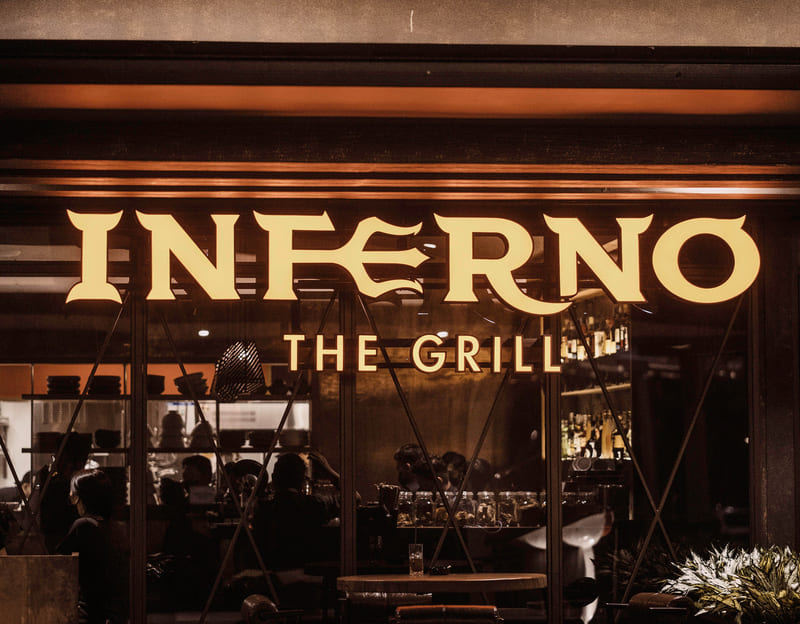 We'd like to know about Inferno The Grill and Casa Alba Ristorante. Please share with us about these restaurants.
Casa Alba Ristorante is a classic Italian restaurant where the food is pure and authentically Italian. It is exactly the same as a restaurant you can find in Italy. We serve a selection of classic antipasti like burrata, cold cuts, and our homemade Wagyu bresaola. We also serve various Italian cheese and modern versions of fish and meat antipasti. Those dishes are pure Italian-chef style. We also have homemade pasta created to bring you a mix of Italian ingredients in a way to respect the identity of Italy.
I put all my experiences on the menu to recall all of my memories as a chef and Italian food enthusiast with particular attention to the presentation. The service is led by Michele Carbotti to respect the variants of Italian meals and the selection of Italian wines.
Inferno The Grill is a new concept that came to mind after my last meals in one of the most famous charcoal restaurants in Spain. When I met Victor, the chef, the idea of opening a restaurant where all the food is cooked on charcoal became real.
Together with Andres Gaibor, I create this menu where all the dishes have at least two ingredients or the main ingredient cooked on a charcoal grill. That's the reason why I can say this restaurant is unique.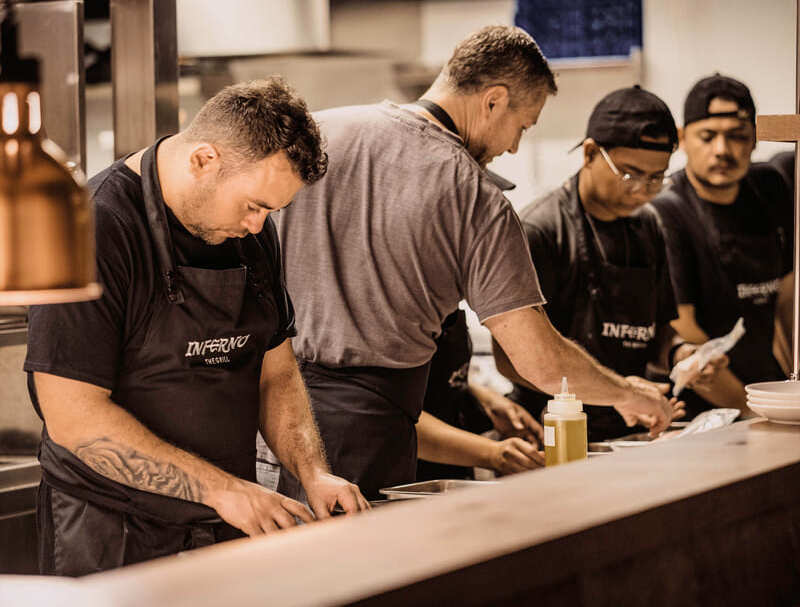 You can find spaghetti clams cooked on charcoal with this lovely smoky flavour or hamachi sashimi with grilled tomato water where the sashimi is burned on the grill. There is also beef tartare served in charred leeks and desserts which also have some elements cooked on charcoal, such as grilled banana cake, Trip to Cuba, and Pina Colada where the pineapple is grilled after being soaked in rum.
Inferno is not a pure Italian restaurant. The base is Italian but Andres put some of his South American taste on it and we also use our experience in Japan and other Asian countries to create a new flavour, which creates something new to try like Italian ramen, a seafood soup with coconut and lemon grass (Asian), the angel hair broken into it (Italian) and dry-aged grilled fish which makes it unique.
What kind of cuisine is your speciality?
This question is not easy to answer. My background is more in seafood since I opened my restaurant on the beach and ran it for 16 years in Italy. However, my experience goes from bakery to pastry to Michelin-star restaurants.
I spent years learning about fresh pasta, soup, base sauce, cutting, trimming, etc. I can only say my specialities are Italian food and I love Italian food as I love all the good food around the world. Many other old and new chefs can inspire you. Never stop absorbing as I said before: You know the day you start and you go on forever. That is the secret of good food.
What's next for you and the restaurants you're working in?
We have some new challenges coming up. It is a small plan so after all the fragments are clear and put it together, I will share a new concept. I would love to offer our customers the feeling of matching wine and simple food like our typical enoteche in Italy. Let's see how to put together the ideas.
Where can our readers contact you, Inferno The Grill and Casa Alba Ristorante?
You can contact the restaurants via WhatsApp and Instagram below: