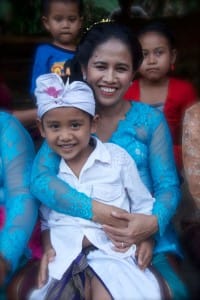 Wayan is one of twenty-five ladies in her Banjar (small village/neighbourhood) who plays the Gamelan in an all-female gamelan orchestra. A gamelan is a traditional musical ensemble featuring several instruments including metallophones, xylophones, drums, gongs, bamboo flutes, bowed and plucked strings and often, a vocalist.
Wayan started learning the gamelan ten years ago. From a very young age, she remembers the sound of the instrument as both of her parents played. Learning the Gamelan requires a dedication of time and patience. It takes about a year to be able to play the Gamelan competently. Wayan had to practice twice a week on Saturdays and Sundays for two hours from 8 – 10 pm, on top of her work commitments, ceremonial responsibilities and mothering duties.
"Female Gamelan playing has had a revival in many of the villages", Wayan explained. "It is now more popular than ever." Wayan wishes she had more opportunities to play. "I only get to play three or four times a year during Odalons (temple anniversary ceremonies) in the local village and sometimes when our banjar is invited to perform by other communities."
She is trained to perform nine different songs which all have various meanings. The eldest lady in her group is in her 70's which is very inspirational as Wayan hopes to be playing for the rest of her life. She gets great comfort from performing and feels very connected to the Gods when she is playing at the temple. She can sometimes enter a meditative state when the connection is very strong.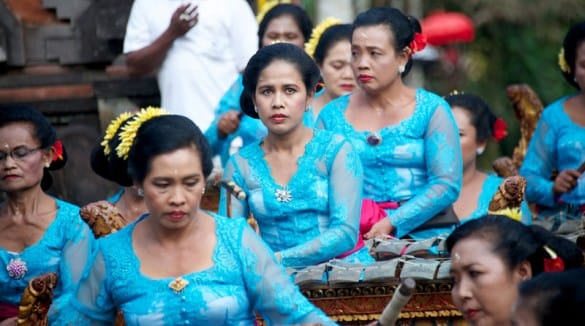 Her 12-year-old daughter, Onik, is a part-time Gamelan player and dancer but is more serious at this stage of her life with her commitment to dance. She is a very talented dancer and Wayan is very happy about that.
The ladies in the Gamelan group recently purchased new Balinese performance costumes.  They each put aside Rp.50,000 (USD$5) a month for a couple of years to raise the money.
Wayan plays for the Gods, with intensity and passion. Witnessing Wayan performing recently and hearing her story, I could see the passion and commitment in her eyes and I am sure at that moment she was communicating with the Gods.