The island of Flores, home of the extraordinary Komodo National Park, has much to offer and is worth taking some time to explore.
It is situated in the East Nusa Tenggara region. Flores translated means flowers, which is apt, because vegetation, flora and fauna are abundant. The island was colonised by the Portuguese in the 16th Century, and most of the population are Roman Catholic. Steeples and church bells offer a different feel than the heralding mosques throughout Java, or the religious offerings and the scent of incense to be found all over predominantly-Hindu Bali. Direct flights to the capital, Labuan Bajo, are two and a half hours from Jakarta, or one hour from Denpasar. The Komodo airport is clean and welcoming. It was recently renamed, expanded and now includes an air-conditioned lounge and Labuan Bajo's first escalator!
KOMODO
A popular tourist trip is a day journey through Komodo National Park. Highlights of this journey include visiting the three main islands: Padar, Rinca and Komodo. Fantastic snorkelling at Pink Beach, Komodo dragons, trekking and iconic views make the journey memorable. The underwater sights include turtles, rays, sharks, massive schools of fish and plenty of coral. Diving is great but note the currents can be quite strong. Rinca and Komodo islands have well-marked hikes and guides that take you to see the Komodo dragons. Remember to keep your distance and be respectful of their natural habitat. Padar Island features a stunning view from the hilltop. Hiking to the top early morning before it's too hot is a good idea and follow up with a swim at the end.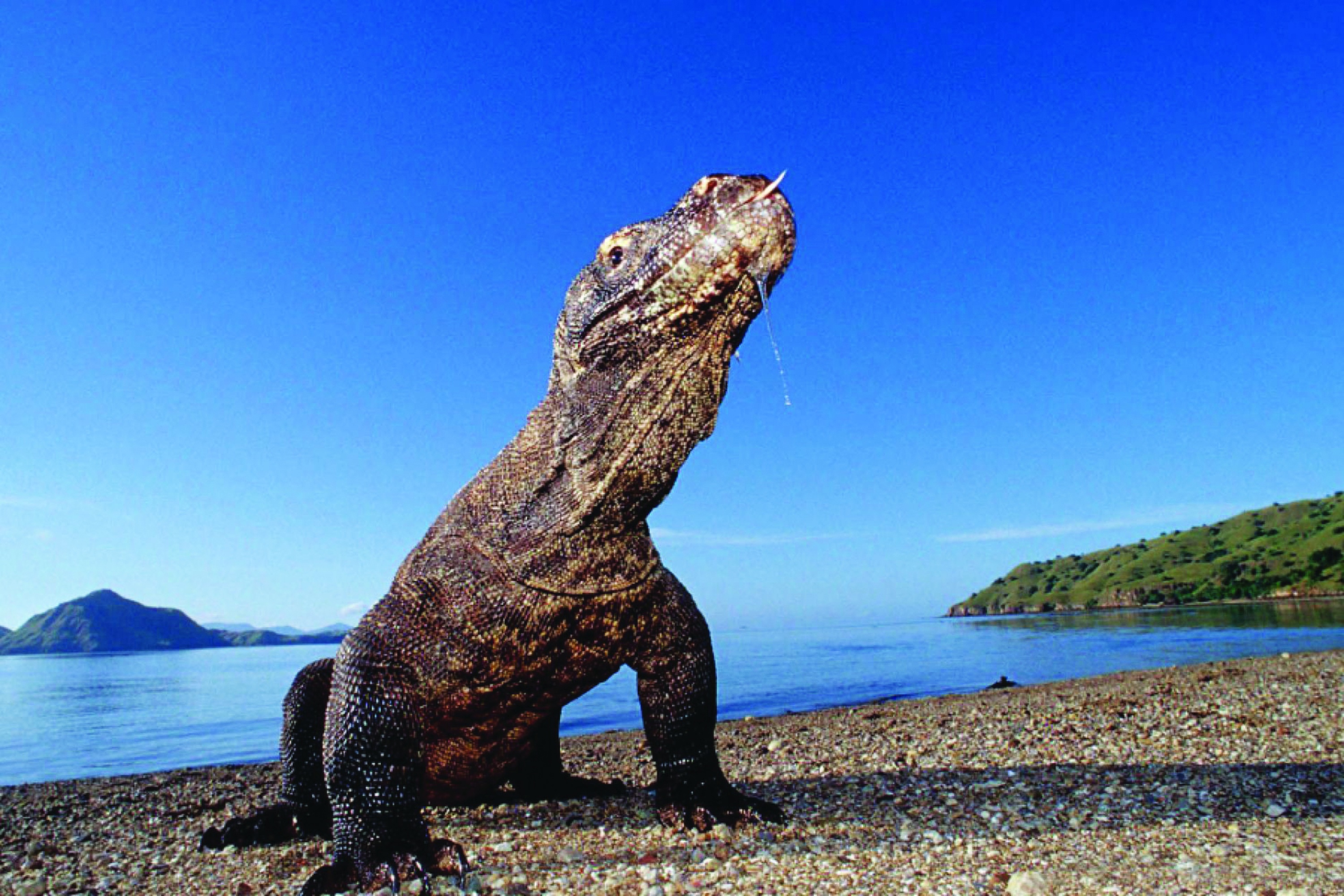 There is a variety of boats at varying prices to take you on this tour of Komodo National Park. Ask around for a personal recommendation, as quality is difficult to determine from the websites, and you may want to negotiate for a better price than you see advertised. It is fastest to depart by boat from Labuan Bajo, but if you want a longer cruise you can start from Lombok. If possible, ditch the cabin for a night and sleep on the boat deck. The display
of stars from the boat is absolutely awe-inspiring.
LABUAN BAJO
Labuan Bajo is constantly developing. Luxury resorts have only just started to appear, Ayana and Plataran being among them. Bring your adventurous spirit and take advantage of the simple eco resorts if that is your preference. If you do spend a few days in the city make sure to visit a fish market, where you can choose your freshly-caught fish and have it cooked on the spot. Enjoy a dragonfruit smoothie while you wait for your fish to be prepared.
MOUNT KELIMUTU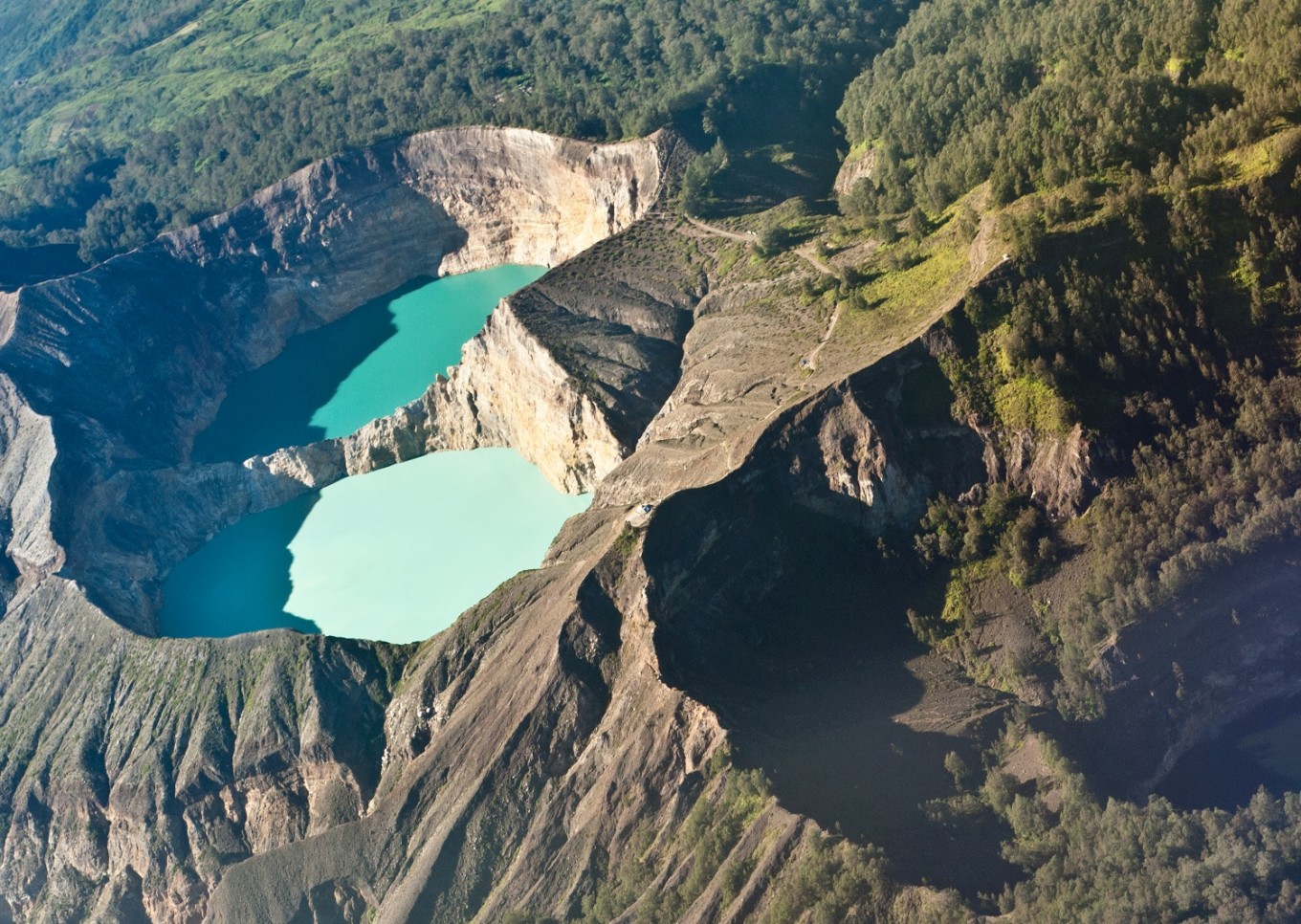 From Labuan Bajo, jump on a quick flight to Ende and go by car to the town of Moni. Driving along the winding trans-Flores Highway is exhilarating. The views are stunning in all directions: mountains, thick lush green forests, rice paddies and hidden villages. The air is crisp and fresh in the countryside. Pick a guesthouse to stay in before your trip up Mount Kelimutu the following morning. Kelimutu is no doubt a wonder of Indonesia and only requires 30 minutes of trekking. The main attraction is the view of the three sulphur lakes. They change colour depending on the mineral and gas content, but often three distinctly different colours are visible: hues of turquoise, brown and orange/red. The legend says that neglected ancestral souls are responsible for the changing colours. This place is mystical and a must-see in Indonesia.
WAE REBO VILLAGE – CULTURAL EXPERIENCE ON WEST FLORES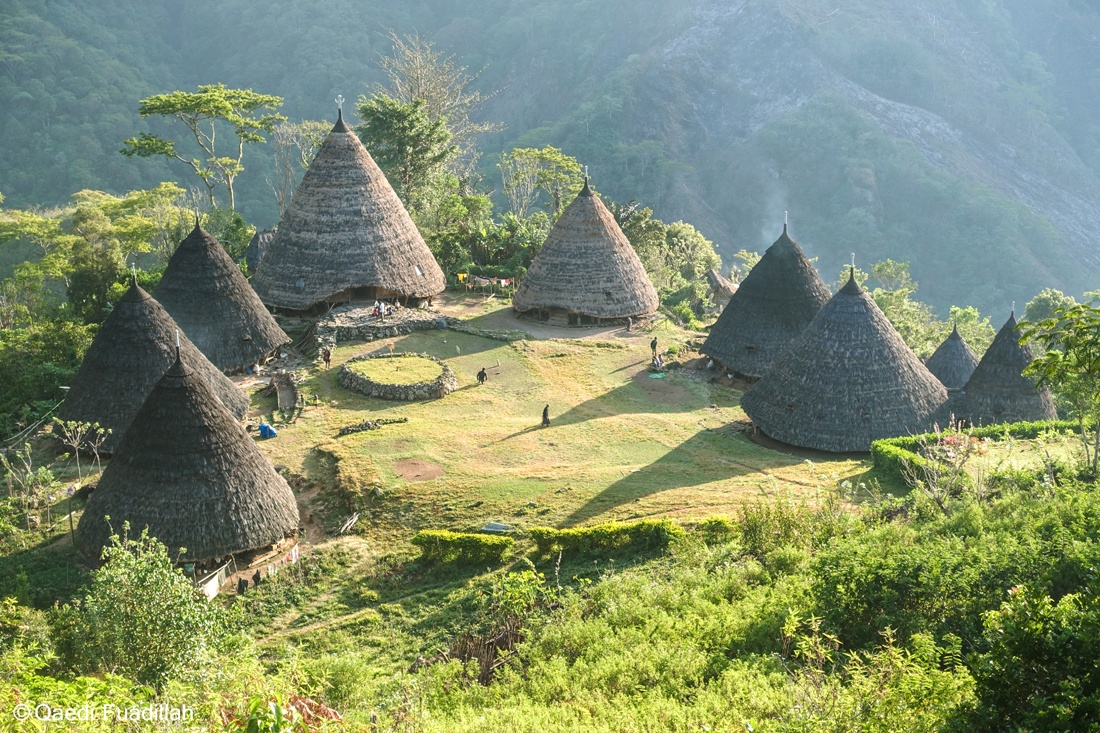 Wae Rebo village is a popular spot where tourists can experience an overnight stay in a traditional Manggaraian village (the Manggarai are Flores' indigenous inhabitants). It is tucked away in the mountains, accessible via a three-hour trek from Denge. After three hours of scenic hiking (think lush green forests, wild orchids and waterfalls), a clearing opens up, revealing several cone-shaped mbaru niang (drum houses). These traditional houses are constructed from palm fibre and wood. They often house up to eight families, symbolising the unity of the clan. Ceremonial songs are performed in the houses using sacred drums and gongs. On this trip you will get the opportunity to socialise and dine with the local community and witness them tending to their coffee crops and weaving songket (traditional Flores cloth). This trip is a very popular cultural attraction and can be organised through a choice of guides.
GET OUT THERE!
Often missed by visitors are the north beaches of Flores. Consider including Maumere and the surrounding area in your tour plans. Often Jakarta travellers will try to fit in only Komodo over a long weekend, but I highly recommend taking some more time to explore the other awesome sites Flores has to offer. The culture is vibrant and evidence of unique traditions is everywhere.