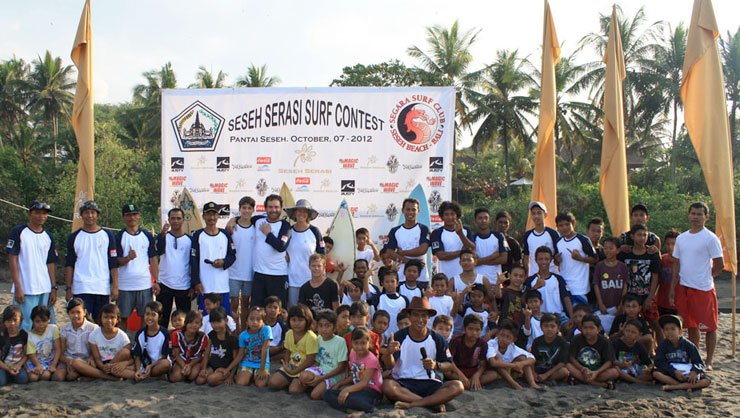 On 13th of October 2013, I was invited to attend a surf competition showcasing the best talent from Pantai Seseh's young surfer boys (or 'groms' as they are known in the surfing world). Walking along the beach from Pantai Batu Bolong, I passed by crowds of people who were surrounded by marine litter. The plastic trash that washes up on Bali's beaches is something I give a lot of thought to.
To my delight, upon reaching my destination at Pantai Seseh, just before the last Balawista Life Saving tower, a very clean stretch of beach met my eyes. Located behind the "Seseh Serasi Surf Contest" banner sat several large bags of trash, freshly collected that morning by students from SD3 Seseh Cemagi School.
Three generations of Balinese were present that day; fathers pushing their sons (under 10's) onto waves, young men and women compèring and judging the competitors, and young boys, who were eagerly eyeing up the event prizes. A brand new green 5'5" surfboard was propped up ready to go home with the winner of the SSC contest 2013. And I was there to discover how this 'unspoiled traditional community' played their part in creating Bali's Surfing History.
SESEH SURF COMMUNITY
Seseh Surf Community was founded by a Californian tourist, who was clearly loved by the local community and awarded the Balinese name "Pak Wayan". Back in 1997, he encouraged and enabled the kids of Seseh village to surf by raising funds to hold an annual surfing competition. In the beginning, the kids were literally surfing "ply-wood planks", but luckily for them, the resourceful American came to Bali armed with blank foam and soon taught villagers how to shape and make a few boards. The seed had been sown and was blossoming.
In 2007, Pak Wayan took off in search of new land, but he handed over the trusted baton to local hero, Ketut Sadia, from Bali Surf Tours. When the surf event moved to Pantai Pererenan it attracted Australian surf legend and Quiksilver team rider, Jake Paterson, who judged the 2010 and 2011 competitions.
"I got involved with Seseh Surf Community and Canggu Surf Community to give a little back to the sport I love so much," said Paterson. "After spending the last 30 years of my life in love with surfing, it has given me so much as a free surfer and a professional surfer. If I can just make one kid's day by helping out, I am stoked."
CHIEF ORGANIZER
38-year-old Ketut Sadia has been the Chairman and, more recently, organizer of Segara Surf Club for the past 16 years. A natural at networking events, Sadia was born in the traditional fishing village of Pantai Seseh, on the west coast of Bali, between Seminyak and Tanah Lot. Sadia grew up very close to the beach and has been an avid surfer since he was a teenager. In 2006, Sadia was presented with an award for 'The best non-surfing industry chief organizer for surf contest 2006 at Canggu Beach, Bali' by Magic Wave surf community newspaper.
"In 1999, I started my business 'Bali Surf Tours' offering services as a surf teacher, surfing tour guide and sightseeing tour guide," comments Sadia. "Being in harmony with nature and in perfect balance with the elements has become a lifestyle and a philosophy, and doing something positive for others is like a magnet for attracting more positive energy. You don't need anything else."
After a year-long struggle with his health, Sadia found himself on a healing and spiritual path, which eventually led him to create a memorable connection for the history of Balinese surfing. In 2007, Sadia sent a paper request to the Mayor of Badung (Anak Agung Gede Agung) and soon afterwards received a call to attend a meeting at his office. On the 15-16 September, the Mayor and Heads of Tourism, Environment and Health attended the grand opening of the 2007 Canggu Surf Competition. It was the first time surfing had been linked with the government.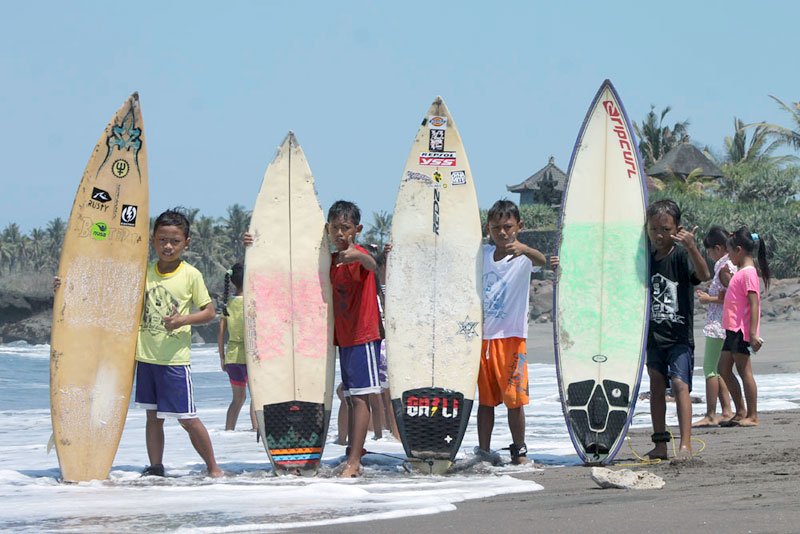 THE GROMS OF SESEH
When Australians, Rod and Kay Campbell heard back in 2007 that Seseh local surf club was in need of a sponsor, they jumped at the chance. And with surfboards as prizes and other surfing gear donated by numerous, very generous companies and individuals, the quality of boards seen on the beach soon moved from slabs resembling ironing boards to many of the latest shapes and models.
"Our connection with Seseh dates back to 1999 and a key part of this has been the relationship with the village and the people that make up this wonderful community," recalls Rod Campbell. "Ketut Sadia and Made Tasna always made us feel welcome whether it be out in the surf, joining in local ceremonies or simply hanging out on the beach."
For Seseh community, their annual surf competition has also been an opportunity to push the environmental message of 'keeping the beach clean'.  The local school gets behind this and all of the kids, whether surfers or not, compete against each other to see who can collect the most rubbish and be awarded fun prizes. The school's involvement even extends to the 'awards ceremony' at the end of the event when the local gamelan band provides a backdrop for traditional dancing from the same children. A great community event and a tremendous way to give something back to the people of Seseh.
You can contact Ketut Sadia at www.balisurftours.com