David Booth is the Founder of East Bali Poverty Project (EBPP) – a non-profit organization which has changed the lives of thousands living in abject poverty in East Bali by providing education, community health, dental care, toilets, clean/safe water, bamboo reforestation, community economic development and much more.
What was your early life like in the UK and how did it influence your social consciousness?
I came from a poor background. My father had to take extra jobs to supplement his meagre bus driver's wage to support a family of five. At seven years of age, I decided I couldn't live that way, questioned the meaning of life and decided that I would study hard, be the first in our family to attend university and earn enough money to lift my parents out of poverty. By age 12, I knew I wanted to be a civil engineer and by 17 had set aspirations to be a successful project manager by 25! I was determined to make every day count, be the best and help others out of poverty.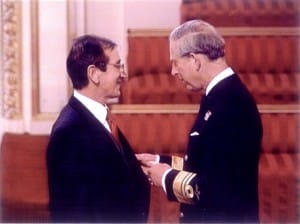 What is your educational and professional background and how did it bring you to Indonesia?
After 16 years as a successful civil engineering project manager, mainly in developing countries, I needed new challenges for the rest of my life. I'd already decided that my future was not in the UK and I'd fallen in love with the people and cultures of Southeast Asia. I targeted my marketing consultancy expertise to Southeast Asian embassies and commercial departments, resulting in the Indonesian Embassy becoming my major client. I soon grew to love the warmth and openness of the many Indonesians I met at the embassy and decided to visit Indonesia. After one month in Indonesia in August 1988, I felt my 'happiness index' soaring and knew it was the country I wanted to settle in. Back in Jakarta I explored how I could get legitimate work and three English schools offered me a post if I got my teaching diploma. After getting my RSA and teaching for six months, my school of choice in Jakarta sent me my visa, ticket and contract, and my life in Indonesia started on 4th November 1989.
What finally brought you to Bali?
Escaping Jakarta traffic and deciding it was time to move to another part of Indonesia to figure out the rest of my life. After a three-day drive through Java, I arrived in Bali in 1993, and set up home in Penestenan just outside of Ubud.
In February 1994, stopping in a small rural village, I recalled a promise I made to myself in 1973 in Nigeria after trying to help an impoverished and isolated mountain village on the Cameroon border near my new road project. The local government district head told me it was the poorest village in Nigeria and they would "civilize them by moving them to a newly-built mud-block compound at the side of the main road". It was wrong. They just needed help, as they had sustainable solutions happening in their tiny 40-family village.
It was then I decided that when I find the country of my choice, I wanted to dedicate my life to helping the poorest village towards sustainable development, prioritizing the health, nutrition and education of children.
Tell me about what you found when you discovered one of the poorest villages in Indonesia here in Bali.
After four years' research, believing there could be nowhere more impoverished than the Nigerian village, I was stunned to eventually find the 19-hamlet mountain village of Ban on the Eastern slopes of Mounts Agung and Abang, where only four hamlets were accessible by road. The furthest eight were 6-8 hours walk from any facilities and none had access to health, water, sanitation or education facilities. Most of the 3,000 or so families survived like their ancestors: trekking to their remote farms, harvesting, cooking and bartering cassava and corn for rice, kerosene and cooking oil.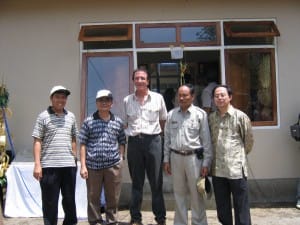 When was East Bali Poverty Project formed and how did you begin transforming the poorest village in Bali?
Our foundation was legally established in 1998. The village head and respective community leaders agreed to a foundation of mutual trust and balanced promises, which apply to this day. My promises: no promises but I'll do my best; no handouts of money or rice; I'll quit if I find any corruption, collusion or nepotism by any community in any projects we facilitate. The communities' promises: 100% motivation and 100% participation in every project they aspire to and I will help them get there through knowledge and appropriate technology; and agree to give honest interviews about every aspect of their life.
After getting signatures from each of the community leaders with a summary of key problems, I met the Karangasem Bupati to request his support. To my amazement, he did not know Ban village, so I showed him on a map of Bali, which did not include Ban village! He offered 100% support and advice in the procedures to establish our charity and was supportive thereafter.
Four local young men joined me to help their village develop – even though I could not pay them. They trekked hundreds of kilometres to interview 1,056 families, the analysis of which determined the most isolated and impoverished hamlets. When my team asked the village head "What is the most important problem that EBPP could solve?" they requested "Education for our children to lead us to a better life."
With no educational resources available, we designed a curriculum based on what the children, parents and communities needed to know and I trained three local people with basic reading and writing skills, as tutors. The curriculum started with the ABCs of hygiene, sanitation and nutrition.
Our first 'school', launched in Bunga hamlet in 1999 for 35 illiterate children aged 6-16, was founded on the same principles as the EBPP's three promises, also sworn by the parents. This successful thrice weekly programme saw the first 11 children graduate elementary school in 2003. The model was refined and replicated in the next five locations when private funding became available.
What are the greatest challenges facing EBPP today?
Sourcing funds needed, especially for vocational training and university education for our senior high school graduates – who can lead their village to sustainability.
Tell me about one of the most moving moments you have experienced in your work with the villagers.
In 2001, when we had provided the first roof rainwater collection reservoir for Cegi schoolchildren, our local tutor, Ibu Komang Ayi, filled a small container, looked at me and said, "Mr David, clean water." She had never seen water that was not coloured green or brown before. Tears welled up in both our eyes.
What can people do to help support EBPP?
Donate to help us buy more site transport to traverse the steep dirt roads; support our continuing local staff empowerment through further education; sponsor our school graduates for university or vocational training; volunteer if you have skills and experience – Indonesian volunteers are especially needed to partner with and empower our local staff.
Visit and donate at: www.eastbalipovertyproject.org