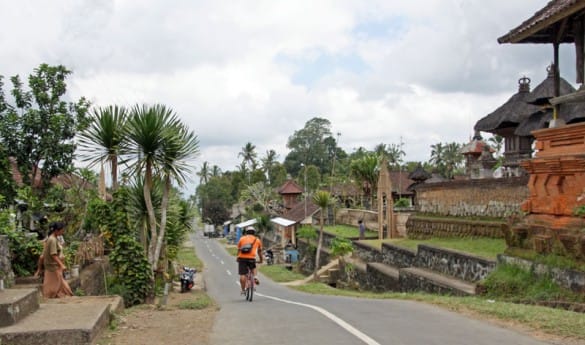 When visiting Bali, people either stay by the sea or head for the hills. My husband and I opted for Ubud's cooler mountains. Everything necessary for a happy holiday exists – lush forests, terraced rice fields, ancient temples, crafts, cheap accommodation and luxury hotels. Ubud is an artisans' hub, encompassing a sprawling collection of villages that is spread over several kilometres. A great way to explore the area's natural beauty, interact with locals and taste the island's bounty is by bicycle. You can make tracks on back roads, yet stop to indulge every interest. The pace is your own. You also will burn calories in the process.
Several Balinese companies offer countryside tours, which positively impact their communities with jobs while sharing cultural insight. Our guide, Arga, with Bali Rocky Cycling Tours, picked us up in an air-conditioned support van to shuttle guests to the top of the mountain. We would begin our downhill adventure at Kintamani. We wore sporty clothes and shoes, slathered on sunblock, donned our sunnies and grabbed the camera. Everything else was provided; fully-serviced mountain bikes, helmets, bottled water and meals.
En route to the kick-off point, we stopped at a local plantation to sip coffee. The farm also included numerous fruit and spice trees, including nutmeg, papaya, banana, cocoa, snakefruit, mangosteen, cinnamon, ginger, vanilla and cardamom. We sampled eight beverages, ranging from coconut coffee to hot chocolate to ginseng tea – nicknamed "honeymoon power". We also learned about the exotic luwak label with a trip to the civet cage. This small, wild cat feeds on coffee fruit, but it cannot digest the beans, so excretes them. The scat is scooped up and the beans processed for an exclusive experience. We were sloshing by then, so we gave it a miss.
At Kintamani, a breakfast of banana pancakes and fruit was served against the majestic backdrop of Mount Batur and its crater lake. The caldera is seven miles in diameter and 60 feet deep.From there, it was a downhill trip from the volcano rim. Arga called it bicycling, but I called it braking. My hand cramped from clamping down. We passed through many rural villages, where people greeted us warmly, calling, "Hello, hello!" As we cruised by, the boys loved to have their outstretched hands slapped.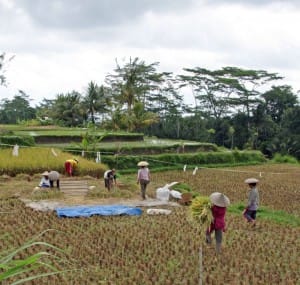 People live in tight communities with extended families in compounds. Ornately carved and painted wood or stone structures are surrounded by a wall with an inner brace at the entrance to keep evil out. Ninety percent of the population practices Balinese Hinduism and acknowledge interaction with the spiritual realm. Statues of gods sit prominently at the gate with an offering site attended to daily. Palm leaves are intricately woven to form shapes that hold flowers, food and sometimes Chinese gold coins to appease or thank spirits.
Ubud has long been a mystical place, known for its healing powers, and the name comes from the Balinese word for medicine, ubad. For Galungan Day and other celebrations, decorative poles or fencing, called penjor, are woven and erected in honour.
Villagers attended to their daily chores as we cycled along. Rice and spices were spread on mats on the ground to dry on the winding paths, so we steered around. The lifestyle has changed little, and we breathed deeper in the simple, still surroundings. Arga guided us through bamboo forests and down jungle tracks. One opened into a clearing, wherea hoary 16th century templehunkered, overgrown with orchids. It is still in use for high holy days.
The Bali dog – medium-sized and curly-tailed – roamed the streets, and each family had at least one. The chickens also ran free and crossed the road as we passed, perhaps providing the answer to the old saw: why did the chicken cross the road? To avoid mad cyclists.
Bali craftsmen manufacture wood in myriad ways, ranging from carved doors and temple structures to lychee root systems reborn as art. We stopped into a traditional shop and walked amongst the craftsman, admiring their intricate, hand-hewn designs. Painters applied rich colours on the final phase of the products.Then, we sojourned under a banyan tree.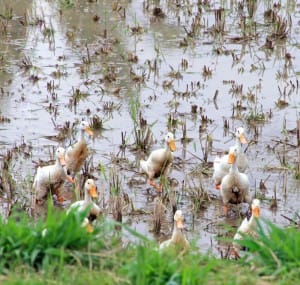 Cycling on more level track, the rice paddies provided a lush landscape as verdant terraces fell away. A walk in the field provided details on farming, crop rotation and irrigation. Farmers set nursery plants into the muck or bangedrice bundles to separate the heads from the stalk, which would be fed to the cows. At the field's edge, flocks of bebek, or ducks, quacked and waited for their turn to waddle in and glean. There, amongst the paddies in a small restaurant on the terrace, we relished a well-earned, late lunch of nasi goreng and tea. After resting, we were transported back to our hotel.
Get off the beaten path. A personally guided bicycle trek with a local company is easy in every sense of the word. During the four-hour ride, we stopped to take photos, chat with villagers and smell the spices. From pick-ups and drop-offs with iconic breaks along the way, it's all downhill. As they say in Bali, seng ken-ken – no worries.
Balinese Cycling Tour Operators:
Bali Rocky Cycling Tour Price: Rp.400,000 adults, Rp.250,000 children to 12 years www.balirocky.com
Bali Countryside Tour http://ultimate.balicountrysidetour.com
Happy Bike Tour http://happybiketour.com
Bali Go Bike http://www.baligobike.com