What to do if you face trial or jail in Indonesia but you're too big a coward to take responsibility for your actions? Feign illness, of course.
Errant Indonesian politicians and tycoons have long been claiming poor health in their attempts to evade or postpone justice.
One high-profile case involved Samadikun Hartono, the former president director of Bank Modern, who was in 2003 convicted of embezzling about US$13 million and sentenced to four years in jail. Pending his appeal, he was allowed to fly to Japan for "medical reasons". He never returned, but instead moved to Singapore and carried on with business activities in China and Vietnam.
His good fortune came to an end in April when Chinese police arrested him – at the behest of Indonesian government officials – at the Shanghai Formula One Grand Prix. He is due to be extradited to Indonesia and jailed.
Hartono was one of many Indonesian tycoons who absconded from the country after their ailing banks received bail-out funds at the height of the 1997-98 Asian financial crisis. About 95 percent of US$16.8 billion pumped into the banks was misused. It seems unlikely the crooked bankers could have fled on spurious medical grounds without the assistance of corrupt officials.
Former dictator Suharto set the template for courageous integrity by refusing to attend his own corruption trial, which commenced at South Jakarta District Court in August 2000. Doctors successfully claimed a series of strokes had left him so severely brain damaged that he could no longer communicate normally and therefore could never be brought to court. Despite that, he was later seen talking normally, although his physical health gradually declined until his death in 2008 from multiple organ failure.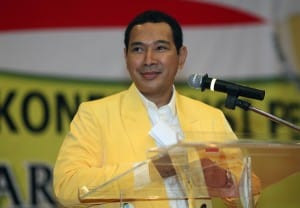 Suharto's youngest son Tommy was also accused of corruption and received an 18-month prison term in September 2000. Still believing himself to above the law, he refused to go to jail and instead ordered the murder of the judge who had sentenced him. Tommy was eventually brought to trial for murder in 2002, but failed to attend several sessions – including the reading of his guilty verdict – always on the grounds of poor health and needing rest.
His lawyers and doctors had demanded proceedings be delayed to give him time to recover from diarrhoea and dizziness.
After being sentenced to 15 years in jail, he was routinely allowed out on dubious medical grounds for a possible eye tumour. He ended up making a mockery of the justice system, being released after serving fewer than five years.
More recently, former religious affairs minister Suryadharma Ali was "sick" – allegedly suffering from high blood pressure brought on by psychological torment – when prosecutors sought to bring him to trial for embezzling billions of rupiah from haj pilgrims over 2010 to 2013. In January, he received a sentence of just six years in jail.
Corruption Cancer
If you really don't want to go to court, try telling people that you have cancer. That's the tactic of businesswoman Eunike Lenny Silas, who is a suspect in a case of fraud and embezzlement involving a coal deal.
Judge Efran Basuning at Surabaya District Court in East Java had earlier this year ordered that Lenny be detained at the local Medaeng Detention Centre pending her trial. She responded by telling state prosecutors that she needed treatment in Jakarta for breast cancer.
Prosecutors brought her to Surabaya Oncology Hospital, where tests revealed she did not have cancer, but only a headache due to stress, and a sore leg caused by a fall. Despite that, prosecutors in April allowed her to go to Jakarta's Medistra Hospital, and the detention centre issued a letter for her release.
The judge was furious and castigated the various officials for disobeying his ruling. The head of the detention centre, Bambang Irawan, lamely claimed that the official who authorized Lenny's release was young and inexperienced, and had made a "writing error".
Refusing to accept excuses, the judge demanded Lenny be brought back to court. On May 3, there were farcical scenes as Lenny was wheeled into the courthouse while lying pathetically on a hospital bed. Dozens of her employees were present to lend moral support and hysterically yelled out "Allahu Akbar! Allahu Akbar!" Just to let the judge know the defendant is a good Muslim.
Playing the part of an ailing woman, Lenny looked weak with a tube in her nose and began to cry, prompting an adjournment. She was rushed to an ambulance after spending just 15 minutes in court. A heavy media scrum surrounded her arrival and departure.
The judge remained unimpressed and again chastised prosecutors for allowing the trial to descend into farce. He ordered that Lenny be sent to Surabaya Navy Hospital for a second opinion on her health. He said the court would provide her every convenience if she really did require urgent travel and surgery.
Unfortunately – or perhaps not – for Lenny, the Navy Hospital on May 6 found her to be cancer-free. So she was sent back to the detention centre, despite her lawyer's claim that she is too sick to be tried.
Playing sick is common enough in schools, when some children fear taking an unpleasant exam or a test. But as people mature, they should abandon childish subterfuge. The legal system must stop allowing suspects and felons to feign illness. The greatest sickness is that which afflicts a judiciary that fails to uphold the law.