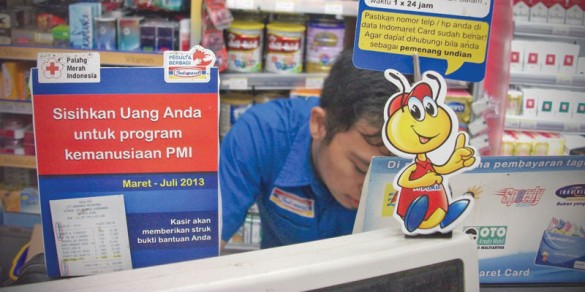 It's easy to deride stingy expats who bicker over insignificant sums on the grounds that: "It's not the amount involved, it's the principle."
In recent months I have been repeatedly short-changed at minimarts, mostly at Indomaret, which started business in 1988 and now has over 8,000 outlets across the country. Why care if I get ripped off by a measly few hundred rupiah each transaction? Because it's the principle. Really. If Indonesia tolerates petty pilfering, then it cannot expect to stop higher level corruption. People need to reject every form of corruption.
A purchase of four items at Indomaret comes to Rp.32,300. I hand over Rp.50,000 and the cashier gives me Rp.17,000 change. I ask for the remaining Rp.700 change and he tells me: "Sorry, small money is finished." I observe sales for about 20 minutes and notice that every customer is denied small change. Generally it's male cashiers doing the pilfering during the late night-shift.
Sometimes the cash register is turned off, usually from 1am to 5.30am, so there's no receipt and the cashier overcharges for the total. Indomaret tries to clamp down on this problem by promising a gift if there is no receipt. This month, a poster announces a free litre of cooking oil if you don't get a receipt. Last night I purchased a couple of items, was short-changed Rp.300 and received no receipt. So I cheerfully requested my free cooking oil. "Finished, mister," the cashier told me. He also claimed the cash register was dead and had no paper. When I inquired about making a complaint, the cash register came back to life, complete with paper to print a receipt, and I was given correct change.
Based on my observations, cashiers in my local store pilfer an average of Rp.100 per minute, which comes to Rp.144,000 per day. Now, imagine if 40% of the country's 8,348 Indomaret outlets had crooked cashiers. That would come to over Rp.480 million ($41,590) per day or $15 million a year. More likely, almost all outlets are honest and the skimming is negligible. An online search for "Indomaret" and "penipuan" (scam) yields only 128,000 results.
Indomaret deserves praise for its philanthropy, so it's a shame that some staff give it a bad reputation. Last year, the company had a program where customers could "opt" to automatically give their change to the United Nations Children's Fund (Unicef). Indomaret reported that from May 15 to December 30, 2012, it collected over Rp.6.3 billion (then worth $662,350) for the charity. Unicef Indonesia's 2012 Annual Report states that $608,281 was received from the chain.
Some customers complained their change was donated without consent. "I don't want to give to Unicef because they spend so much on their staff," says one shopper. "And they have enough operational funds from various sources. I prefer to give to small, local NGOs. But the cashier just gave my money to Unicef without asking me."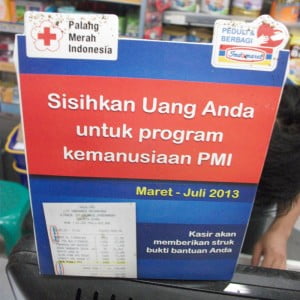 This year, from March-July, Indomaret raised funds for the Indonesian Red Cross (PMI), although the amount collected is yet to be publicized. In the second half of 2011, Indomaret raised Rp.5.9 billion ($653,570) for PMI. A spokesperson said the aid was used to purchase "two mobile blood donation units and for other humanitarian activities". Last week, a cashier told me my missing change was for PMI (even though the program finished in July). I asked why my "donation" wasn't printed on the receipt. No reply.
Indomaret staff say they earn Rp.2.4 million a month (for eight hours a day, six days a week), which is just over minimum wage. I asked one cashier if he would stop taking small change if his salary was higher. "No," he replied, "because most customers don't care."
These kids are earning barely $230 a month, so why begrudge them the right to augment their meagre salaries? Because theft is wrong. Some minimarts in the past gave customers a piece of candy in lieu of small change, though this practise has largely stopped.
Old-fashioned warung usually never short-change customers because the shopkeeper always rounds the price up or down. Likewise, my local 7-Elevens price everything in multiples of Rp.500.
If the government goes ahead with its plan to redenominate the rupiah next year, cutting three zeroes off the currency, then perhaps I can just whine about cashiers giving precedence to queue-jumpers and failing to kill cockroaches. It's the principle, you see.