A slow-witted colleague came to me with a request for help last week. He had telephoned a sex chat line "just to see what it was like" and ended up with a big phone bill, as well as a costly subscription to lewd text messages, which he was finding difficult to cancel.
I thought premium-rate phone sex lines would have been made redundant by adult webcam services, but not so. It turns out that phone sex is still big business in Indonesia, as the operators enjoy anonymity, whereas people performing in front of webcams risk social stigma and being charged under anti-pornography legislation.
Jakarta's tabloids used to be full of advertisements for phone sex lines. Not anymore. The sleaziest of the tabloids, Lampu Merah, cleaned up its act in 2008 by changing its name to Lampu Hijau and toning down its focus on smut and titillation. Where its front page used to be a gallery of soft porn, today's edition has a photo of a dead baby. The back page still has a daily 'Sex Position for Husbands and Wives' (because only married people have sex in Indonesia), but the lewd ads of big-busted, barely dressed women have gone. Instead, there are a few tame ads for 0809 premium-rate numbers offering "chatting" for a mere Rp.3,420 per minute.
The sexiest ads now in Lampu Hijau and Pos Kota are those from people posing in Islamic garb and offering treatments such as penis enlargement, breast enlargement and vagina tightening. There's also a growing number of ads for inflatable sex dolls – which are described as "full body and beautiful" and cost Rp.850,000, should you fancy having sex with a bit of plastic. Amid all this filth are ads offering to cure haemorrhoids and hernias.
Phone sex ads are now primarily conveyed via SMS in Indonesia. Providers obtain lists of numbers for men, who receive texts along the lines of:  "Darling, I'm sooo lonely and need a man to caress me. Kisses, please call me on 0809xxxxxxx." Anyone who calls this number will be billed at Rp.1,700 per 30 seconds for the pleasure of phone sex. Good operators know how to proceed slowly, making lots of small talk, to keep a man on the line for 20 minutes before he gets what he called for. The best operators are good enough to get a man addicted, so that he will keep calling back.
Some people claim phone sex lines are a scam because first-time callers may not be aware that their credit will be sucked dry. Also, certain call centres mention a rate of Rp.400 per minute, but then charge over Rp.3,000 a minute. Jakarta Police spokesman Senior Commissioner Rikwanto says phone sex is not a crime if it's just talk, although police may investigate if there are indications a service is a front for prostitution or sex trafficking.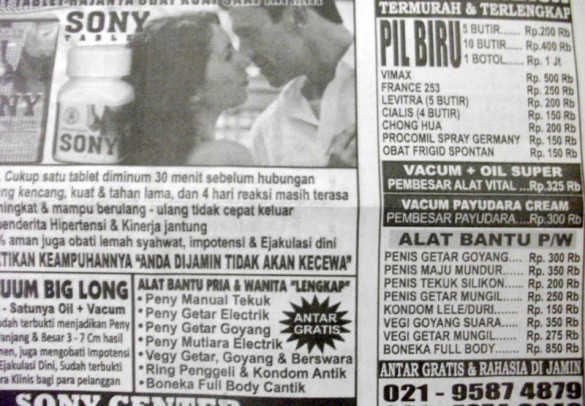 Typically, the female operators are not freelancers. They usually do eight-hour shifts from rows of cramped cubicles for less than Rp.1.5 million a month, although they may receive a bonus for every call that lasts 20 minutes or more. Operators field about 20 to 30 calls a day. Some augment their lousy salaries by meeting with male callers and then charging about Rp.500,000  for real sex in a hotel room.
Officials from the Communications and Information Ministry earlier this year busted a phone sex business that operated from the eighth floor of an office building on Jalan Gatot Subroto. A local media report said that although "the operators had seductive voices, none of them had beautiful faces". The owner of the business was reported to be a foreigner.
One risk of the job is getting abusive calls from wives who suspect their husbands are having an affair. Clever operators are immune to the abuse and let an angry wife carry on shouting for as long as she pleases, as every 30 seconds means more money for the boss.
Some phone sex entrepreneurs have created Facebook pages to find callers. Freelancers post their phone number and sexy photos on social media sites to snare men, and then give them sob stories about how they are orphans, desperately needing money. Pathetic men delude themselves into thinking they have found true love and willingly transfer money. Some optimistic guys post their mobile numbers online and urge women to call them for phone sex, but they usually just get hit with spam.