Fake news, a symptom of lazy journalism and deliberate mischief-making, is everywhere. Consequences can be fatal.
Many moons ago, "fake news" used to be the domain of trashy tabloids, such as the US-based Weekly World News and UK-based Sunday Sport, which featured outlandish headlines such as "Half of US Hookers are Space Aliens" and "Gordon Ramsay Sex Dwarf Eaten by Badger".
Occasionally, mainstream newspapers such as British tabloid The Sun served up fake news, such as "Freddie Star Ate my Hamster", which was a publicity stunt for an entertainer. More sinister mendacity included The Sun's report on the 1989 Hillsborough disaster, when 96 people were crushed to death at an English football stadium due to the gross incompetence of police overseeing entry to the ground. The Sun printed a series of front-page lies, pinning the blame on Liverpool Football Club supporters.
There is also satirical news, such as The Onion, which was started by American university students in 1988 and still churns out stuff like, "Study: Dolphins Not So Intelligent on Land". On rare occasions, The Onion's articles have been taken seriously, such as when The People's Daily of China quoted a story headlined "Kim Jong-Un Named Sexiest Man Alive For 2012″.
Churnalism and Lies
Come the internet and anyone could write and upload any nonsense they pleased. Many people cannot differentiate between facts and lies, especially when reading "news" shared on Facebook, WhatsApp and Twitter.
The digital media era means that newspapers have seen declining advertising revenue, resulting in reduced operating budgets, leading to lazy journalism and "churnalism" in which information is regurgitated without being checked for veracity.
On the morning of April 12, I received a WhatsApp message claiming that Jalan Gatot Subroto, one of Jakarta's busiest and longest roads, would be closed from 6 am to 4 am (22 hours a day) for one month pending completion of a pedestrian walkway. The source was listed as "ntmcpolri" – the police's National Traffic Management Centre (NTMC). My immediate reaction was that it must be a hoax, as it makes no sense to close such a massive, integral road for so long for the sake of sidewalk construction.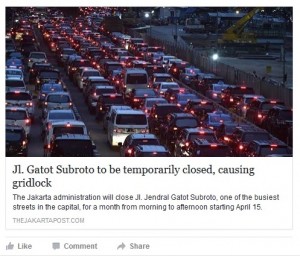 But then my Facebook news feed showed an article from The Jakarta Post, headlined "Jl Gatot Subroto to be temporarily closed, causing gridlock". It claimed: "The Jakarta administration will close Jl. Jendral Gatot Subroto, one of the busiest streets in the capital, for a month from morning to afternoon starting April 15." The article was widely shared. A quick check of NTMC's website showed no such announcement, only an old advisory from April 7, stating that a southbound section of the road outside the Air Force Headquarters would be closed from 11 pm to 4 am for four days pending the widening of the road. Evidently, someone had tinkered with the old announcement and disseminated it on social media to fool the gullible.
The simple act of fact-checking would prevent mainstream media from presenting fake information as news. When I first worked at a newspaper in Australia in the early 1990s, I was taught about the dangers of "lifting" – copying information from another source without independently verifying the facts. Lifting was strictly forbidden. It seems now that some newsrooms have no qualms about lifting, even from bogus text messages.
Deadly Rumours 
Another fake story that recently went viral on Indonesian social media claimed children are being kidnapped and harvested for their organs. One widely shared post, picked up by the media, declared children are being abducted by truck drivers, street vendors, pregnant women, insane people and beggars. A disturbing video on Facebook shows dismembered bodies, accompanied by a warning of organ harvesting. There's no harm in advising parents to teach their kids about stranger danger, but it's unsafe to whip gullible people up into a state of hysteria.
On March 16, Sapto Handoyo, a 49-year-old mentally handicapped man entered a shop in Banjarnegara, Central Java. The shopkeeper began shouting for help, thinking the man was pretending to be insane in order to kidnap children. A mob soon arrived and brutally kicked the frail Sapto, who was eventually rescued by police.
Not all victims of mass hysteria are so lucky. Maman Budiman, a 53-year-old man from the West Kalimantan capital of Pontianak, was on March 26 attempting to visit his son in Amawang village in Mempawah regency when he was beaten to death by local vigilantes who suspected him of preying on children.
Maman, who was a trader in petai beans, had been intending to deliver some rice and other comestibles to his son, Tedi (26), when he stopped to ask for directions. He was brutally bashed and detained at the village hall. Police arrived at the scene but their presence only inflamed the mob's desire to kill Maman. Officers later claimed the mob numbered about 600 people. Five alleged ringleaders were arrested on April 8.
Mempawah Deputy Regent Gusti Ramlana urged the public to check facts and report any suspicious activity to police or civilian officials, rather than take the law into their own hands. There have been at least four attacks on suspected child abductors in Mempawah in recent months and at least a dozen similar incidents across Indonesia.
The Ministry of Communication and Information Technology in late December 2016 warned that Indonesia has almost 800,000 websites disseminating fake news and hate speech. Such "news" is multiplied by sharing via social media accounts.
Communications Minister Rudiantara claimed the government would block fake news and hate sites, and coordinate with social media platforms to block accounts being used to promote illegal content.
Political dirty tricks have become prevalent through social media. Much of the fake news has a racist slant, especially in order to oppose Jakarta's ethnic Chinese governor, Basuki "Ahok" Tjahaja Purnama. Such racism is dangerous in a country with a history of anti-Chinese violence.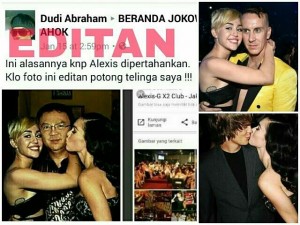 There have been fake reports that 10 million Chinese workers entered Indonesia, that China is exporting plastic rice to Indonesia, that China is using biological weapons to destroy Indonesian crops, that Ahok's program of free vaccines will sterilize girls so the Chinese can take over Indonesia. A photoshopped image of Ahok between Miley Cyrus and Megan Fox was cited as the reason for his refusal to shut down a high-class brothel in North Jakarta.
As people rely increasingly on social media for news, there is a real risk of fake news hijacking Indonesian democracy. It is imperative that Indonesian schools teach children to practice critical thinking, so they can distinguish between facts and lies.
Next time you receive a Facebook, WhatsApp or Twitter message alerting you to some new disaster, check the facts before you start sharing and commenting.