Nature is the best remedy whenever one is down or overwhelmed with their daily routines. Retreat to a resort, a villa, a glamourous campsite – the list goes on.
Why not consider taking a luxurious sailing trip the next time you're scrolling online for vacation inspirations?
Alila Purnama by Alila Hotels and Resorts is the most luxurious ship in Asia. Since 2012, individuals or private charter groups can explore and have an unforgettable time cruising along Eastern Indonesia's crystal-clear blue waters, while getting pampered and entertained by Alila Purnama's experienced crew members.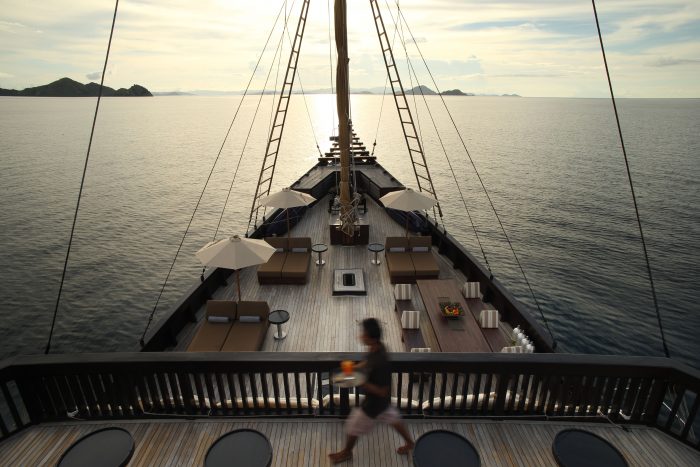 Up to ten guests can be aboard this luxurious yet traditionally built Phinisi ship that has an ultra-modern design across three decks, measuring in at 46 metres long and 4 metres high, capable of sailing at 10 knots. The decor includes custom-made furniture from teak and rattan, as Alila Purnama strives to include local touches, sophistication, as well as viability.
Two types of bookings can be made: individual suites and private charters. Guests of two people will share a suite under an individual suite reservation, whilst a group of two to ten guests can customise their ocean adventures by choosing to reserve specified sailing duration and itinerary under a private charter.
Alila Purnama sails to two dreamy coastal destinations in Indonesia: Raja Ampat, West Papua, and Komodo Island, East Nusa Tenggara.
To experience Raja Ampat like never before, guests will arrive at Domine Eduard Osok Airport in Sorong, Papua. From there, they will embark on Alila Purnama and traverse across approximately 200 dive sites throughout the islands of Salwati, Batanta, Waigeo, and Missol – also known as the Four Kings (Raja Ampat). Meanwhile, guests will be picked up at Komodo Airport in Labuan Bajo. Soon after, they can witness this World Heritage Site that has "private" beaches and impeccably crystal-clear water that's home to over 260 coral species and 1,000 fauna species.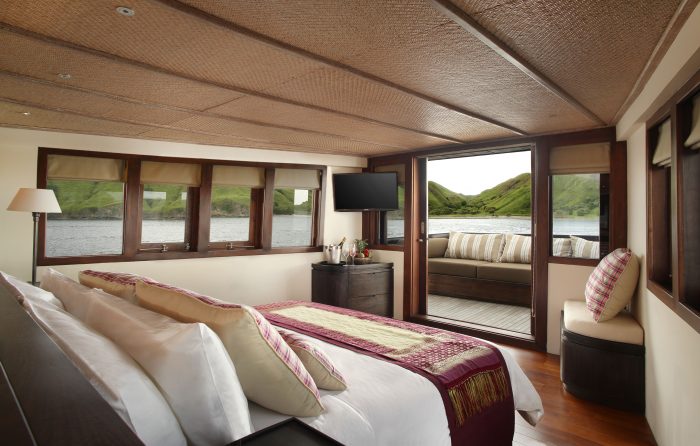 Alila Purnama has a selection of five air-conditioned suites that include queen-sized beds, bathrooms with showers, wardrobes, desks, and enclosed toilets. The master suite called the Sriwijaya Master Suite has a unique design compared to the other four suites. In addition to a bathtub, two washbasins, a private balcony, and sundeck with daybeds, the suite's 180-degree views from the windows spanning along the ship's walls will majestically captivate anyone with tranquility.
Sailing can get monotonous, especially for first-timers. To anticipate that, Alila Purnama provides a library for some quiet R&R, a lounge, a bar, WiFi connection available throughout all areas of the ship, an indoor air-conditioned dining room for 10 people, and an outdoor dining area on the deck.
Go diving, kayaking, snorkeling or head on over to the nearby islands to laze about on or walk around the beaches. But full days of exploring Indonesia's beautiful and colourful underwater life tend to be exhausting. Anyone choosing to take an adventure rest day can opt for Alila's signature massage both onboard and on a beach.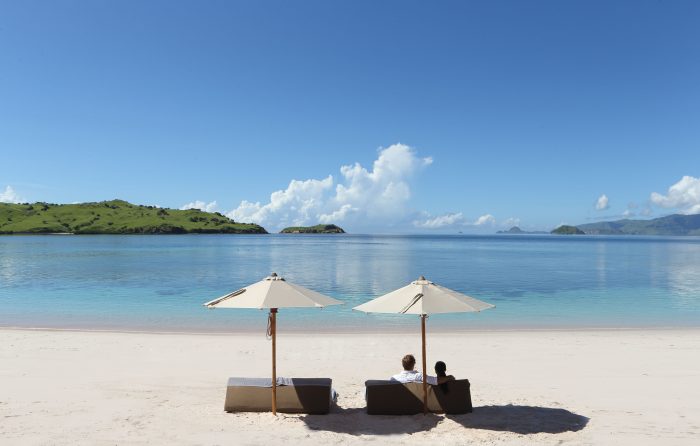 Can't wait to start planning your next adventure in Indonesia? Check out Alila Purnama's sailing schedule in 2020:
January – Raja Ampat
February – Raja Ampat
March – Raja Ampat / Cendrawasih Bay
April – Cendrawasih Bay
May – Cendrawasih Bay
June – Raja Ampat / Ambon (Banda Spice Islands) / Alor
July – Komodo
August – Komodo
September – Komodo
October – Alor/ Ambon (Banda Spice Island)
November – Raja Ampat
December – Raja Ampat
For more information and booking for individual and private charter trips, email [email protected], whilst for weddings and events, send an email to [email protected]