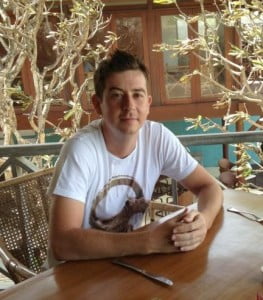 Matthew Homfray was born in Manchester, England and grew up on a farm near Cardiff in Wales. Trained as a veterinarian, Matt first came to Bali in 2011 to volunteer as a team member, fighting the rabies epidemic, but one thing led to another and he fell in love with the island. In 2012 he established a veterinary clinic, which in 2013 became Sunset Vet in Kuta. Matt joined the Rotary Club of Bali Canggu in early 2013 and now chairs public relations for the group, which actively takes part in a number of civic programs all over Bali.
What are your hobbies/interests?
Animals are on my mind most of the time, but I love to switch off by getting lost on a motorbike around Ubud and Tabanan. I also enjoy watching the odd English Premier League game over a few beers.
What kinds of jobs have you worked in?
I've been a small animal vet my entire career, from pampered pooches to street mutts, but also got an MBA along the way, which led to me to set up a management consulting company that works with veterinary clinics.
How and when did you get involved in RCBC?
I decided to join a Rotary Club in Bali after meeting several inspiring people who were already members. These people were making a real difference to social causes in Bali and really embodied the Rotary motto 'Service Above Self.'
How often and where does the Club meet?
We meet up most Tuesdays at 6 pm at Hotel Tugu, Jalan Batu Bolong, Canggu and of course at other project-driven events and relaxed informal social gatherings.
How do your members differ from other English-speaking clubs in Bali?
All rotary clubs have their own strengths and particular focus. Rotary Canggu is a new Club launched in 2011 with a young, dynamic membership that aims to be fast-moving and action-oriented. Our efforts can be Indonesia-wide but we also focus on the Canggu area since we are based here.
What nationalities do most of your members belong to?
There are 14 different nationalities, the most common being British and Australian. Almost all of our members are from different professions, so we're a pretty diverse group.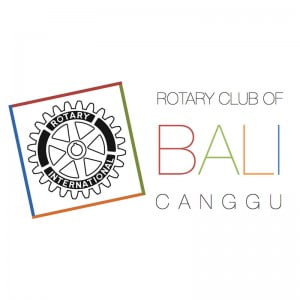 What programs does RCBC have underway right now?
Projects come in all shapes and sizes. One program we're running at the moment is our Balawista Canggu Nippers Program. Together with our twin club RC Misbourne Matins in the UK, RCBC is providing uniforms and equipment to teach up to 200 local kids aged 4 – 14 years old about water safety and the importance of maintaining the beach environment. This helps develop the kid's confidence and self-awareness, builds friendships, is great fun and hopefully will save lives. Our Nippers project is a real team effort with a number of RCBC members helping out on Sunday mornings at Pantai Batu Bolong, some even assisting the instructors and having as much fun as the kids!
Which specific programs are you proudest of?
The Nippers program is popular for many reasons as it ticks boxes on so many different levels; health, safety, environmental education, socialization and community integration with local Balinese. This year we have also raised funds to help create a permaculture garden at Kerobokan prison in conjunction with ROLE Foundation, and we have supported the KertiPraja Foundation in continuing their HIV testing program in Bali.
Can you give us specific examples of how RCBC projects have actually improved people's lives?
One of our earlier projects was to provide new toilet blocks at a local Canggu school and also at a school in the village of Wanagiri, upgrading the facilities considerably and giving the female students some much-needed privacy. The troughs and taps that were installed allowed proper hand washing, which encouraged the practice of good hygiene. Another RCBC project was our Canggu Learning Facility, where training in various subjects, for example reflexology, and the issuance of proficiency certificates should assist these young adults in finding employment.
Does the local Balinese community also contribute time and resources to RCBC projects?
Yes, the Club's Nippers Program is managed by the Canggu Surf Community with the assistance of the Balawista Badung Surf Life Saving Club and other interested parties including I Made Suparka, Aleksandra Denic and Emma Larssen. The program runs every Sunday morning from 7am to 9am with allowances made for public holidays, ceremonies and the rainy season.
What is the most effective means of teaching Indonesian young people about the environment?
By teaching waste management techniques in local schools and then giving them the facilities and opportunity to put the instruction into practice. Developing good hygiene practice is also a key component.
What other programs does RCBC have planned?
Very soon RCBC will be launching a waste management program in local Canggu schools in collaboration with ECO Bali, to collect recyclables and teach kids about recycling and waste management. We are also expanding our Canggu Learning Facility where young Balinese can learn English, reflexology, basic computer skills and swimming.
Do you accept volunteers to work in Rotary projects?
Absolutely! We hugely appreciate help from volunteers. Anyone interested can email me ([email protected]) to request further details.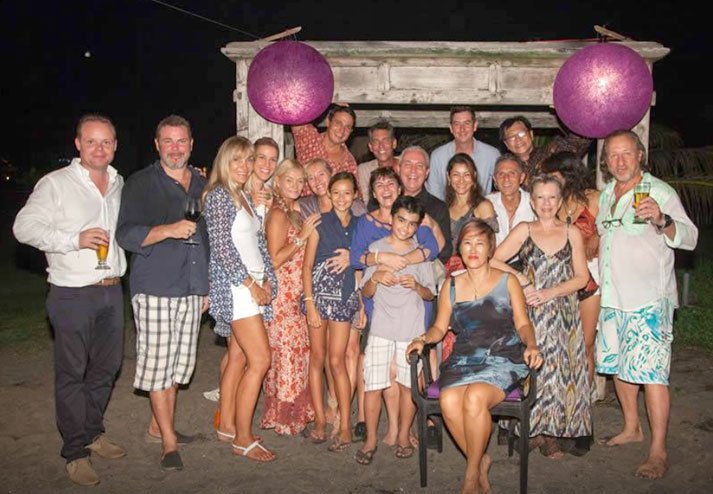 How does one become a member of RCBC?
Membership is by invitation. Potential members should attend a minimum of three of our Tuesday evening club meetings as a guest, and then ask a member to sponsor you. The Board of Directors and general membership will then consider the application. We welcome anyone who lives in the Canggu area to come join us one Tuesday for drinks and canapés in the Hotel Tugu bar followed by our weekly meeting where we often have interesting guest speakers.
In your opinion, what are the most critical issues facing Bali today?
I would say the silent but devastating HIV/AIDS epidemic, the waste management issue and making sure that the people living in Bali's poorer regencies have access to health services and education as Bali rapidly develops, and do not get left behind.
What does being a Rotarian really mean to you?
Being a Rotarian is about not only having a social and moral conscience, but being prepared to act on it. When you join forces with other people with the same perspective, you can achieve things together that would not be possible otherwise. Well-meaning individuals are able to really make a difference and change people's lives for the better.
How may readers learn more about RCBC programs and how they can help?
Check out the Rotary Canggu Facebook page or visit our website at www.rotarycanggu.org