"This is tarum tree, a tree that produces blue colour," says Made as we wander around the yard of CV Tarum, a small company in Ketewel, Gianyar. I am with I Made Arsana Yasa, the founder of this company, to get a deeper knowledge on the organic fabric dyeing process.
"For red we use secang tree. People in Java use the wood and leave the shavings unused. Rather than just throwing it away, we process it to get the red colour."
At the moment he has succeeded in developing over 500 colours of natural dyes from many different plants and several different parts of the trees. The brown colour, for example, can be derived from the leaves of the mahoni trees, and the leaves of ketapang are perfect for producing black and grey, while yellow can also be produced from this type of tree, as well as from the leaves from mangoes.
Made is one of few people who are aware of the negative effects that fashion has on the environment.
His call to found eco-friendly colouring processes came when he did a job for a Japanese garment company in Seminyak. Working as a production manager, he witnessed the careless dyeing process done by the company he was working for — and most garments in Bali — that have no respect for the surrounding environment and the people.
After years of saving money and doing extensive research, in 1998 Made was finally confident enough to introduce this line of business and claim his role in preserving the island's environment. It was hard to keep his idealistic spirit, but fortunately, Made received support from scientists and experts from Udayana University to develop the right composition of dyes. Not only that, he also designs a water waste management system that doesn't harm the balance of the surrounding ecosystem, using organic waste (leaves and leftover branches) as fertilizers.
What Made has witnessed is just one of the ugly facts behind the beauty of fashion. From the creation of synthetic un-biodegradable fabrics made from petroleum that pollute the soil and ocean, the dangerous usage of pesticides, the colouring process that use harmful chemicals, and the employment of children in some developing countries, fashion is considered one of the culprits to global warming and many other problems, and eco-fashion could be the right way to answer these problems.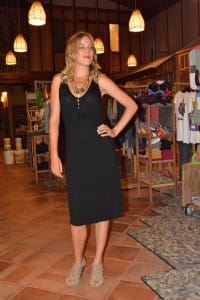 For Maya Nursari and Janet Molloy, fashion is not just a way to express their ideas and creativity, it should also give a positive impact to the planet. In order to help save the planet, these two designers decide to use eco-friendly fabrics for their creations.
Maya falls in love with fabrics made from bamboo fibres. With her brand Nurkamaya, Maya creates chic, casual collections of t-shirts, dresses, scarves, and many more; all of them are in black and white nuances. Her daily wear collections can be found at Little Tree, Kuta.
Most of the clothing we wear are made of cotton, but this type of fabric is considered to have a large carbon footprint that can harm the planet. The cotton tree needs massive amounts of water to irrigate it, which is sometimes scarce in areas where the trees are growing, and the amount of water is thought better utilized for growing foods than feeding the fashion industry.
"Cotton farmers often use large amounts of pesticide, which can harm the environment and their health and the other workers in a long period," says Maya. "Bamboo somehow, is the opposite. It grows quicker naturally, and easy to be farmed, so will not cause deforestation."
While some people are still debating whether bamboo fibres should be considered eco-friendly due to the chemical it uses to break the hard bamboo cellulose – even though during its life cycle the tree helps to absorb the greenhouse effects. Molloy picks Modal's fabric made from beech tree fibres for her Goddess on The Go collection, which can be found in her store in Ubud.
"Modal only uses about 60% of the amount of dye that it would take to dye cotton. So it actually needs less chemicals to dye Modal," says Molloy.
Molloy also thinks the fabric has fantastic characteristics that make her able to create apparels perfect for sport activities and travelling.
"It's light, soft, and comfortable. It doesn't require a lot of space when put in your luggage, it's long lasting and needs very little maintenance — it dries quickly and you don't even have to iron it! Very practical," says Molloy, who also plays with cuttings and styles to create cute, attractive designs that boast fantastic colours.
For some practitioners, eco-fashion goes deeper than just using natural materials or practicing an environmental friendly creation process. It's the ethical philosophy in the core of their business that drives them towards success.
For Maya, who manages two brands — 100%Love and Nurkamaya — ethical fashion is more than just skin deep. She wants to make sure that her business is 100% green.
"I am very concerned to establish ethical fashion trade. The suppliers and tailors I work with shouldn't employ children and they must practice fair trade," she says.
While for Made, the philosophy is applied in every aspect of his business. In selecting which tree to use for his natural dyes for, he makes sure to choose trees that have no benefit at all to the lives of the surrounding neighbourhood. He avoids using trees which farmers still use to feed their animals, or even the flowers that are mostly used by the Balinese for ceremonies.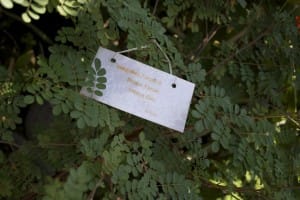 He also creates a good staffing system to encourage his workers to earn more income, practicing up-cycle methods that turn unused fabrics to artworks, designing his own ATBM (handmade weaving machine) and creating work opportunities in remote areas on other islands. He also has planned a long-term goal of his business by planting trees in a sizeable piece of land in Kintamani and turning it into a mini-sized forest.
"This eco business is like a little therapy to cure the world's most general disease – global warming. By using natural dyes, we can plant more trees and practice natural ways of living. In fact, this is a kind of lifestyle that is getting more popular in the middle-to-upmarket as they want to live like in the past, so why not?"