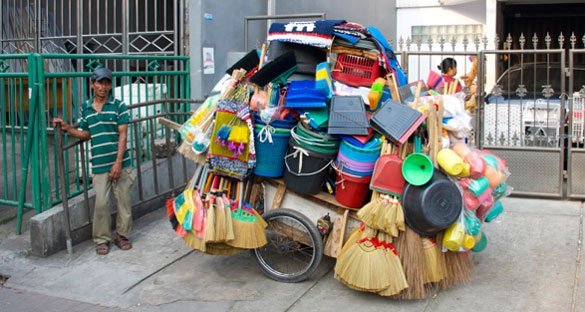 Rosidin is a very happy man. He has a cheerful nature and takes great delight in walking the streets of Kelontong, near Chinatown selling a huge variety of colourful items including mops, brooms, children's toys, plastic buckets, and other practical household items. He has been doing this job for twenty years now.  He is 45 years and always seems to carry a big smile on his face as he chats to passersby and works his way around the congested neighbourhood.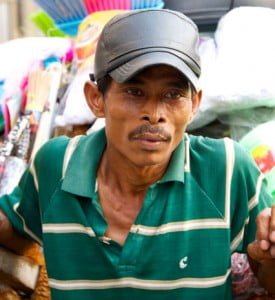 Rosidin shares a time however, when he was not so happy. The 1998 infamous riots and turmoil on the streets of Jakarta was a time of tension and fear for him. There was a lot of blood letting that took place in this area. Rosidin stated, "This was a time of much mistrust and it was very sad to see people turn on each other for no particular reason." Times are much better now and people seem to be more happy and prosperous in general. Rodsidin looks pensive, as one never forgets.
Despite Rosidin's great outlook on life, it is a daily struggle to make ends meet. He has three mouths to feed. His children aged six, 14 and 18 years cost a lot of money to support and his wife has to work from 5 am to 6 pm seven days a week making tempeh (fermented soybeans) to supplement their income.
She lives in Permelung (near Cirebon) with the children whilst Rosidin works in Jakarta, as the money is better and there is a more reliable source income. He returns to visit his wife and kids when he has saved up enough to make the journey and is looking forward to Idul Fitri when he will return home for a few days.
Staying healthy is critical so Rosidin relies heavily on the Jamu Lady who provides him with preventative medicines every day he works. The Mobile Broom Shop makes a very colourful sight as Rosidin hauls it around the streets of Chinatown, always with a smile and love of life.