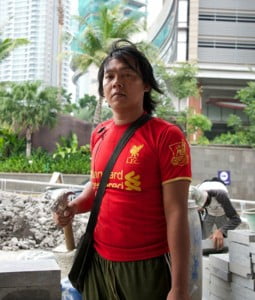 I am sure you have all noticed the huge shopping malls going up all over Jakarta in recent times. Behind the construction of these huge structures are thousands of people like Joko, who commute huge distances to seek gainful employment in the construction industry. Joko travels from his home town of Ciliacap to work nine to ten hours a day, seven days a week, on a two year contract which comes to an end this month.
The only time he gets a chance to return home to visit his wife and two year old daughter is on public holidays and over Idul Fitri, provided he has saved enough money to cover the bus fare.
His goal is to save Rp.15,000 per day, which he generally manages to do as his major cost, accommodation, sets him back just Rp.130,000 per week. What do you get for $13 a week? He gets a shared room and his own bed and bunks in with many other workers just like himself across the road from Kemang Village in a Kampung that is prone to flooding during the wet season.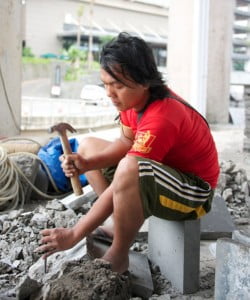 Joko never went to high school, as his parents could not afford to send him, thus the only jobs available to him are basic unskilled labouring and the opportunities are in Jakarta not his hometown. What does a construction labourer do? Joko's job, the day I spoke to him, entailed chipping bits of concrete off blocks to be used in road construction outside the new Kemang Village.
I did not sense any bitterness from Joko about his tough, boring job and the long tiring hours, in fact he was very grateful to have a job, and was hoping he could sign another two year contract to enable him to support his family.
So, next time you visit Kemang Village or places like it, spare a thought for Joko and thousands of others like him, busy chipping away, enabling people fortunate enough to have educational opportunities the means to visit, shop and spend money in these places that Joko helps to build.