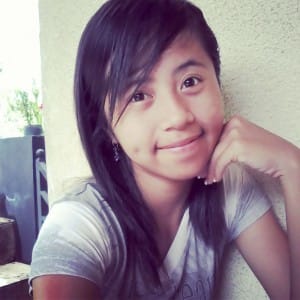 Dewi is a bright, young 19-year-old and has a real spark about her. She was so excited to tell me her story because when she started her first job, straight out of school as a tour guide, she could not speak English.
She left school at 17 and even though she had nine years of English at school, Dewi told me, "I was really bad at English. I had no confidence and was too shy to speak."
Her uncle introduced her to a local Balinese tour operator and suggested she become a tour guide. This seemed like an unreachable goal for Dewi. She went along for the interview and got the job.
In three months Dewi learnt English. She was fortunate to learn from an Australian lady from Wagga Wagga who taught her pronunciation and conversational skills. She attended school every day for three months. "The first words I learnt were 'enough' and 'tired'," Dewi explained.
As a trainee tour guide Dewi would sit in the back of the tour van and listen to the dialogue between the English speaking clients and the guide. The concentration required was intense, but she was determined to absorb as much as she could, and after three months of training, Dewi was taking English-speaking tourists around Bali and conversing confidently with them. "I am always joking and laughing with my clients," Dewi said. "I feel at ease with my English skills now and I just make sure my clients have a good time and relax."
Last month, Dewi had a very interesting encounter with an Australian tourist. "I got on very well with this client," Dewi explained. "We toured around the island for five days and one morning he jumped in the van and said, you are not a tour guide today, you are a friend." He explained he was a motivational speaker and business leader and the group of people he was travelling with were all young entrepreneurs.  He was impressed with Dewi's spirit and energy and by the end of the day a plan was made for Dewi to visit Australia and learn about business.
For a young girl of 19, who only one and a half years ago was living in a small village with her parents who are rice and cocoa farmers, this is an incredible opportunity. Her boss has given her one month off and Dewi now possesses a brand new passport. With these bright young successful Australians, who are keen to teach her about business, Dewi is going to step into a new world and this was all made possible by her enthusiasm and belief in herself and her positive "can do" attitude.
Dewi has a clear vision for the future and left me with these parting words, "For everybody in the world, work is tiring, but if you love your job, you will get what you want in life."
Dewi can be contacted on
www.takeiteasybali.com / [email protected]