Indonesia's colourful Minister for Fisheries Susi Pudjiastuti has spoken out against illegal, unreported and unregulated fishing (IUU) during a UN Ocean Conference last week in New York City, saying fishing crimes are linked to other transnational crimes including drug smuggling and human trafficking.
"We must admit that the Illegal Unreported and Unregulated fishing is related to the organized transnational crime. It's usually backed by an organized group," Susi said on Thursday, June 15.
Cases of human rights abuses, including human trafficking, child slavery and physical and sexual assaults, have been reported on board fishing boats, the minister said.
Her call to eradicate illegal fishing found support from Norway and Interpol, the international police organisation, as well as UN General Assembly President Peter Thomson.
"We will try our best through this Ocean Conference, but this (decision) will also depend on everyone's support," he said.
Thomson is a high-respected career diplomat from Fiji, a Pacific Island nation that "is extremely reliant on marine resources from an economic and food security perspective," according to a study by the David and Lucile Packard Foundation.
IUU is not a new phenomenon, but with more nations working to manage resources and prevent overfishing offshore and in coastal waters it is a growing concern, UN data shows.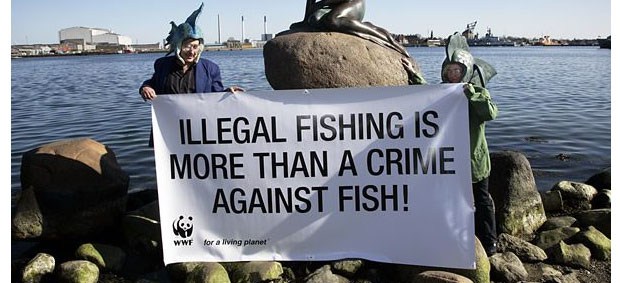 Image credits: Pacific Guardians
Although hard numbers are difficult to gather, in 2012 global fisheries produced roughly 160 million tons of fish and generated over US$129 billion in exports while providing nutrition for billions of people, according to World Bank data. Indonesia, with 2.6 million fishermen and a further 140 million people directly or indirectly relying on marine and coastal based incomes, IUU losses tens of millions of dollars a year, the World Bank found.
Combating illegal fishing is a UN Sustainable Development Goals, which includes steps to ending overfishing; end illegal, unreported and unregulated fishing and destructive fishing practices; and implement science-based management plans. The goal is to restore fish stocks as quickly as possible to levels which can produce the maximum sustainable yield.
Pudjiastuti is both revered and heavily criticise for her hardline approach to combating illegal fishing. Last year, Indonesia scuttled 60 foreign fishing ships as part of Independence Day celebrations. Previously, an estimated 10,000 foreign vessels a year would illegally fish in Indonesian waters, but this practice has ended under Pudjiastuti.
"We catch them and we sink them and it has been an effective deterrence," she said.
Since taking office in 2014, after a three-decade career as a seafood entrepreneur, Pudjiastuti has blown up hundreds of vessels, but the tactic has created tensions with regional neighbors. Indonesian officials are particularly worried about China's expansion of its fishing fleets and occasional forays into the waters of other countries in the region.
In the past, Pudjiastuti has said authorities have captured few Chinese vessels, which are big, fast and often accompanied by their nation's coast guard. But she continues to push for an end to IUUF.
"It's better to have an idea that is too early than too late," she said. "I am proud that Indonesia is thinking about this ahead of other countries and that we have actually done it, not just talk about it."
Image credits: Pacific Us