Pizza Hut and other mainstream restaurant chains have been accused of illegally extending expiration dates on their ingredients in Indonesia.
While Pizza Hut is not a name that resonates with health-conscious consumers, Indonesia still has a high demand for the junk food brand. But this time, it seems the food from Pizza Hut, along with that of popular Japanese restaurant chain Marugame Udon, literally contains junk. According to an investigative report by BBC Indonesia and Tempo, both restaurants have been linked to the illegal malpractice of extending expiration dates on perishable foods served to customers.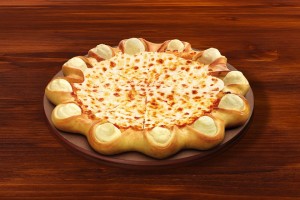 The report highlights documents, emails, and photos provided by an ex-board member of Sriboga Food Group, illuminating damning evidence of someone from the group's sales team asking a member from quality assurance to extend the expiration date on a certain ingredient. Sriboga is the owner of several franchise food and beverage names in Indonesia such as Marugame Udon, Pizza Hut, J. Co and GarudaFood.
The ex-board member, who had been working with the company for several years, spoke to the press under the condition of anonymity. The source said extending expiration dates was illegal, and that the malpractice was pervasive and systemic within Sriboga, a problem that had been running for years. The source claimed to have tried stopping the malpractice in the past, yet said efforts did not bear fruit.
"At first, I was not planning to share this information with the press […] Once it is passed to the press, it will spread fast, and it will turn into a destructive issue, which cannot be restored quickly," the source said. "But it seems like the press is the only way to make sure that this illegal malpractice of extending the expiration period is stopped […] the responsible party should be punished equally."
It's important to note that the source is no longer a board member of Sriboga, and possibly a disgruntled former employee looking for payback on the firm that ousted them. That said, BBC Indonesia and Tempo have offered up hard evidence to back the source's claims.
Sriboga Marugame Indonesia Ltd denied the accusations. The team of investigative reporters paid a visit to Alwin Arifin, President Director of Sriboga Raturaya, the mother company of Sriboga Food Group. Arifin admitted that he had been investigated by police multiple times in the past, but said that in this case the accusations are unproven, and could be slander.
https://www.youtube.com/watch?v=n7Q7oF6z0-0
Stephen McCarthy, President Director of Sarimelati Kencana Ltd, a subsidiary of PT Sriboga Raturaya, which manages Pizza Hut and Pizza Hut Delivery, also denied the accusation. Through an email addressed to the investigators, he said, "We have never and will never store, distribute, or use non-edible ingredients."
Pankaj Batra, Marketing Director of Pizza Hut Asia told investigators that the practice has happened before, conducted by a franchise holder in Indonesia. According to him, however, it was done legally.
"The extension of storing periods could be approved by quality assurance of a local franchise holder, but if and only if they have received the written recommendation letter from their producer or supplier to confirm that the storing period could be extended, without any necessary risk," Batra said via email. "Our franchise holder in Indonesia has confirmed that the procedure has been followed."
The problem is that if the practice was approved, it means that it was a violation, said deputy Suratmono from the nation's food and drug regulatory agency. "Whatever the reason is […] it is forbidden to distribute contaminated or expired ingredients," he said.
Currently, allegation of using expired ingredients by Pizza Hut and Marugame Udon are still under investigation. For expats who love pizza and noodles, it might be wise to consider other comfort foods until the police have probed deeper.
After knowing this information, are you still considering dinner at Pizza Hut or Marugame Udon?
UPDATE 10/11/16: Stephen McCarthy, president director of PT Sarimelati Kencana has responded with the following statement, and asks that it stand to correct any inaccurate information circulating about the case: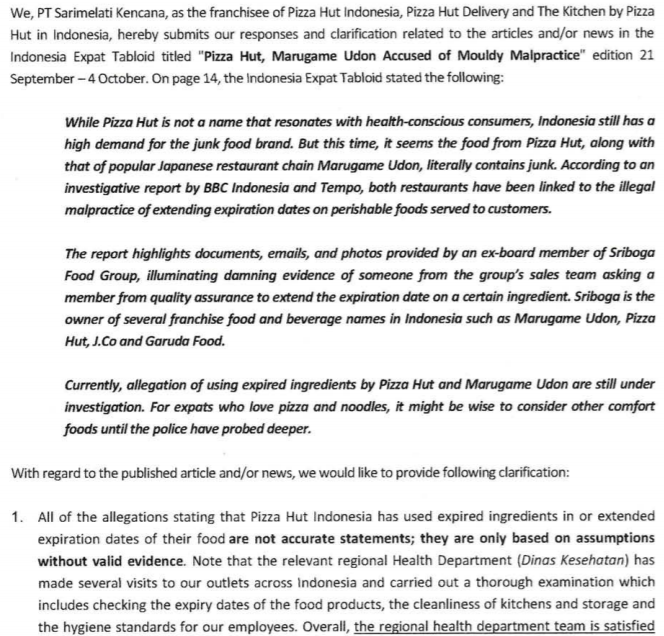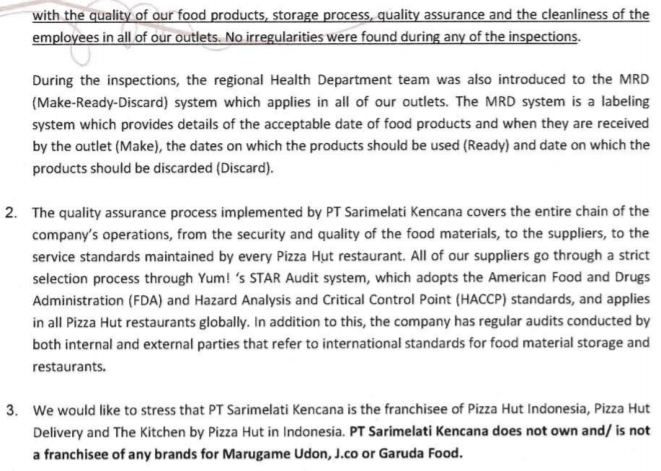 Featured Image via Commons Wikimedia; Video via Channel News Asia