The business potential in Batam is now increasingly stretched, especially seeing the intense cooperation undertaken by the government of Indonesia with neighbouring countries, especially Singapore.
In addition, the number of tourists coming to Batam also continues to grow every year.
"President Joko Widodo is committed to make Batam one of the priority investment locations in Indonesia.  This can be seen from one of the agendas discussed during the Annual Leaders Meeting in Singapore in early October, which was attended by Indonesian President Joko Widodo and Singapore Prime Minister Lee Hsien Loong. One agenda item was about the development of digital-based, creative economic zones located in the Nongsa-Batam area," said CEO of East Indonesia Sinar Mas Land, Franky Najoan.
"The development of this area will certainly affect property needs, especially housing, in the Nongsa area. In addition, the increasing number of foreign tourists visiting Batam has also had a positive influence on Nongsa as one of the main destinations for foreign tourists in Batam. These various reasons have further strengthened Sinar Mas Land in building the independent city of Nuvasa Bay in Nongsa – Batam."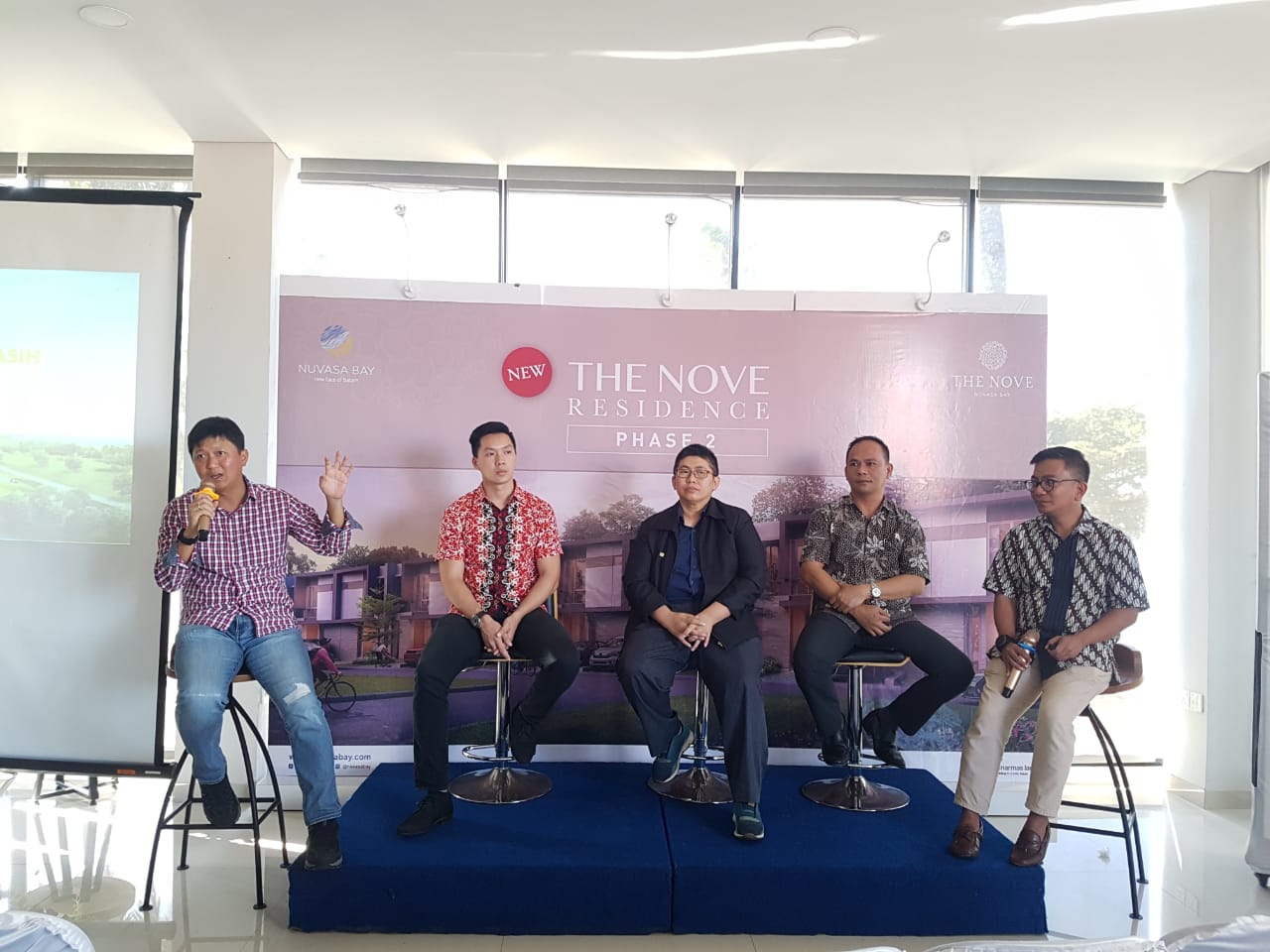 The Nove Residence
The Nove became the first cluster with a resort concept in Nuvasa Bay that succeeded in giving new colour to the property world in Batam. This is also proven by the inauguration of The Nove as The Best Condo Development (Greater Indonesia) and The Best Landscape Development (Greater Indonesia) from the 2019 PropertyGuru Indonesia Property Awards.
The Nove Residence is an exclusive resort in Batam, which has a beautiful natural landscape because it's located at an altitude of 20 metres above sea level, and directly faces Marina Bay Sand in Singapore, which presents sea views, mangrove forests, and Palm Springs golf course – a favourite golf courses of Batam. The Nove Residence Phase 1 cluster was built on an area of ??5 hectares and consists of 3 apartment towers, houses, and lots. Its location is also adjacent to an 8-hectare digital economy area developed by Sinar Mas Land and Citramas Group. The development of this area will consist of offices, commercial shop houses, and supporting facilities such as retail, food and beverage, shared work spaces, business hotels, and public facilities. After completion, this development is projected to accommodate up to 5,000 workers.
Introducing The Nove Residence Phase 2
Offered in a limited quantity, the owners of The Nove Residence Phase 2 unit will be able to feel the luxury of life surrounded by the Palm Springs golf course and the sea directly facing Singapore. In addition to being inhabited alone, with the concept of serviced residences offered by Nuvasa Bay, the owner of the unit will also be able to rent his house to Nuvasa Bay visitors to get a passive income.
To make it easier for The Nove Residence Phase 2, Nuvasa Bay offers several payment scheme options that can be tailored to the needs of consumers. Until the end of 2019, lucky consumers can also get early bird discounts, 30-gramme gold bonuses, shopping vouchers, and attractive instalment programmes. This attractive promo is only valid until the end of November 2019.
Franky added that, "we also make it easy for consumers to choose their desired units just by paying pre-booking that's worth Rp5,000,000 (US$355.60). For every pre-booking, consumers will get additional cash back of Rp2,000,000 (US$142.24) at the time of paying off the Alert Money (REEs)."