Ceremco Van Leeuwen is an international magician and hypnotist who brings his magic and healing to children and adults at special events and on the streets of Bali.
When did magic enter your life?
Magic has come from a desire to understand. This is what inspired my interest in magic. I didn't care so much about performing, but I needed to know how it works!
A lot changed after I found out. In fact, I was quite disillusioned to find out the coin was just 'in the other hand'. I knew it wasn't really magic to begin with, but somehow I was disappointed when I found out how 'simple' the answers sometimes are.
But then I found magic was a lot like Spongebob. When first see it, it has a few bad jokes and sure it's entertaining… But then you grow older, learn more and look again, and suddenly you see this whole hidden layer of elegance and beauty (or in Spongebob's case, dirty jokes and absurdity).
What brought you to Bali?
I was planning to only come by for about six months. That was more than two years ago. I fell in love with the culture, the food and the weather.
What are some of the events that are great to bring magic to?
Weddings are definitely my favourite. Other than that, children's parties, corporate events and restaurants. The good thing about magic is everybody loves it. It's a great form of entertainment and it doesn't really have an age limit. 4- to 80-year-olds can enjoy it.
What kind of reaction do you get performing on the streets of Bali?
I don't envy street magicians. I rarely perform street magic in the sense that I walk around the streets doing magic for random people. It is just so difficult. When people come to a show, they come to be entertained. When people are walking on the street, they are going somewhere. Of course, when you do get there, people love it. Especially on the streets the expectations are low. So, when you do deliver a good 'trick', people are extra amazed!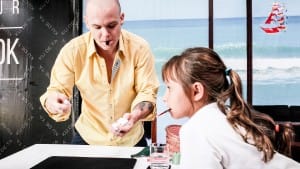 Are kids the best audience?
Yes and no, but probably more no than yes. Kids are incredibly honest. If they love it, they will (sometimes quite literally) clamp on to you and ask for more. But if I make a mistake they also have no problem screaming through the audience what you did wrong and where the rabbit went.
Tell me about your event 'Unlock Magic' at the Meridian Hotel.
Unlock Magic was an event hosted by Le Meridien for UNICEF. Le Meridien does one of these events yearly and this year they wanted some magic! Josh Novendra (my local magic partner) and I created a show for them. The show was so much fun and was a mix of everything from linking rings to walking over broken glass, which was real broken glass!
How did you learn hypnosis and mind reading? Can anyone learn these unique skills?
Yes! I think hypnosis is the closest thing you can come to real magic. Even when you know exactly what is going on. That moment someone forgets their name is just magical. Nothing I do is real magic, I'm not sure it even exists. Anyone can learn these skills (in fact I teach them to people).
I think it would be great if everyone knew a magic or mind reading. It teaches us so much about how easy it is to be fooled.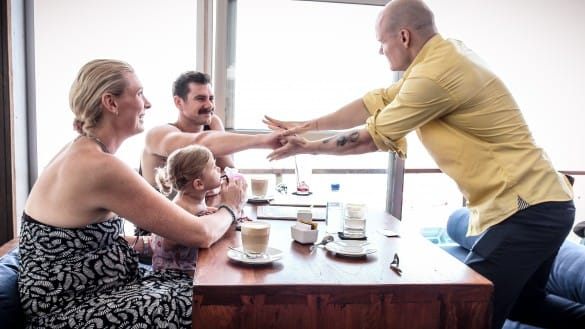 Do you have a memorable experience with mind reading or hypnosis?
The first time I had hypnotized someone to make myself invisible was amazing. "When you wake up, everything will be completely normal except you will not see me. I will be completely invisible." *snap*
The guy opens his eyes, looks around like nothing is wrong. I wave my hand in front of his face, no response. I start talking to him and he freaks out. Imagine hearing someone talk to you who you know is inside the room with you, but you can't see him. This is not a movie, this is real life!
He is frantically looking around him, walking backwards into a corner. He was hardly able to say anything other than "What? Huh?"
I had myself reappear with a magical puff of smoke soon after that and he never looked so happy to see someone.
Do you offer stop smoking hypnotherapy? What percentage of the time does it actually work?
If you want to quit smoking then hypnosis is one of the more effective ways of doing it. Smoking is a lot more a habit than an addiction. Hypnosis helps changing mindsets and conditioned responses. When you get a glass of wine you automatically reach for a cigarette. You don't need it, but you've conditioned yourself to do it.
Hypnosis takes care of those kinds of things while empowering the mindset of making healthy choices for yourself. That combination, when repeated a few times, is usually enough to put people off forever.
You have a magic school for children. Tell me about that.
The Little Magician is a project I was working on to help bring magic to kids! My original idea was to teach kids magic for a couple of weeks and then end in doing a show together with them. Unfortunately I haven't found a school willing to do this yet! So far I've only been teaching after school activities for magic.
How is magic an important aspect of expanding our minds?
Magic is pretty much the study of the human mind. I have you look at this hand while the other one is doing the magic.
Understanding how magic works is understanding how easy it is to be fooled.
The human brain is very easily fooled. Look at all the magicians, optical illusions, all the stuff we thought we knew that now turned out wrong (the Earth is round!).
We are great at believing we are right and horrible at seeing we are wrong. Understanding magic means to understand how human it is to be wrong. Accepting that most things we think we know are probably not true, opens up the possibility for learning.
What are your future plans here in Bali and internationally?
I'm always on the lookout for new opportunities and projects. Just like me on Facebook and find out!
Thank you, Ceremco! Visit www.MagicianInBali.com for more information.