Daniela is a Brazilian Interior Designer of homes and resorts in Bali. She talks to us about her passion for creating and transforming spaces.
Where were you born and raised?
I was born in Minas Gerais, Brazil. I went through school there and attended the University of Minas Gerais, where I majored in Art and Design.
How did you get into interior design?
Creating interiors came naturally to me. I would go to a friend's home and move some things around and it would change the space. I realized I had a passion and ability to transform spaces. I could envision how to create an atmosphere by changing a few things; eliminating clutter and creating focus. I have always possessed a love for creating beautiful spaces and designing furniture and interior accessories. After graduation and marriage I went to Sao Paulo with my husband, Adriano. I was designing and sourcing for interiors. He was offered a job as a chef in Manhattan. I spent the next eight years in the States working in Miami, New Jersey and NY.
What brought you to Indonesia?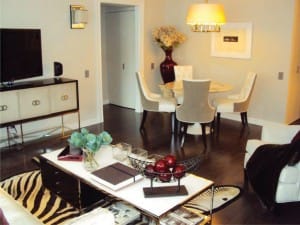 My husband took an offer to be the chef at Potato Head in Jakarta. I just had a baby and thought it would be nice to be in the tropics of Indonesia and have more time with my son. I was not expecting Jakarta to be a huge cosmopolitan city. I thought I was leaving the big city life. Jakarta was overwhelming! Then Townhouse in Bali asked Adriano to be their chef and we came to Bali. I was finally a full-time mum, but I started to miss my professional life. So I began looking around at different companies in my field.
What are you working on currently?
I am with a wonderful design firm from England; ARA Designs. They have been doing hospitality projects here in Bali for years. These are huge projects such as resorts. I previously did more individual design jobs such as residential. Now I work with a great team of talented professionals, which has given me a new direction in design. Hospitality design is far more complex and detailed. Even the most modern architectural projects here want to bring the spirit of Bali into the design by incorporating traditional arts, such as batik and carvings, within  sleek, modern buildings. We do all aspects of design from landscapes, reception and lounge areas to mock-up rooms and reception. We start from zero: from the floor plan to finishes and lighting, furniture and accessories. I love being challenged and am constantly finding new approaches to integrating the materials unique to Bali with the architect's design and vision. It is a whole new point of view for me professionally and creatively. I have so much more to learn in this area and I am having a great time doing so!
What part of designing do you enjoy the most?
I love to do the drawings! I like creating images and being able to see the ideas finalized. It is a satisfying feeling when the product is a perfect reflection of my intention. In designing on a smaller scale I was a part of the entire process. Now I have to anticipate how my ideas in the drawing will be interpreted and trust it will be produced correctly. I must be very precise and communicate properly through all the channels hospitality designs must go through. I am part of a larger process. I like to keep it as simple as possible without losing the element of the unexpected. Each room or item I design must fit into the entire scope of the project.
It is about designing separate parts which fit together perfectly to create the feeling and the image the client has agreed upon.
When I am sourcing for Bali, I am learning about what is possible to achieve and how to take all the production variables into account. I am never bored!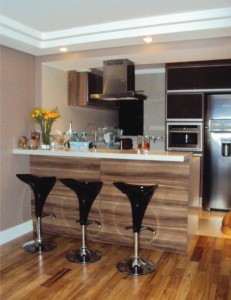 Do you miss working in NYC? How does it compare to working here in Bali?
It is not better or worse; it is different. In NYC I was dealing on a smaller scale directly with the client, as well as overseeing production or sourcing. Everything is very professional in NYC. Some of the charm of Indonesia is that it is an emerging economy and many businesses are learning as they grow, just as I am. It is hard to compare. Here our clients are large companies and I am not dealing directly with the client. I am able to focus more on design and sourcing. The designing is more difficult working on a large scale, as it encompasses everything indoors as well as outdoors, such as open lobbies, landscaping and outdoors accessories.
What are your future plans?
There are some ideas I would like to pursue. When I got married, my husband and I had a business venture in Brazil where he was the chef and everything was about food, design and concept. We integrated everything; the plates matched the food which in turn complimented the furniture. It was always changing. I would love to help him do a similar restaurant. I also have some ideas on bringing together creative people here with designers and business people; a centre where people can see new designs and also see the sources and how things are produced. However, I plan on continuing the work I am doing in hospitality design. I have so much to learn. I love what I am doing and the people I work with. I plan on staying right where I am!
Thank you Daniela! To get in touch, email [email protected]