Meet Catherine Fourcard, the creative owner of Innuendo Boutiques and creator of Watercress Café.
Catherine, where are you from?
I was born and raised in the northeast of France.
And what brought you here to Bali?
v to deliver the vehicles. From Tehran I went overland to India and Nepal and lived there for six months on the money I was paid and I still had money to buy things to sell in the next place I went, which was Darwin, Australia. There I met up with my partner from France whom I had known from high school in Paris since I was fifteen years old. We lived very simply in nature. No real shelter, just around the campfire with a blanket below the night sky. We washed in the clean river and lived freely without material concerns. I have great memories of those days. My first son, Pablo was born in 1980. We came to Bali in 1982 with him. I found Bali to be the perfect place to discover my own creativity; enjoying a simple, beautiful lifestyle. I started making clothes and jewellery for a certain clientele of travellers. I made and sold my creations at markets and specific boutiques wherever we travelled; from Bali to Europe and Australia.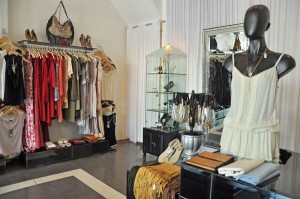 You are known for your designs of fine fabrics and perfect cuts. How did you start your boutiques?
I never studied at any school. I learned in the field watching people from a young age. My mother managed a lingerie factory for three years when I was nine, ten and eleven years old. I loved the machines, the smell and feel of the fabrics and how they draped. During that time, working alongside my mother had a big impact on me. Because I loved dressing up so much I learned the process of making fine garments. My passion became my lifestyle.
In 1993 I returned to Australia with my family; now three children, Pablo, Angelica and Vadim and created the Innuendo label, formerly the Katz label. It was easier in those days. Business was done on a more personal level. Ten years ago I opened an Innuendo shop in Seminyak. Five years ago I opened Innuendo on Oberoi road and one on Gili Trawangan. I design what I love in my own studio and meticulously train and overlook a staff of twenty nine people. I know after over thirty years of designing I am very good at what I do. My cuts are precise. I can make any woman of any size look beautiful. Large, thin, tall or petite; I can transform her into the best- dressed woman by accentuating her best features. I have that skill and would love to pass it on one day. I like classic cuts in natural fabrics because they are more elegant.
What motivated you to do the restaurant, Watercress?
Food has always been my other passion. One of my missions in life is feeding people. I had three young kids and the family meals every day were very important; a sacred time to be sitting around the table together enjoying a beautiful homemade meal. On weekends I would have all their friends as well so I cooked a lot. When I came back to Bali in 2005 I was busy with the business and my kids were grown up. I started cooking with my pembantu, Wayan. I taught her all aspects of cooking from how to buy the fresh food, clean and prepare and store it. This became a part of my new lifestyle.
Every day I would buy organic vegetables from different sources and we would prepare a lunch for six or seven friends to enjoy. I always told Wayan when she is able to cook by herself a meal for twenty five guests we would be ready to open a restaurant. After seven years the time was finally right. We opened the Watercress Café in September 2012 on Jalan Batu Belig. The concept at Watercress is that the food goes fresh from the garden, to the kitchen, to the plate. It's colourful, extremely tasty and generous food.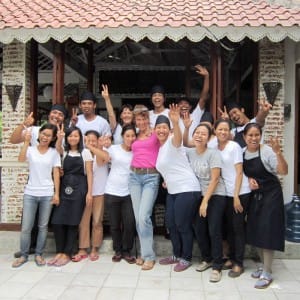 At Watercress we have twenty to twenty five different dishes prepared every day and put out on display so people can design their own plate without waiting too long. There is also a fantastic breakfast menu to order from and a unique range of fresh fruit and vegetable juices. Since the initial opening we could see by the large, diverse cosmopolitan clientele that there is obviously a growing demand for delicious and healthy gourmet food in this era of processed junk food. Having planted the seeds of this venture and with all my other responsibilities, I was very happy to pass the restaurant on to my son, Pablo. He is doing a great job of managing the place. At the end of January, Watercress will be open at night as well as the current breakfast and lunch. It is always busy here with a diverse cosmopolitan clientele.
What are your future plans?
I would like to take my life in a different direction. I would love to teach my knowledge of making clothes and pass the business on to someone who shares my passion.
What advice do you have for young people starting in business?
If you do what you love you are bound to succeed because it comes from your heart. Follow your passion!
Thank you, Catherine!