Meet Adrian Reed, the man behind bringing true Mexican flavours to Bali.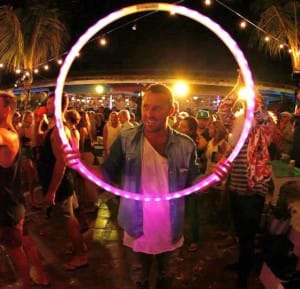 Where were you born and raised?
I was born in Sydney, Australia. I went to school there and played football for St. George until an injury brought that to a halt. I travelled around Europe when I was 19 and lived on a bus for six years!
Amazing! When did you start coming to Bali?
My parents had a place here. They were travellers. I have been coming here for the last 23 years, since I was eleven years old. Bali has been one of my homes since childhood.
How is it you know Mexico and its cuisine so well?
I spent three years there. I went there in 2006 and loved the local culture and cuisine. I fell in love and in 2009 I returned to Sydney with her and opened Rojo Rokot. That venue was inspired more by the Day of the Dead and Mexican wrestling. Motel Mexicola is based more on Acapulco in the sixties. We do a fresh style of Mexican food based on the Caribbean and Mexico City with a lot more seafood, like tuna tostaditas, ceviches and all fresh ingredients. We stay away from Tex Mex with its meat nachos and burritos, which the majority of the of the world is educated on – that full commercial aspect of Mexican cuisine influenced by the United States, who pushed their take of border food to the rest of the world. When I lived there I didn't eat a burrito or nachos piled with meat!
I love the atmosphere here. Did you do the décor?
I collaborated with an artist on the décor. We shipped a twenty-foot container of goods but the rest of the décor was sourced locally in Indonesia. The altar when you come in and all the photos are of a Mexico that was vibrant and alive. Now Acapulco has changed radically. Most of it has fallen in decline. It is not the place it once was. I wanted to capture the beauty of Acapulco from the sixties, when it was such a popular destination. Now what hasn't died out has gone Mexinational and franchised. Most everything at Motel Mexicola was brought here from Mexico; the photos, the signs and the figurines.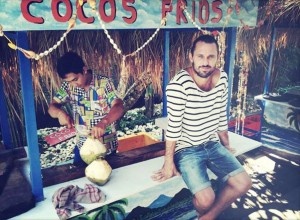 Tell me about your online series of food episodes.
It started out as a series called 'Don't Look Back' by George Muskin about people coming to Bali and becoming entrepreneurs – people who leave everything behind and start a new life here. That will be airing soon. I also do a once a week skit around food. It is just for fun and about great food and how to make it. This week, ladies, it's nine inches and black. It is a churros! These episodes can be accessed on our FB page; Motel Mexicola!
You put on amazing events such as your opening party. Do you plan any in the near future?
We have put on four or five significant events. The best in Bali! We had 1,348 people attend our opening event. We are doing a New Year's Day party, featuring fifteen to twenty performers, including DJs and magicians. Everyone else is doing a New Year's night, so we are doing a huge event to mark the first day of the New Year. It will be called 'Mexicola Undercover' and will be the celebration of the year here in Bali!
We look forward to it – thanks Adrian!
Motel Mexicola
Jl. Kayu Jati No 9, Petingenget Beach, Seminyak, Bali
Phone: (0361) 736-688
Facebook: Motel Mexicola
www.motelmexicolabali.com