With tougher restrictions on food imports, restaurateurs in Jakarta prepare for the worst.
The Indonesian food sector has never been more familiar with the term 'self-sufficiency'. Though the idea of pushing domestic producers has always been important in Indonesia, the current government is adamant about taking it a step further, by significantly curbing foreign food supplies despite loud complaints from trade partners, consumers, and industry players.
The move towards self-sufficiency started late in the second term of the previous administration. Indonesia found itself in hot water following complaints by the US to the World Trade Organization (WTO) over horticultural and animal products. This, however, has not deterred the new government from employing similar strategies. Within the first year of President Joko 'Jokowi' Widodo's first term, the government has issued numerous protectionist policies and regulations on the import of certain food products.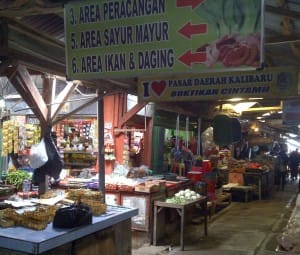 Rice, the country's chief staple, is one of the main products Indonesia is determined to curb. But a number of domestically-available food items, such as mung beans, onions, garlic and corn, have also seen fewer imports under the new government, which is looking to spin these items into export commodities.
Eyebrows were raised when import permits for sugar were slashed last year, while those for salt are reportedly set to follow suit. The biggest uproar was arguably the government's decision early this year to cut the import quota for live cattle by 80 percent – a policy which the government later overturned, following a spike in the price of beef in the country.
Changes were not only made to import permits, but also to import tariffs. Soybeans are one of the few food items that have been charged with higher import tariffs in the name of self-sufficiency. An import tax policy in July, which similarly aimed to boost the domestic industry, saw a 30 percent increase in import duties for food and beverage products, such as processed meat, candy, and cookies, while alcoholic drinks are imposed with duties up to 150 percent.
The spirit of nationalism
It is apparent that self-sufficiency is the goal, and the supporting policies are protectionist in nature. Many would argue, however, that it all stems from a spirit of nationalism, increasingly identifiable as the hallmark of the new government.
Nationalism has always been in Indonesian politics. It is a notion that sells well and appeals to the masses. In last year's presidential race, both candidates championed the idea in their own way. For Jokowi, it was always going to be there whether he liked it or not, because of the strong nationalistic sentiments of the Indonesian Democratic Party of Struggle (PDIP). Jokowi's pro-people approach further reinforced the ideal. For years Indonesians have been accustomed to the doctrine of foreign capitalists acquiring Indonesian assets and attempting to dominate its vast market.
This ideological slant has been felt by the foreign community more than any other in Indonesia – a sentiment recently expressed by German-Indonesian Chamber of Commerce and Industry (Ekonid) managing director Jan Ronnfeld, at a discussion organised by the Indonesian Chamber of Commerce. "There is the perception in the foreign community of a growing sense of nationalism and protectionism in Indonesia, and this impacts investment decisions," said Ronnfeld.
A blow to businesses
Such protectionist policies have come as a huge blow to businesses that over the years have relied greatly on imported materials. In the food sector, some popular restaurants in the capital have been gravely affected.
Daniel Vigone of Mamma Rosy, an Italian restaurant in South Jakarta, says that not all restaurants can easily switch to using local products as urged by the government. "When you're making authentic regional food you need to import specific ingredients that are not available from local producers, or the local quality is not at the standard we aim for, then you will start to face problems," Vigone says.
He adds that the import restrictions have definitely affected customer satisfaction and sales. "When you have in the menu an item like 'Mozzarella di bufala' and you want to serve only that specific brand from Campania but for three weeks it has not been available from the supplier and you do not want to replace it with a lower class product, then we need to spend time to explain to customers that it's not our purchasing [team] forgetting to place the order, but it is the supplier that is not allowed to import that item," he explains.
Wisnu Wardana, from Union Group, another player in the elite restaurant industry, says that he understands and supports the government's intention of boosting the local industry, but thinks the focus should be on improving the quality of domestic food before issuing any restrictions on imports. The local alternative, he argues, is not yet ready to substitute the distinct quality that foreign produce offers, which could prove costly for businesses.
Wardana adds, however, that the worst impact of the import restriction is that it not only leads to a spike in the price of a particular commodity, but it also seems to somehow affect the prices of others, too.
"I honestly don't know how it works, but that's how it is in the Indonesian market. This will hurt consumers because once the prices go up, it will be hard for them to come down. That's just the way it is," says Wardana, whose company owns a chain of top food businesses like Loewy, Union, and Cafe Milano.
Finding a compromise
The government's import restriction policies have at times been a PR disaster for the country. Experts have warned of the inevitable negative effects of seeking self-sufficiency in the food sector. Dr J. Jackson Ewing, of the RSIS Centre for Non-Traditional Security Studies, Nanyang Technological University, has said that Indonesia's heavy reliance on domestic production will cause supply and price fluctuations.
He added that import controls are also vulnerable to corrupt practices, as Indonesia has painfully learned after a prominent politician was arrested in 2013 for allegedly accepting bribes for beef quotas, as well as the current public outcries over an alleged garlic 'cartel' responsible for rapid price increases.
"Engaging with international communities would be beneficial for Indonesia, but with their nationalistic stance, the best compromise will be to find the right balance," Dr. Ewing says in an opinion-editorial published in the Food Industry Asia website.
"There is a balance to be found, and creating more robust domestic food systems need not come alongside Indonesia's sweeping abandonment of international markets. Finding the balance will require […] greater trust in the stability of import access and prices. This will only occur if leaders have reason to view international markets with less rancour, and have the political will and capital to help destigmatize food imports in the eyes of the population," he said.