Marjan van Ravenzwaaij. The Dutch founder of The Organic Farm Bali – a natural sanctuary of wellness in the heart of Balinese culture.
The unspoiled paradise of Bali can be found at The Organic Farm Bali. Located at the foot of Mount Batukaru in a small Balinese village unspoiled by time and tourism, Marjan and her husband, Wayan Sukerta, have created a magical oasis of organic farming and cuisine where guests can immerse themselves in a way of life sustained by the spirit of nature and traditional living.
I feel like I am in Bali thirty years ago! When did you come to Bali?
I sold my business in Amsterdam eight years ago and came to Bali. I learned to surf and built a beachfront villa in Pantai Senseh. I thought I had built my dream. Then I met Wayan and we fell in love!
Tell me about Wayan.
He is amazing! He is from Pantai Senseh and also a surfer. He has many talents. He studied hospitality and management in Jakarta and has travelled the world. So now he is combining his knowledge of the West and tourism with his family roots of farming the land.
What brought you to this area of Bali?
Love brought me here. Wayan's uncle had this land and when I finally came up here, I realized this is why I am in Bali; to live this simple pure life in nature, surrounded by beauty and love. Nothing here is taken for granted. You discover what is important in life; that we are all part of this living world and love is the force which makes all of us and all living things grow. I feel this power every day I am here.
How did your organic farm and homestay evolve?
This is a farming community. The farmers here taught us that growing food is about trusting nature and respecting all life forms. That means no chemicals and planting in good earth. As you see we have vegetable gardens but we also grow fruit trees and herbs throughout the land; pineapples and guavas and coconuts to name a few. The plants tell us what is best. Here in these vegetable patches are gooseberries, ginger, arugula, asparagus, onions, aloe vera, strawberries, mints and herbs such as piduk; a detoxing and cleansing herb. We have chefs from restaurants growing with us upon request so we experiment with new varieties and have learned to prepare unique and delicious foods. We take special requests from guests. Our guests can bring seeds from their home country and we will grow them for you or you can rent your own vegetable bed per month as the chefs do. This also helps to support the local farmers in our village and gives them the opportunity to have a stable monthly income. It also teaches them about new products and new marketing opportunities.
What is the biggest challenge here for farming organic?
The biggest challenge is water. We are 800 meters above sea level which makes for cooler growing conditions, but also means there is a lot of water loss as it flows down. A friend from Holland came and donated a system so every house in the village has one water tap. The rest is carried from the natural springs. We offer nature's best in western standards of accommodation. Besides growing organic produce we offer farm and wellness stays in our traditional pondoks. We want to support our local community so we may all benefit from eco tourism.
What is a typical day for a guest here at your homestay?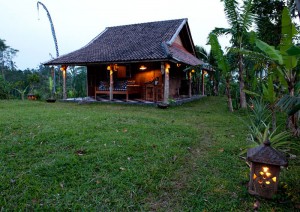 This is our private mountain bale, only accessible on foot. It is a seven minute walk through farmland and bamboo forest, across the pure water stream and up the mountain! You are surrounded by true, uncultivated nature! This is a traditional bamboo building with western amenities such as electricity, a comfy bed, duvet and a western toilet. You can bathe as the locals do; all together at sunset in the crystal clear river or go to the natural hot springs or the cascading waterfalls. You can sleep under the stars by a bonfire and enjoy the views of natural foliage and rolling hills and valleys. Breakfast may be served to you in bed watching the sunrise over Mount Agung. The other pondok has a view of the bamboo forest and the stream. Your morning coffee is locally grown beans. You can pick fruits and veggies and we will prepare them for you as you wish. With our experienced local guides and villagers you will enjoy the real traditional Bali as it all once was.
What are some of the alternative therapies and healings offered?
We offer an array of traditional therapies. These days it is common knowledge that most physical diseases appear in the physical body but its origins manifest in many other areas of our being. Local traditional healers are available here to help you understand how you may improve your overall health and target ailments you may be suffering from, physically, emotionally and spiritually. Guests are offered natural facials and massages, foot reflexology, yoga and meditation and energy healing. Special diets are catered to as are special needs. It is therapeutic just being here where the silence of the modern world and the sounds of nature will nurture your spirit.
You and Wayan are founders of the organization named Organic Village. The village mayor is the president of this foundation. What problems is Organic village addressing?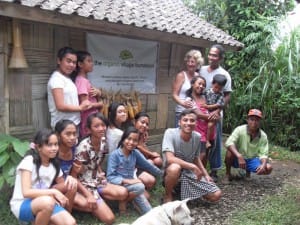 There are so many challenges here. Wayan and I spoke to our neighbour and friend Dodi and discovered that marketing is the main problem for farmers in this village. They were totally dependent on middlemen for their produce and income. Worse though, farmers were forced to sell their land to pay off their debts. If this continues, their children will be forced to leave their families in search of work. There is a lack of proper education and opportunities. We are trying to address these issues as best we can. It is so important to maintain the tradition and culture of this beautiful village while offering better opportunities to the youth. We have to pay more respect to farmers and to what we eat. We should pay more for our local organics instead of buying what's cheapest. Hotels and restaurants should support our local farmers instead of getting everything imported.
You have another project going on also – 'I'm just a girl!' program.
I am sure you are aware of the problems girls face in this culture. I am fortunate to have grown up in Holland without sex discrimination and maximum opportunities for education. I teach the girls English. We now have girls' soccer and play on the field that was previously used exclusively by the boys. I want to empower them. We support their creative efforts to earn money by cooking and making things to sell. They are learning to be self-sustaining. Right now they are setting up the speakers they bought so they can dance. The dances you are about to see are choreographed to modern music and have a Balinese influence.
I am so impressed by the work you are doing here and the way you have chosen to live. Thank you Marjan and Wayan for introducing me to this timeless place of well being.