Every weekend thousands of people from Jakarta travel to Bandung to visit the many factory outlets and dine out at hotels, resorts and open air restaurants. Hoping to escape the traffic jams of Jakarta, many are disappointed to find that Bandung suffers a similar fate at the weekend, with thousands of B plated cars clogging the roads. In this brief article I would like to share a few ideas on out of town eating places where the traffic is not quite as severe as down town Bandung.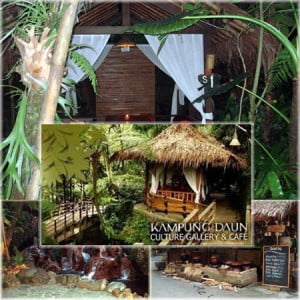 Kampung Daun – One the best known attractions in the surrounding hills around Bandung is this unique and remarkable place which offers a wide choice of food; perhaps best known for its Indonesian cuisine, it also offers western favourites such as steak, pizza and pasta. This traditional and cultural centre comprises dozens of suang (traditional huts) catering for small groups or larger gatherings. The whole complex sits amongst an array of native ferns and other exotic tropical plants, located in a small canon where the water races over red rocks – this native garden setting is a treat for your eyes. After dining, it is almost irresistible to lie down on the comfy cushions and listen to the cascading water or steady rain – look around; you will be one of many soaking up the tranquillity and dosing off – ahhh, just bliss! For directions it is best to look the location up on the net, or hire a local car and driver. Guaranteed not to disappoint.
Mandarin – If you are travelling through Lembang on way to the volcano or hot springs at Ciater, there is a Chinese restaurant located just up from the small fruit market on the left hand side of the road. Situated on a sharp right hand turn in the middle of town, the Mandarin is an unassuming small rumah makan, run by the same married couple for nearly 30 years and in all that time it has offered some the best food in the Bandung region. Its signature dish is kangkung cha, served in a sizzling plate with tender slices of steak and quail eggs, this is a regional delicacy that all the locals come to enjoy. Other favourites here include the crab and asparagus soup, fantastic frog's legs, and all the seafood. The decor is plain, but the food; sensational.
Burgundy Restaurant – Not far from Lembang on the road to Marabaya, this is a complete contrast to the Mandarin. Located on ridge overlooking a beautiful green valley, it offers a wide range of cuisine in a delightful setting. One of the many food offerings here is the tempura – a tasty combination of prawns and local vegetables in a light batter, or you can choose from a variety of western dishes, washed down with a glass of fine wine, of which there is quite a good selection. The Burgundy Restaurant is a cool place, and l mean this in both terms – it is a great place to hang out and enjoy the view, but it can get cold, so bring a light jacket, particularly if dining in the evening.
Coming down the mountain from Burgundy, there is a new road that takes you through a housing estate (still to be developed), which is an excellent short cut to the Dago area. So, rather than heading back to Lembang, turn right from Burgundy and then left off the main road and drive up to where there is a boom gate. Go through the gate by simply waving to the guard and follow the windy road down to a crossroad, turn right and follow the road till it intersects with another, keeping left until you find Cloud 9.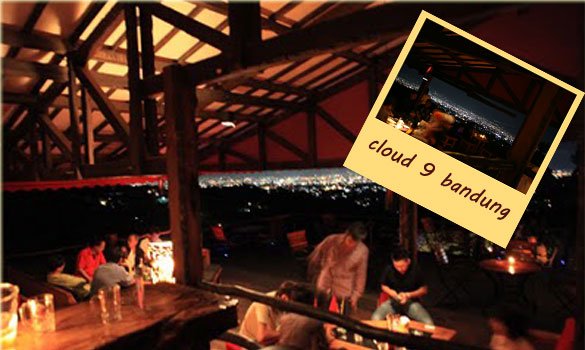 Cloud 9 – This bar/restaurant has the best pizza in town and fantastic views over the city. Certainly worth a day visit or stay late into the night and soak up the atmosphere. Situated on a steep ridge, the building has a tiny entry, but once you walk downstairs it opens up into a fantastic open area with timbered decks and a relaxed ambiance. Perched high over the valley that falls away beneath you, Cloud 9 has a most unremarkable appearance from the front, but move inside and you won't be disappointed.
Congo Restaurant & Wood Gallery – This is a favourite day and night spot for visitors who want to enjoy the mountain air and indulge in a good variety of food. Like many other restaurants in the Dago area, its surrounds are tastefully done, including the old wood mill and gallery, which has on display some magnificent pieces of furniture highlighting beautiful wood grains and  colours. As with the Burgundy restaurant mentioned above, evening dinner guests at Congo can enjoy live entertainment, in a warm and friendly atmosphere.
Mountain View Golf Club – As mentioned earlier Dago has many wonderful restaurants and coffee houses, but not many offer better food than the Mountain View Golf Club. Visitors are very welcome and food has greatly improved since the introduction of a new Italian chef. Whether you drop in for lunch or a simple drink, the view from the open balcony is breathtaking.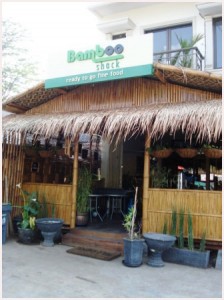 Cafe OZ – Whilst not located out of town like most of the other restaurants mentioned above, Cafe OZ is certainly worth a visit if you want a good restaurant with an Australian flavour. As you would expect it has wonderful meat pies and other western food, but also offers good value Indonesian favourites. A really good place to take the family, Cafe OZ offers something a little bit different and is off the main drag at Jl. Bungur No. 23.
Bamboo Shack – Located near the Dago mini-bus terminal, it is worth a visit if new to Bandung. Apart from a great selection of food in the min-market , plus eat in or takeaway (suggest you try the Jerry Burger), upstairs is an internet cafe and tourism information centre which can assist in providing valuable details and directions to many of the fine restaurants and attractions around Bandung.