Bon voyage, Kristan Julius! The elementary school teacher from America with a passion for education and 24 years worth of fond memories in Jakarta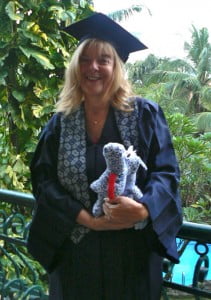 Let's start with the basics, where are you from?
I'm originally from the United States, but I have been living and teaching internationally in former Yugoslavia, Israel, England and Indonesia for most of my adult life.
How long have you been a resident of Jakarta?
24 wonderful years!
In your opinion, how has Indonesia changed since you first arrived? Would you say the changes have been more on the positive, or negative side?
I have witnessed a lot of Indonesia's recent history firsthand- the 90s in particular were a time of significant transitions here politically, and of course the rise of the super malls has continued. When I first arrived, there weren't so many motorcycles, but becaks, bajajs and kaki limas filled those spaces between cars to also create macet. The availability of imported goods has increased, and so have prices.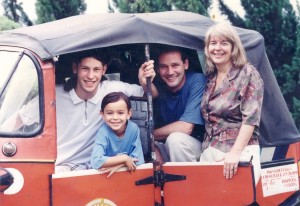 The continued loss of Indonesia's most valuable resources, her rainforests and coral reefs, saddens me greatly. But overall, I think the quality of life is improving for more and more Indonesians, and I am hopeful that better teacher training and more opportunities for higher education will be a primary goal for this home of my heart.
If you could choose three things that you love most about Jakarta, what would it be?
First would be the people- there are no more generous-hearted people in the world. I have learned so much about how to live a full life from you all.  Second, Jakarta's lively chaotic lifestyle-it's a night city and a party town. Both the expatriate community and our gracious hosts know how to have fun! And last but not least, Jakarta International School- and particularly Pattimura…it has been the most wonderful place to work with talented colleagues and the best young people imaginable. They give me great hope for the future.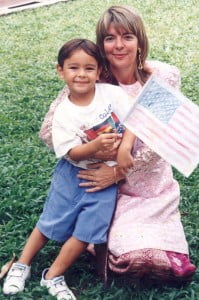 Why did you decide to become a teacher, was it something you've always wanted to pursue?
When I was 11 and 12, I ran a "summer camp" for neighbourhood kids and my parents were convinced I would become a teacher. I come from a long line of educators – my grandfather was the head of the secondary education department at Teacher's College, Columbia University, my father a renowned head of school in numerous districts in southern Connecticut and New York, while currently my brother is the Head of the Friends School of Atlanta, Georgia, and both my sister and my brother-in-law have taught at the University of Virginia. However, I decided to pursue Literature in university. Only after a few years of relatively uninspiring jobs did I return to school to get certified to teach.
And what grade do you teach?
I have taught first, second, third, fourth, and fifth grades, as well as writing and history courses for Middle School and High School students. Fourth grade has been my most recent level and my favourite.  Fourth graders have such integrity and they are enthusiastic about everything!
What's the most important quality to have in a teacher?
I think really SEEING your students as special individuals, and getting to know them well is essential in order to be their best teacher. You can have advanced training in your field and well-prepared lessons, but without a personal connection, a passionate interest in each child and a focus on making learning meaningful and fun every day, students won't achieve to their highest potential. You need patience and a sense of humour, and to be open to change. A good teacher encourages his or her students to follow their own passions, and offers them many opportunities to learn from both successes and failures in a safe environment.
So tell us, what's the best thing about teaching? Apart from the holidays, of course!
The holidays are definitely needed to recharge during and after an energetic school year, but the best part about teaching for me has always been being a part of the lives and learning experiences of our amazing children. It is FUN to go to school each day and spend time with inquiring young people. I learn something every day too. And I love it that so many of my former students stay in touch with me; it's so much easier now with Facebook. I love learning about their adult lives, their chosen fields of study and professions and seeing photos of their own children. Just today, a former 4J Pattimura student who is now 26 is stopping by!
You recently had a farewell party at Eastern Promise and judging from the turnout, you're very well liked! How long have you been teaching at JIS, and why did you decide to leave?
I had my own "Graduation" party at EP with around 200 members of my Jakarta community last month. It was wonderful to see so many friends together in one place! After 24 years at JIS, my husband, Uwe, and I will be living in Duesseldorf, Germany, where he has accepted a consultancy. I plan to write full-time and hope to develop an educational consultancy of my own that will bring us back to this part the world often, if not to stay.
It must be quite difficult leaving after 24 years, what will you miss most about teaching at JIS?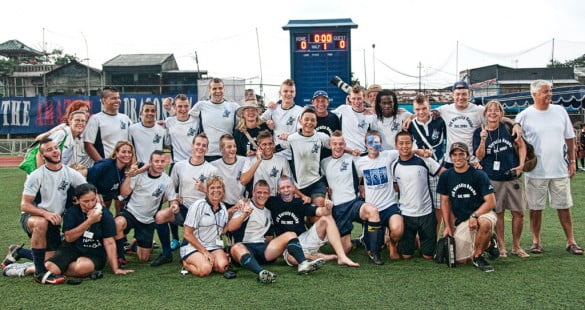 Everything- the students, my amazing colleagues, the IASAS soccer and rugby, the beloved Pattimura tree – I will miss it all!