Ever wonder what it's like to experience an all-inclusive resort vacation in one of the world's top-rated ski destinations? Writer May Tien places another tick on her bucket list and visits Japan's northernmost island of Hokkaido, and recounts her incredible stay at not one, but two of the best ski resorts the country has on offer.
Club Med used to have a reputation for offering an exclusive, luxurious, playground-for-the-rich resort vacation. When I reminisce back to the 80's, any mention of a Club Med vacation conjured visions of gently-swaying palm trees littered across impeccable white sand beaches with the turquoise Caribbean waters slowly sloshing beyond the horizon. Nubile, gym-toned bodies played beach volleyball during the days and danced winding conga lines after gourmet seafood buffet dinners in the evenings.
Fast forward a few decades later and although much has changed with this upscale resort brand the same exclusive qualities have remained and can still be seen and felt, but a stay at Club Med ensures that the all-inclusive holiday is a true delight for each member of the family lucky enough to experience it at one of their 70-plus properties around the world.
To be fair, I had some doubts whether I would enjoy an all-inclusive holiday. We are a family accustomed to doing researching where the best meals are found and making many, many long lists of things to do before striking out on a journey somewhere new. In fact, this past April we spent a month careening through Western Europe with a three-year-old and my elderly mother in tow staying in apartments rented through Airbnb and eating at open-air markets. I am, for lack of a better word, the decision-maker in my household when it comes to vacations and I like my position of power.
Surprisingly, I let go of the clutch and relinquished some control relatively quickly once I realized what kind of holiday Club Med offered for me and my family. Once we decided on a week skiing in scenic Hokkaido, the rest of our holiday was like a slice of well-crafted vanilla cake with extra fluffy, white icing to enjoy.
The All-Inclusive Vacation Package
Booking is easy since the website http://www.clubmed.co.id/ contains every Club Med property from around the world. In Hokkaido, there are two resorts located at the base of each of their respective mountains, Mount Sahoro and Mount Tomamu. A few quick and easy clicks of the button and you're on your way to the easiest holiday you've ever booked.
The all-inclusive package at both resorts contain accommodations, gourmet meals, an open bar (my husband raised his eyebrows in anticipation for this one), kids' clubs and entertainment for children ages 4-17, basic ski and snowboard rental equipment and lessons at all levels, non-ski related daytime and nighttime activities and live entertainment.
There are a few options you can include on top of your all-inclusive vacation package like transportation to and from the two local airports, but some Indonesian travel agents can assist in pre-booking airfare and ground transportation.
Transportation
There a few options to get to Hokkaido from Jakarta, but one of the best ways to travel is via Japan Airlines. Their main hubs operate out of Tokyo's two main airports, Haneda and Narita, as well as Osaka in the south. The route from Jakarta to Hokkaido stops in Tokyo, and there is a short layover from there to New Chitose Airport. The relatively new jetliners are comfortable and service is impeccable onboard. One feels the journey starts as soon as you step onto the plane as omotenashi, the Japanese tradition of hospitality and respect, is shown through their gracious onboard entertainment, food and drink options, and via their lovely flight attendants. Children are provided a choice of activities and small toys to enjoy onboard, with a great selection of kids' entertainment programmes.
Accommodations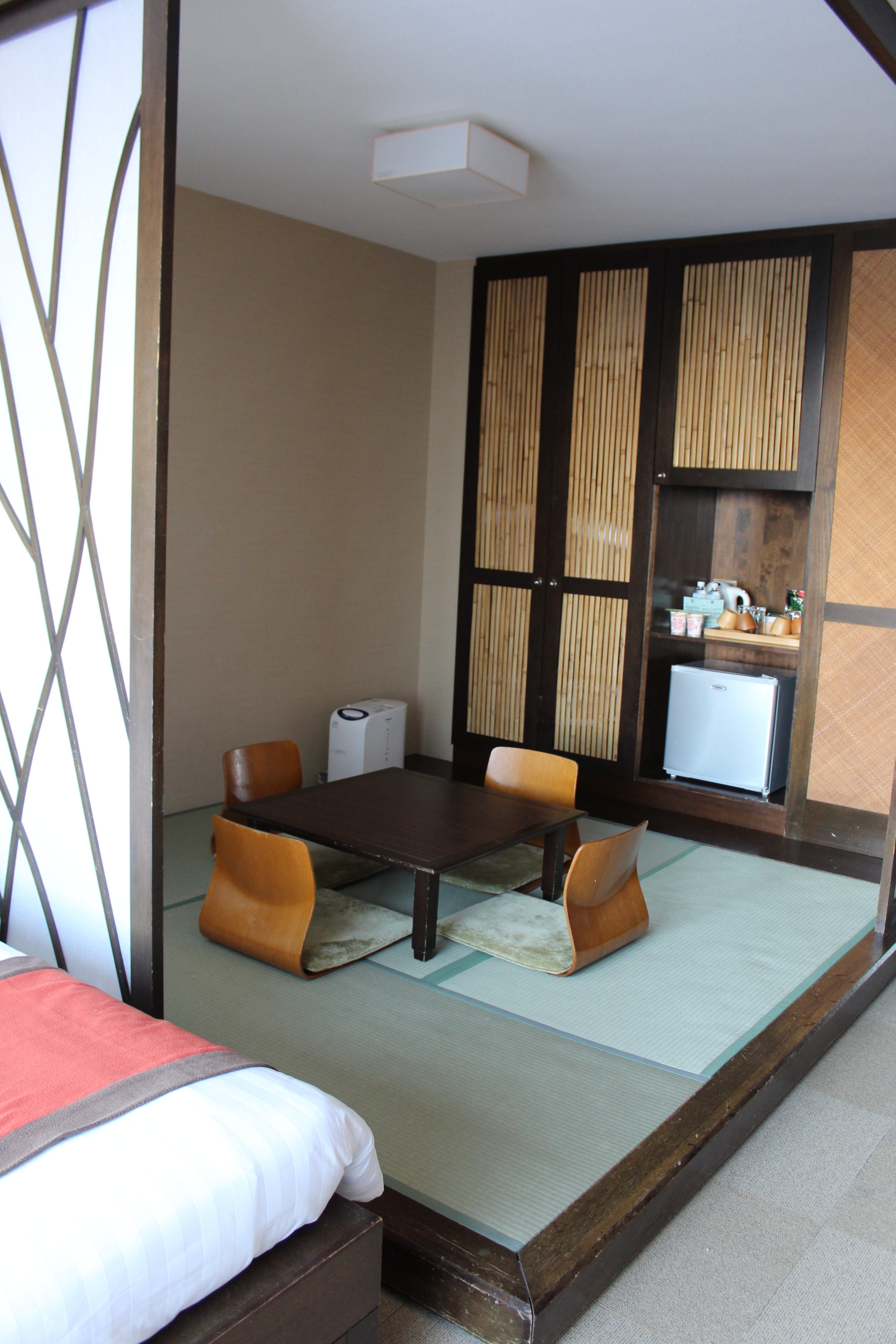 Club Med Sahoro is the more established property with comfortable tatami rooms. Tatami is the traditional Japanese-style woven straw mats that are used in a very ritualized and systematic manner; people sit on them to dine, lounge and sleep. There are traditional sliding paper walls that also help separate space in the deluxe rooms.
As one can imagine, many of the rooms are designed for families or groups so our deluxe room could sleep up to four people. There are larger suites for larger families as well as smaller rooms for couples. The usual amenities are available with a mini refrigerator filled with drinks, snacks, coffee and tea supplies, and even light meals like Cup o' Noodles (all of which are complementary as they are part of your complete vacation package). The room had a generous feel to it with a large vanity, separate commode* and a shockingly full basket of toiletries in case you left an essential behind. All items were replenished daily by the housekeeping staff.
At Club Med Tomamu, the elements of design were akin to the four seasons in Japan. It is a thoroughly modern interpretation by the French architect and designer Jean Philippe Nuel. It's a glamorous property with amazing mountain and resort views. The rooms are comfortable and inviting, and our deluxe room had a moving curtain that helped separate sleeping quarters between the adults and child. We could see the gondola slowly climbing and descending from our window and skiers departing in the morning on their daily jaunt to the lifts. We checked in on their very first day of operations so we got to experience the facilities as new.
* About the commodes. There is nothing more delightful than a computerized, Japanese commode. The ones in Sahoro and Tomamu are top-of-the-line. I'll just leave it at that for you to experience it on your own.
Children's Activities
I was very worried about what to do with my four-year old daughter when we decided to go skiing. She is right on the cusp of being able to grasp difficult extracurricular activities and her coordination is still not perfect. We also worried about leaving her with strangers.
However, as I read more about the kids' clubs and their experience dealing with young children, I became much more relaxed. Here in Indonesia, we often worry about finding the best childcare or nanny on holiday…we oftentimes even bring our own staff from home to give our children a familiar face to have when we run off to do our own activities.
There's no need for that at all at a Club Med. They hire trained professionals with varying degrees of experience with children to play, attend to needs, and facilitate activities with kids.
Parents have peace of mind when they leave their children with the staff at kids' clubs.
My daughter attempted her first ski lesson with a group of four qualified instructors and two attendants from the children's club. She enjoyed sliding down the very gentle slope with an instructor by her side and is now declaring her newfound ability to "ski down a mountain" to anyone who will listen.
The kids' clubs are distinguished through age groups. Petit Club Med is geared towards toddlers ages 2-3, the Mini Club Med is for children ages 4-10, and the Passworld Club Med is for teenagers ages 11-17. Numerous activities are made available to each age group like puppet shows, arts and crafts, dancing, performances and much more. These activities change daily so that the children are not bored during the week. And, of course, nap time is allocated for the very little ones who still need it.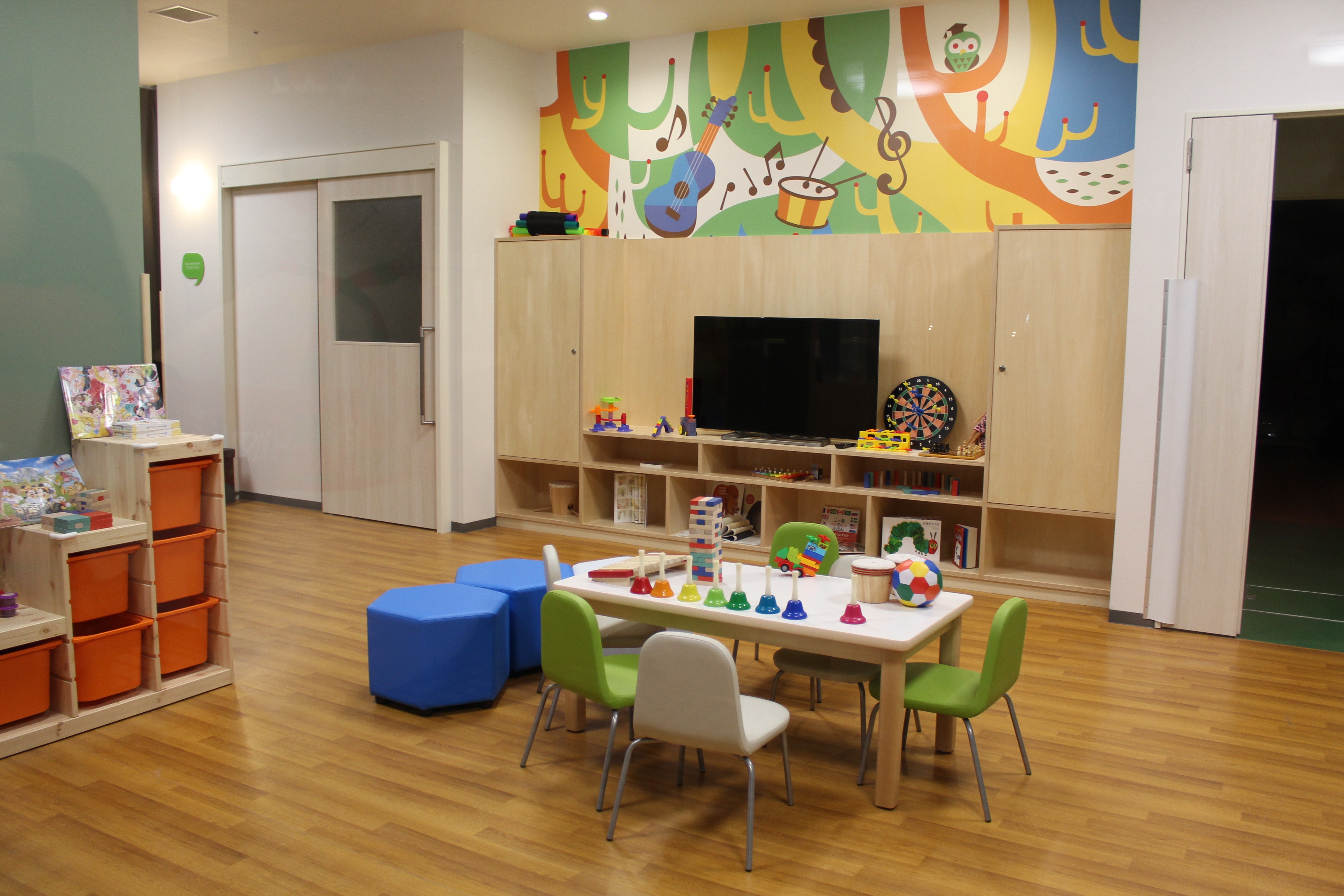 At Club Med Tomamu and Sahoro there are rooms filled with toys, boys, puzzles, ping pong tables and games galore. Snacks, mealtimes and breaks are coordinated into the schedule so that your little one won't get fussy. We dropped off our daughter from 9:30am and picked her up at 5:00pm. She easily made friends with other children who were in her age group and also knew most of the Mini Club staff by name by the end of the first day.
The best thing? All kids' clubs are complementary as part of the all-inclusive package except for the Petit Club Med, for which additional charges do apply. Many of their staff members have had experience working with children in some capacity, and they speak an incredible array of languages. On our visit, we had kids' club helpers who spoke English, German, French, Japanese, Mandarin, Cantonese, Indonesian, Taiwanese and Korean.
Adult Activities
As much as I wanted to ski most days, I was also very excited about the prospect of aprés ski activities such as sitting in the Canadian bath and the Japanese onsen at the resorts. For those who don't know, a Canadian bath is a Jacuzzi set outside in the snow. One must endure a few seconds of icy-cold temperatures to get in and out of the tub, but once in…it feels like pure heaven.
The slopes at Sahoro and Tomamu are very kind to the beginner skier. My husband took advantage of the lessons to brush up on basic skills, but as I have enjoyed skiing since childhood I went straight to the intermediate runs. The ski and snowboarding school is run like a well-oiled machine and some of the instructors have been teaching for at least a few years. One Frenchman had been around for 20 years as an instructor and his experience in teaching was exceptional by all accounts of the students who were in his group.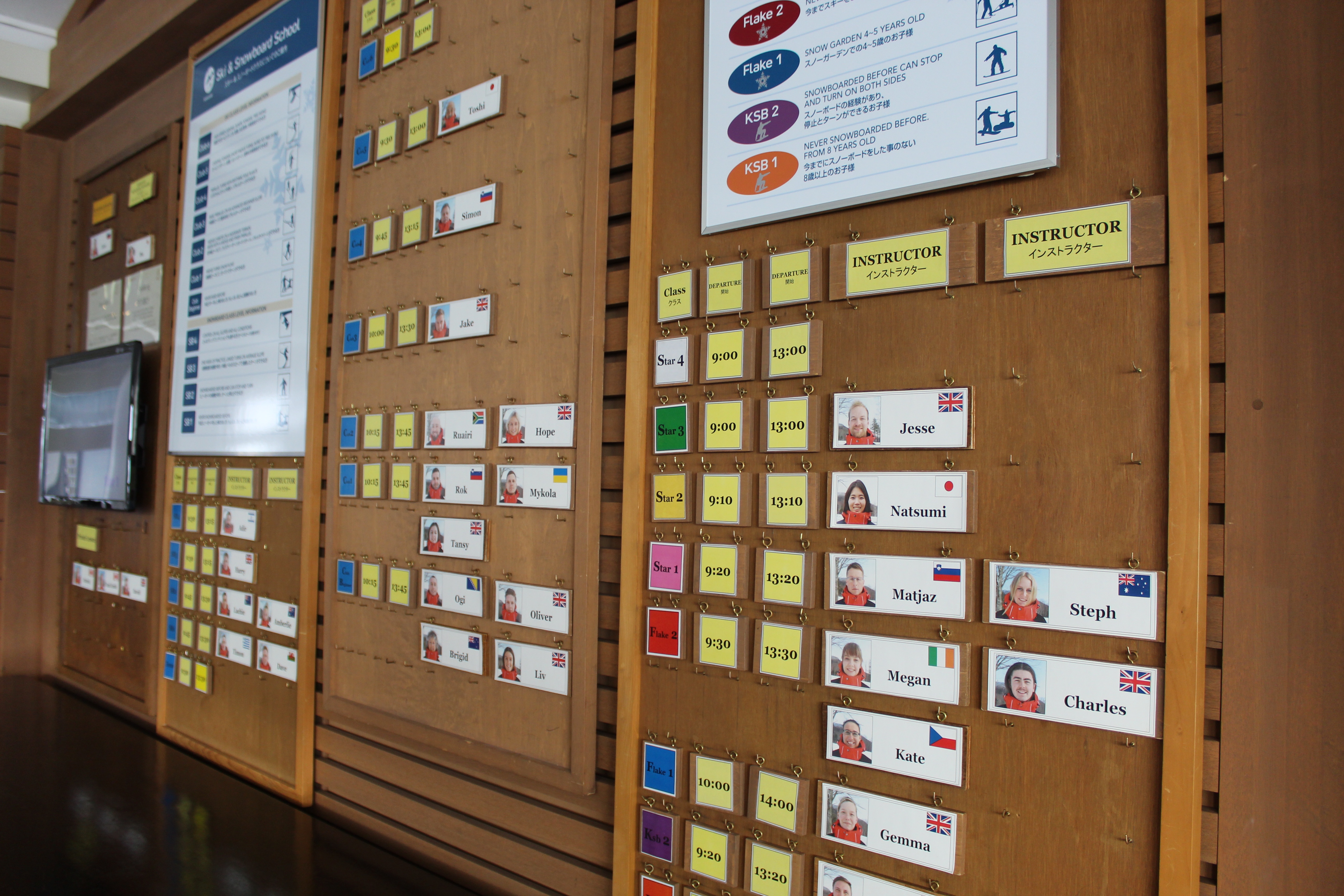 The snow in Hokkaido is spectacular. It's dryer weather there so snow is fluffier and lighter, much less packed and icy than other parts of the world. If there's fresh snow on the ground, you are ensured a great day on the slopes. One of the longest runs I've encountered is situated at Mount Tomamu. The lifts have covers to keep skiers warmer on the ascent as well, and there is a gondola that takes sightseers up to the top of the peak.
Snowboarders abound, but if neither of these two activities are in your top two there is always swimming, yoga, fireside reading, spa services, snow trekking and hiking to do in the winter.
Food and Restaurants
Mealtimes are incredible. Every meal is as if one spent time at a posh, luxury hotel, Sunday brunch with drinks packages. And unlike most all-you-can-eat buffet meals, the ones at Club Med Hokkaido were truly amazing using locally sourced, premium ingredients like Hokkaido rice, wagyu beef, fresh seafood and Japanese beer and sake. Most of the time, I opted for local delicacies like sashimi and amazing Japanese stews and grilled local fish.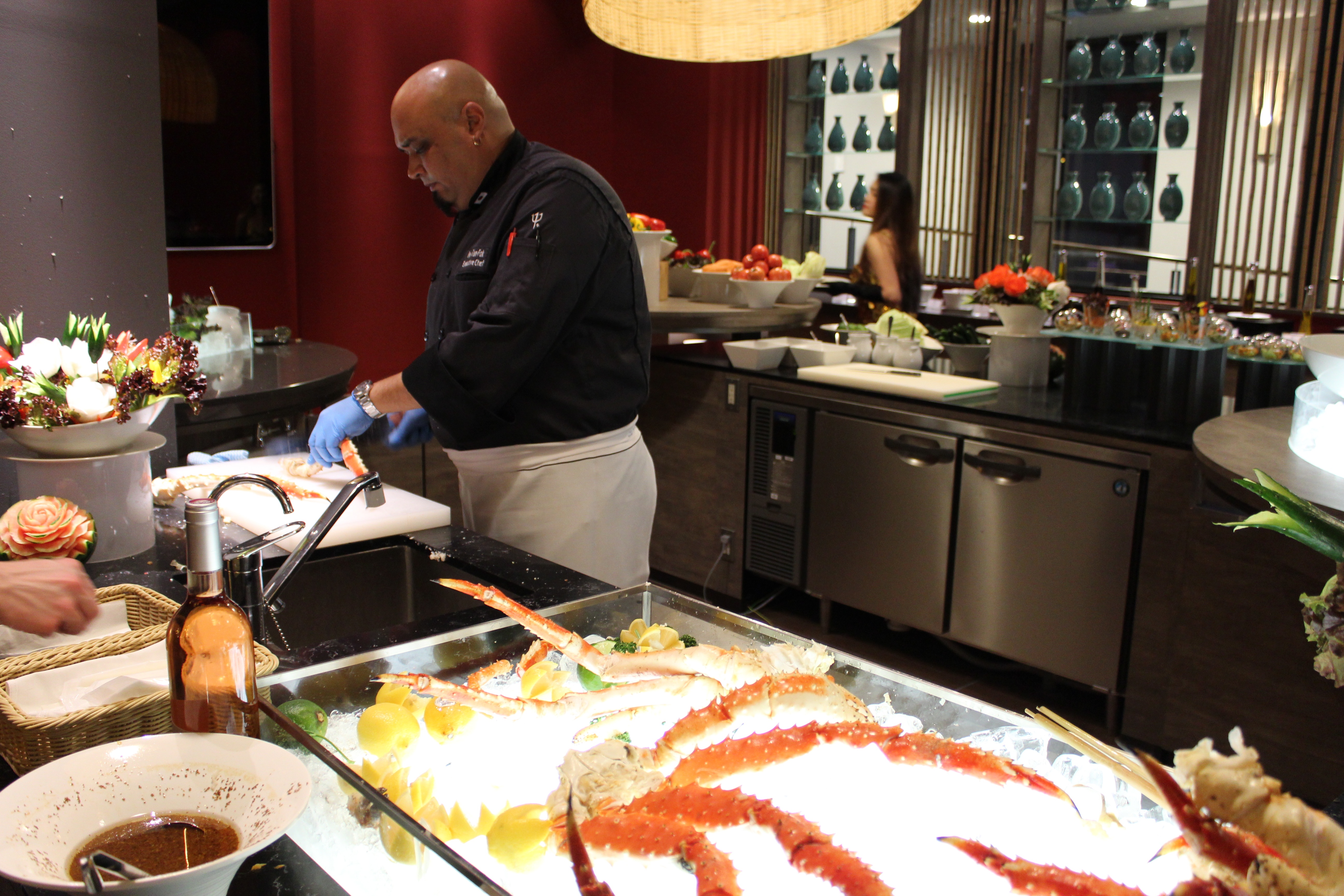 However, I had a plated, curried lamb chop with roasted sweet potato mash that was so good, I went for a second helping. There was Chinese, Korean, Western, French, fusion and a great variety of healthy options for those on special diets. Solid bagels with cream cheese and fresh lox, Japanese breakfast fixings of steamed rice with pickles and miso soup, a dessert section that had everything from flan to opera cake. And if one ever went hungry outside of scheduled mealtimes, there are always nibbles and hot food available at the bars.
The premium restaurants are an extra charge and well-worth an investigation, but as we were very happy with the buffet we never actually got around to dining there. At the bars, we enjoyed cocktails and wine. The children received fresh juices and lots of attention. Top-shelf alcohol is extra, but many of the well liquor did just fine with internationally recognized brands.
Entertainment
When in Japan, do as the Japanese do and karaoke? Almost. There was one night when I almost jumped on stage, but I preferred to maintain my status as an audience member intact. Not enough sake in the world, perhaps. However, on another evening the circus performance gave me a genuine shock considering the one doing the high-wire act and swinging from the drafters was none other than the general manager of the resort!
In fact, most of the evening entertainment performers are your ski instructors or your friendly bartenders and receptionist; it's one of the key dividing points between other luxury resorts and Club Med, which leads me to the last point….
Staff and Guest Relations
I love the staff at Club Med. It's a truly exceptional client experience they've created with a secret language on top of that. As a guest, you're called a "gracious member" or GM. Your ski instructor or kids' club staffer is a "gracious organizer" or GO. The general manager is the "chef de village" or village chief. It's incredible how many of these Club Med employees stay on to work from season to season, and at different Club Meds around the world. They lead your activities and conduct all the administrative duties necessary to ensure your stay goes smoothly. Most of them memorize your name by the second day and know what your preferences are in terms of skiing, where to sit for meals, and what to drink at the bar.
At Club Med, the GOs sit and dine with you. They stop you in the halls to chat or have a drink with you at the bar. So, if you had trouble understanding why you couldn't stop on your skis or why you can't turn, the opportunity to ask your ski instructor is always present.
We met the loveliest people from all over the world. There was a speech therapist from Ireland, a professional ski instructor who loves living in Japan from Scotland, a Taiwanese childcare provider who doubles as interpreter between Chinese/Japanese/English speaking children. We even met the nicest African-Japanese porter who was raised in Tokyo and decided to make a career in hospitality in Hokkaido. Club Med takes care of their employees and it shows in their exuberance in their work.
I feel like we were let in on a great secret after traveling to these Club Med resorts in Hokkaido. If you're looking for an exceptional and hassle-free winter getaway, this is it.