Meet Kenneth Rogers. The Aussie globetrotter who discovered his passion for hospitality while backpacking through Greece.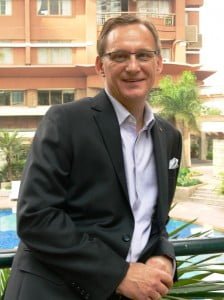 Kenneth, where do you come from?
The land Down Under, Australia!
How long have you been living in Jakarta, and what is it you do here?
I have been living in Jakarta for about 4 years since I assumed the position of Country General Manager for The Ascott Limited in Indonesia.
What made you decide to pursue a career in the hospitality industry?
I discovered my passion for hospitality while on a backpacking trip to Greece in the '80s.  A brief work stint in a Grecian hotel convinced me, the then fresh engineering graduate, to go back to my hometown in Australia to take up a course in hotel management. I subsequently became a management trainee at an international hotel chain and worked in a number of independent and chain luxury hotels in Australia and Asia.
And what attracted you to the industry?
I find the hospitality industry exciting because you get to meet and interact with people from all walks of life.
Ascott Jakarta was recently named 'Leading Serviced Apartment and Suite' at the Indonesia Travel and Tourism Awards. What makes Ascott successful and different from the competition?
At Ascott, our serviced residences combine prime location, space, comfort and privacy with excellent amenities and personalised services. But what truly differentiates us is our strong customer-centric approach which has reinforced our brand reputation over the years.
Ascott pioneered the international-class serviced residence concept in Asia Pacific in 1984. We were also the first to open a serviced residence in Indonesia, Ascott Jakarta, in 1995. Over the years, we remain focused on creating memorable experiences for our residents through our unique LIFE approach to service excellence – providing a Local touch; respecting our guest's Individuality; offering the Feeling of home; and Exceeding expectations.
Beyond providing an accommodation, our staff go the extra mile to make residents feel right at home. For instance, our staff teach Bahasa Indonesia to help residents understand and appreciate the local culture. We also take residents on tours of the local markets to introduce them to the Indonesian lifestyle. Our guests appreciate this warm hospitality and many of them have chosen Ascott as their preferred home away from home year after year.
We are thankful for their continuous support and are constantly looking into the upgrading of our properties and services to create the best staying experience for our guests. For example, we have just embarked on a multi-million dollar refurbishment of Ascott Jakarta and expect to unveil the fully-refurbished property by late 2013.
Are there any major difference between managing hotels and serviced residences?
Both hotels and serviced residences offer guests accommodation options. A major difference between the two is that serviced residences cater predominantly to longer-stay guests whose stays can range from months to years, while hotels generally accommodate shorter daily stays.
With longer stays, it becomes even more imperative that we provide an environment where guests can feel comfortable and at home in for their entire length of stay. Therefore, at Ascott, we offer spacious and fully-furbished apartments which range from studios, four-bedroom to penthouse units for our residents.
And because serviced residences cater mainly to guests on extended stay, there is lower guest turnover. Hence, staff at our properties know our residents by name and are familiar with their needs. Furthermore, we organise residents' programmes which help guests who are new to the country or city assimilate quickly into their new environment and make new friends with fellow residents.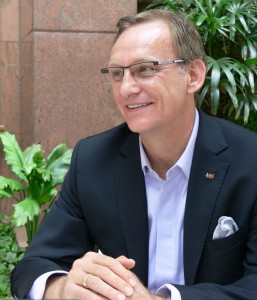 So where have you lived before Jakarta? Apparently you've moved around quite a bit.
I am sort of a globetrotter who has lived in many countries! Besides my home country of Australia, I have lived and worked in Greece, Singapore, China, Taiwan, Hong Kong, Korea and now Indonesia.
Any plans to move on from Jakarta, or have you settled here?
My family and I really enjoy living and working here. I have no plans to relocate at the moment.
When you're not busy working, how do you like to spend your free time? Are there any places or activities you would recommend for those who are new to the city?
I like golf, although I am not very good at it yet! I like to visit the golf courses in South Jakarta for some practice when possible. I also enjoy spending quality time with my family and visiting the different parts of Jakarta. There is actually a lot to see and do in Jakarta. For example, Taman Mini, Ancol and Thousand islands are great for families.
There are also great dining and shopping experiences to be enjoyed in Central Jakarta such as at Grand Indonesia, Sarinah Department Store and Plaza Indonesia. Not forgetting the Kemang area in South Jakarta which is surrounded by nice restaurants and cafes.
And how are you planning on spending your summer, here in Jakarta or abroad?
I'm staying put in Jakarta in preparation for the opening of our first Citadines Apart'hotel in Indonesia, Citadines Rasuna Jakarta, later this year!
Final question…If you weren't working in the hospitality industry, what do you think you'd be doing?
I'd probably be a psychologist so I can get greater insights into the human mind!