Where are you originally from?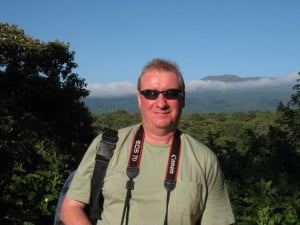 From Sunderland in the North East of England. Most people only know it because of the magnificent football team.
How long have you been in Indonesia?
For a total of more than 16 years in 2 seperate periods since mid-1994 until now.

What do you do for a living?
I'm a Chartered Surveyor and work in the real estate business. I'm currently working for PT Lippo Karawaci Tbk as a Director in the Shopping Malls Division.
Tell us a bit about Lippo Group.
It's very much a multi faceted group with many and various interests including being Indonesia's largest listed property developer. The development division is itself quite diverse with rapidly expanding interests in residential / townships, hospitals, schools and hotels as well as shopping malls.
The Kemang Village is a mammoth construction which will have a cinema, supermarket and school . What measures have you put in place to ensure that this apartment doesn't add to the traffic which already exists in Kemang?
Kemang Village is an integrated development which will comprise 7 towers of condominiums, an international school, a 5 star hotel, 2 different club facilities and a wedding chapel in addition to the 55,000sqm mall. In addition however, we  provide 2 things which is a very rare commodity in Kemang, additional infrastructure, predominantly in the form of new roads and perhaps more significantly parking, and lots of it. The mall alone has over 2,000 car parking spaces which we hope can only help to take some of the traffic off the streets.
The Kemang Village apartments always seem to be 95% sold on advertising banners – is this a marketing/sales trick?
Not at all, in fact that sales figure was achieved in only one day when the last residential tower was launched several months ago. Good marketing is of course important to ensure such a high success rate of sales but the only real "trick" for any successful development is to understand the market and offer a good quality product at the right price.
What other constructions are Lippo handling?
There are simply too many to mention in such a small space but the shopping malls division alone currently has plans to roll out at least 18 new shopping centres all around Indonesia within the next 3-5 years with new projects being added to that list on a regular basis.
What do you foresee will happen in the residential property market, namely apartments, in Jakarta in the future?
Like any real estate market, in the shorter term there will be ups and downs, but I believe over the longer term the trend will be steadily upwards. By way of example, current sales prices (rate per sqm) for the condominiums at Kemang Village are now in some cases more than twice what they were when the first towers were launched only 4 years ago. Yet in global and even regional terms, prices in Jakarta are still relatively low on a comparative basis. Furthermore independent research shows that rental returns achievable on apartments in Jakarta at say 8-10% per annum are significantly higher than returns available on similar properties elsewhere. In more mature markets you may be lucky to achieve 2-3% per annum. Whilst with any real estate investment, one must be selective. I'd say buying an apartment in Jakarta now is likely to be a good long term investment.
How safe are new apartment constructions in Jakarta against earthquakes?
Impossible to answer as it depends entirely upon individual design and specification. However, contrary to what many people may believe, design and construction related codes in Indonesia are generally very stringent, particularly for high-rise buildings, and most developers will design and build to a very high standard.
Would you prefer to live in a house in the suburbs or an apartment in the city of Jakarta?
Both have merits but having lived in apartments here in Jakarta for many years I finally moved out to a house in the suburbs a little over a year ago so I guess that speaks for itself.
Do you plan to return home in the future and if so what will you miss most about living in Indonesia?
Whilst I couldn't rule it out in the longer term, I currently have no plans to return home to UK except for holiday. I'd miss the macet, the banjir, my friends, the golf, the food and the people although not necessarily in that order.
Thanks Ian! To get in touch, email him at [email protected]