Meet Dan Roberts. The clown with a heart of gold, devoted to helping Indonesia's underprivileged youth.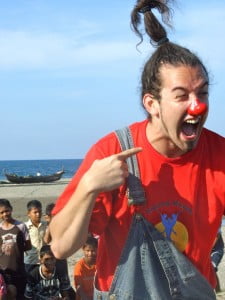 So Dan, can you give us a little background information about yourself?
I spent six years growing up in Jakarta with my family.  When I graduated high school from JIS (Jakarta International School) in 2002, I returned to America for university.  I studied acting at Roosevelt University's Chicago College of Performing Arts.
I've been told you're a professional clown! How did you get into clowning and what drew you to this particular form of physical performance?
I first began learning about "Clown" or physical comedy in University at acting school.  I was always drawn to comedy and making people laugh, but was never very "witty".  I wasn't great at making jokes with words.  When I was introduced and trained in a form of comedy that, in fact, makes jokes with actions, I knew that this was the right genre for me.  It was also during this time period that I was first introduced to "Social Circus".  Social Circus describes an organization that uses circus as a method to reach underprivileged or at-risk youth. In Chicago we worked with mostly African immigrant children in the "poor sides" of town.  Over my four years of helping build the organization, I watched the children grow into young men and women and really take their futures into their own hands.  I was so inspired by the development and growth in these children.
What's the best thing about being a clown?
I get to spend the majority of my time having fun.  One of the essential elements of physical comedy is actually experiencing actions and emotions on stage (or in a ring) in front of the audience.  As physical comedians, we develop worlds and circumstances that are innately fun and funny.  This is a great world to live in day in and day out.  It's a nice release from some of the craziness that is, our actual reality.
You are the founder and executive director of the Red Nose Foundation (Yayasan Hidung Merah) here in Indonesia. How did it come about, and why Indonesia?
Growing up in Indonesia, I've always felt a strong connection to this country and its people and customs.  I wanted to give something back to Indonesia, after receiving so much from the country, its people and its resources.  When I thought about what giving back meant, I came to the conclusion that helping to educate the nation's poorest children, could indeed be the best way to spread wealth through the country.  Using my experience from different social and youth circuses, I ventured to Indonesia to develop a program that would work in this country, with these children.  And, Red Nose Foundation is what developed.
What are the goals of the foundation, and how does it hope to impact the lives of the children involved?
Red Nose Foundation strives to help children build a better future for themself.  Using arts education and informal education to develop the children's personalities and minds, we hope to give the children a chance to break their cycle of poverty and reach their full potential.
What has been the most memorable moment since starting the foundation?
To pin point the most memorable moment in this very long journey of developing Red Nose is a bit difficult.  There have been many great moments, when I see evidence of real growth in the children or when a child brings home an improved report card.  In fact, I'm thrilled when the children pass their current grade and move up to the next level at school.
In what ways can people help, or get involved in the Red Nose Foundation?
There are lots of ways for people to help out.  We are always looking for volunteers to come and teach English with us.  We also have opportunities to volunteer during the week helping the children with their school homework.  Of course, donations are always welcome and very helpful in sustaining the continued development and success of our programs.  On May 11th, at Rolling Stone Cafe in Kemang (Jalan Ampera), we're having our yearly fundraiser.  The show will feature acoustic music from some of Indonesia's most famous and fantastic musicians.  Genres including Folk, Blues, Jazz, Reggae and Rock 'N' Roll will all be played.  Musical acts include: Oppie Andaresta, Whiskey Jack, Endah N Reza, Ray D'Sky, The Fingers feat. Dira Sugandi, and Gugun Blues Shelter.  Reserve a table (up to 5 people) for Rp. 1,500,000- or a sofa (up to 8 people) for Rp. 3,000,000-.
Follow our twitter @HidungMerah or email us [email protected] for more info!