Meet Toni Ruttimann, the bridge-builder. He is, literally, bringing two worlds together; one community at a time. Toni has built over 600 bridges worldwide. He does it for the people.
What brought you to Indonesia?
The hope of being useful to villagers in need of a bridge, and the offer of donated steel pipe in Cilegon by the Argentinean pipe company Tenaris.
And where are you from?
I was born and raised in Switzerland, in a small village called Pontresina in the Swiss Alps.
How did your name Toni 'El Suizo' come about?
It was how the peasants in the jungle of Ecuador called me from the very beginning. In Spanish, 'El Suizo' means 'The Swiss'.
You travel to numerous places; is it true that you only bring your essentials in two small bags for all your travelling needs?
Yes, long ago I have reduced my personal belongings and office equipment to what I can carry with me. I believe it is a good habit. It takes some practice, but is essential since I am a migrant worker; permanently moving from bridge to bridge, and on buses, cars or ojek.
You build bridges in places that have been destroyed by natural disasters. Tell us a little bit about your experience doing this in different countries. What countries have you built bridges for? How many bridges have you built in total?
We have built 77 bridges in Cambodia, 36 in Indonesia, about 200 bridges in Ecuador and many more countries. Some are in progress, too. Please see the table for a complete analysis.
What kind of bridges do you build?
On one hand, steel suspension bridges for persons, motorcycles and three-wheel vehicles. On the other hand, bridges of love between humans of so many different places and positions.
What are they made of?
They are made of sacrifice and love by all those involved. Structurally, nowadays they all consist of donated steel pipe by the company Tenaris, of used steel cables recovered from the tourist cable cars in the Swiss mountains, of steel plates donated by individuals or sometimes government or companies, depending on the country.
This kind of passion to help people in need must have come from an experience. What prompted you to start building bridges for destitute places?
Some people need an entire earthquake to wake them up. I am one of these. It was the earthquake of 1987 in Ecuador, which I saw on the TV news, two weeks before graduating from high school. The night of the graduation I went to Ecuador, determined to help people, in whatever way possible. Once there, I saw what it meant for entire villages to be cut off after their bridges had been blown away by the earthquake and the following mud avalanches. So, I found a way to build a simple bridge with the poor peasants themselves, and then another and then another.
Do you work for free?
Yes. I work for free. And more importantly, I work for people.
Where did you learn about bridge-building?
In the earthquake area, jungle and oilfields of Ecuador.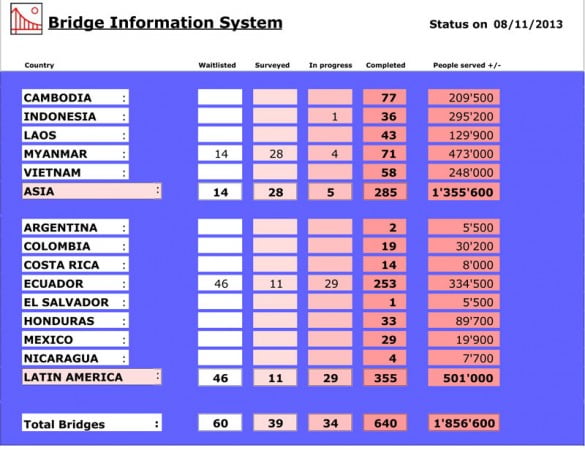 Can you please tell our readers how the system works, from the demand – how you determine which area/country needs a bridge – to getting the materials and the people needed to build the bridge; what is the process like?
As for countries, I just follow my inner voice and go. Once inside a country and having obtained permission from the (usually top level) government, I find a local right-hand man who is dedicated enough to serve the people, with the appropriate character and willing to follow me with my system. In parallel, I assemble and train a team of three to four pipe welders, and find a loaned workshop, where they do the welding and prefabrication of the bridge kits. In Indonesia this is now inside one of the Holcim cement plants.
Then I go with my local right-hand man to search and find the places that need a bridge. It's a lot of patient detective work, a lot of walking, hoping, asking and listening. Where we find a suitable location in need of bridge, we explain to the peasants that they can and will build the bridge themselves, with their contribution of sand, stone, labour and transportation.
Once you've built a number of bridges in a country, peasants come from other valleys and neighbouring districts telling about their need, and hoping you'd go with them. Or you read about locations in newspapers' sad stories, or from government contacts and other sources.
On the logistics side it is on average 10 tons of steel per bridge. So you need to find, depending on each country, several hundreds or even thousands of tons of steel pipe, steel plates, wire rope, and then transport, import, prefabricate and distribute to far-flung locations throughout each country.
In Indonesia, for tax-free import procedures I have found the great help of Pak Imam Prasodjo, an honest and respected personality of Indonesia's society, who connected me to the Minister of Public Works and other Ministers. Through another good friend, Pak Fazwar Bujang and by now retired CEO of Krakatau Steel Company, we received the unusual help of the Indonesian Army Special Forces and Indonesian Navy for the transportation of the six bridges all the way to Sulawesi and to very difficult-to-reach places.
In the case of Indonesia and Ecuador, the peasants are very lucky and get the cement mostly donated by the local Holcim cement company. But in Myanmar and the other countries the peasants buy it themselves, often so poor that four to five families together give one bag of cement, for a bridge that can take anywhere between 200 and 400 bags of cement, depending on the span.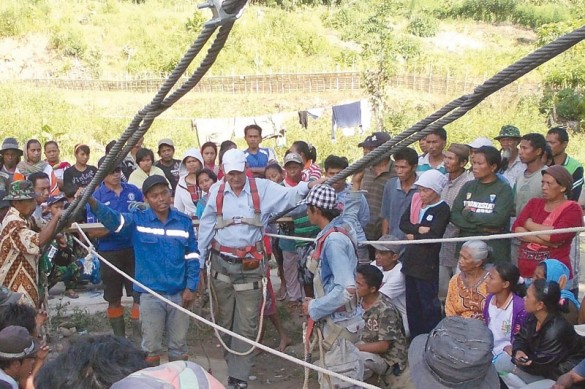 Have you encountered problems in building bridges in Indonesia or other countries?
Lots of problems – all the time – technical, logistical, social, personal, health-wise and a long list of 'etc.' Some problems (but also advantages) arise from the fact that I am just nothing – no NGO, no company, no member of any group or such. But the task is to encounter equal amount of solutions, and within reasonable time. Thanks to caring friends encountered along the way this becomes possible at all.
Where was the most devastated place you've visited and helped?
In Colombia 1994, after an earthquake and following landslides on the Nevado del Huila, and in 1998 in Honduras after Hurricane Mitch.
What's the general amount of time taken to complete a bridge?
Three visits for any location; two hours for survey and talking with the villagers. Then, once they are ready with their excavations and aggregates, we go for two days of cementation with about 80 peasants. Finally, usually three weeks later, once the concrete has cured, we go for another one to two days for final assembly, again with the help of 80 peasants. So, basically it's a few days of work distributed over a month. Nowadays we build about 50 bridges per year.
What do you hope to achieve in later years? Will you keep building bridges?
If I am fortunate enough to reach 'later years', I hope I'll be willing enough to serve the people.
Right now we have materials already collected or underway for 30 more bridges in Myanmar, at least 15 more in Indonesia and about 50 more in Ecuador. That's about two years, and a long way to go.