Anita Scheeres fell into bookselling. Each time she would visit her family in Sydney, she would lug books back to Bali, accumulating by the early 1980s a mass of reading material. The books were initially hoarded simply because there was no bookstore on the island at the time, but in 1986 it occurred to this ardent bibliophile to rent a tiny space to sell books at the bottom of Ubud's Monkey Forest Road where she and her Balinese husband, Ketut, had bought a small piece of land.
Previously a woodcarving shop, the rudimentary bookstore – named Ganesha after the Hindu God of Writers – literally grew out of hundreds of cardboard boxes full of books taken out of storage from Ketut's home in Denpasar. These were the days when Monkey Forest Road was only negotiable by pedestrians, pushbikes and motorbikes. She remembers an old slightly mad farmer conversing with his cow while he walked her down the footpath in front of the shop.
Ubud was then a favourite destination of such Aquarius-age characters as Summer Blossom and long-haul world travel legend, Six Finger Eddy. Anita put her father-in-law in charge of the shop. A gentlemanly academic, he became popular with the many expats living in and around Ubud. Even though the store kept irregular hours, travellers seemed to sense when he was there and they would drop in to chat and peruse the shelves.
By 1991 they had outgrown the little shop and moved to a larger location on Ubud's main street. Ganesha kept on growing. Musical instruments, incense, cards, gift items and "bookish things" were added like bamboo bookmarks, journals and maps. After 10 years they opened an even larger store on the corner of the main street and Jl. Jembawan opposite the post office where they remain to this day. From the embryonic stock hand-carried from Australia, Anita and Ketut have built over the years a thriving book business offering new and quality second-hand books on subjects ranging from gardening through astrology, from rare and antiquarian books to Indonesiana and Baliana, plus everything in between.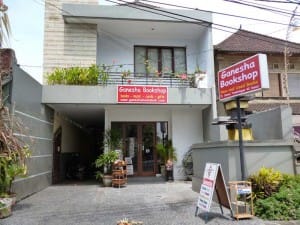 How many bookstores do you have now?
Besides our big bookshop on Ubud's main street, we opened another store inside Biku in Seminyak in 2009. The owner, Asri Kerthyasa, and I are good friends and we had often spoken about opening a special place such as this.  It has an amazing feel about it and such wonderful food! What a bonus to work in a bookshop and have a fabulous Afternoon Tea each time you come to work. Our Sanur shop, which we opened in 2012, was an indulgence too. I missed being at the beach so looked hard for a location that was close enough for an afternoon swim.
Does Ganesha specialize in certain book genres?
Yes, we specialize in "Indonesian Studies" – that is, books on the history, culture, religion, music, art, ecology, architecture, language and textiles of Indonesia. In our used books sections we concentrate on modern literature and the classics, including poetry. Our rare Book Section in each store contains only rare books on Bali and Indonesia and we search the world for these. We have around 60% new books, 35% used books and 5% rare and antique books in the stores.
Has the digital revolution affected what book buyers buy?
As the book industry changes some customers will use e-readers for guidebooks and even some light holiday reading material.  Some long-term residents purchase books for their e-readers but many books on Indonesia – both fiction and non-fiction – are not available as e-books, particularly for those titles published inside Indonesia. We have such a plethora of beautiful locally produced photography books, art books, keris books, etc., and these are not suitable for e-book readers.
How is Ganesha different from big chains such as Gramedia, Times and Periplus?
Ganesha is a very personal store with a certain relaxed feeling about it. People really enjoy the store's ambience – the music, the friendly staff, the seats and the air-conditioning. Our customers are very important to us and we do try to give one-on-one attention. I don't think this is possible in chain stores. Both Ketut and I work in our stores – I don't think you find the bosses of chain stores actually talking to customers. Because we take this hands-on approach, we are acutely aware of what our customers want and we can follow through and order books that fulfil their needs and desires.
Why aren't there more independent bookstores in Bali?
There are many reasons for the lack of independent bookstores but the most obvious one is that we cannot operate in the same way, as we would in say the USA or Australia. It is not a matter of picking up the phone and just ordering books as there are virtually no major publishing houses represented here in Indonesia. And here we do not have a sale/return system. All books here have to be bought outright and are not returnable to the distributor. This means you have to be quite sure about a book's saleability.
As an independent, what specific economic and marketing problems do you face?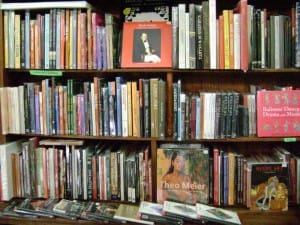 Where do I start! We work on an extremely small margin – between 20% and 30% – and then out of that come all our operating costs, i.e. rent, electricity, postal charges, telecommunications and staffing. There is not much left over. As with most businesses in the current economic climate, increasing business costs is the biggest obstacle affecting our profitability. Another dilemma at the moment is to keep abreast of how the book industry is changing. There is no guidebook for this! But I'm optimistic. I think independent booksellers can survive if they specialize and listen to what their customers want. There's a place for every type of book – whether it's an e-book or a physical book. Just so long as everyone keeps reading there will be a place for all of us!
What book are you reading now?
Kader Abdolah's The House of the Mosque. I saw him at the Ubud Writer's Festival last year and he was so charismatic and his life so fascinating that I was inspired to read his work.