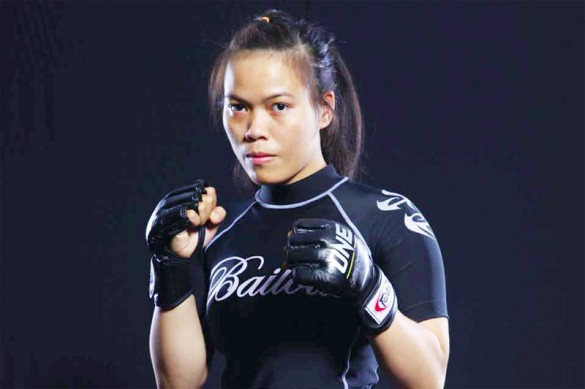 Desi Rahayu, a 164cm tall Indonesian athlete competed at the prestigious OneFC Era of Champions tournament on 14 June 2014 at the Mata Elang International Stadium, Jakarta. Being the first female Mixed Martial Arts (MMA) athlete from Indonesia to join a large international competition such as OneFC has Rahayu's spirits boosted with pride. She is a fierce and determined warrior, hungry for a good fight.
Desi has nourished her love of sporty endeavours since she was little. "I didn't really have a lot of girl friends, I was friends with boys," Desi said with a cheeky smile after her workout. She got into fights here and there when she was younger, but never anything too dangerous. "You know, kids fight over the smallest things," she said.
Desi joined a Judo association in 2005 and even competed at the 2008 National Games, representing Jakarta at the 48-kg class, for which she took home the silver medal. Not long after that, she took up other martial arts classes and joined Submission Grappling Indonesia in 2010 and the Tigershark Fighting Club in 2011. She's had multiple trainings with emphasis on different techniques of martial arts that have shaped her into the warrior that she is today. Desi's versatility allows her to deliver a combination move at her opponent so swiftly and full of precision – her strongest suit being her ground work, as Judo focuses on locking and throwing techniques – while also equipped with leg-locking manoeuvres from her Submission Grappling days. Now, she has earned the title of 'professional fighter' as she signed a two-year contract with OneFC, Asia's biggest MMA club based in Singapore.
MMA combines the movements of Judo, Jiu-jitsu and boxing and as Loren Mack, Director of Public Relations for OneFC said, "It is the closest thing to an actual fight on the street. Most fights end up on the ground, and MMA practices all techniques that pertain to an actual fight, from top to bottom." Mack also added, "OneFC is bringing such a gripping match to Indonesian soil. This is a full-on Las Vegas style fighting match, attended by famous figures and is an esteemed event."
Although Desi was confident with her game, she stated that upon viewing videos of her OneFC opponent, Muay Thai champ Ella Tang from Malaysia, she felt the need to step up her upper body game and practice more boxing moves as it is Tang's forte. Desi has never sparred with a female fighter before her OneFC debut. "My sparring partners have always been boys, including my boyfriend, Rehan," Desi said while chuckling.
The 23-year-old has expressed her interest to compete in Judo for the 2016 National Games. Between juggling trainings for the National Games and for the OneFC tournament, Desi still finds the time to continue her education at STIE Buddhi in Tangerang, where she majors in Management. She is determined to make both her MMA career and her studies succeed simultaneously.
Last year the Bogor native decided to wear a hijab. "It was a personal decision," Desi stated. Although she has said that her hijab is empowering, she prefers not to use it during tournaments, as shifts in its position may affect her visibility or concentration.
The confident fighter is ready to take on challenges, starting with her first appearance at OneFC: Era of Champions. "My target, first of all, is to attain no injuries, and of course to win. But, truth be told, I love it when boxing or MMA fighters get a bloody nose, it looks really cool," said the tomboy athlete.
When asked about the support of her family, Desi said that she even trains with her sister sometimes. "But my mum doesn't know about my MMA fights. She knows about Judo, but not OneFC or MMA. She wouldn't approve of it, and I'm afraid to tell her."
Desi Rahayu is a pioneer, the first of her kind to enter the MMA playing field in Indonesia. Her determination has her training every day of the week around her busy college schedules. The OneFC fight on June 14 was proof of her resilience and her dedication to the sport.