Let's be real.
When we travel to Bandung, most of us simply want to hide away in our five-star luxury hotels and sip on expensive cocktails during happy hour. We want to fill up on the international breakfast buffet, followed by a long, leisurely swim in the infinity pool. Sometimes, we just want to fall asleep during a Balinese massage at the spa. The children, if any, get to splash about in said pool or stomp about in plastic, climate-controlled playgrounds.
If we travel through town, it's usually with a car and driver directly to the outlet malls, of which there are plenty; retailers selling last season's wares, leftover sizes and decent knockoffs that could pass for the real deal if not for labels like 'Tommy Hiflicker' or 'Adidos'. We see a volcano or two. We tour a tea plantation or a local organic farm. Our dining experience is limited to whichever restaurant rates highest on Trip Advisor or caters heavily to foreign tourists as suggested by hotel reception.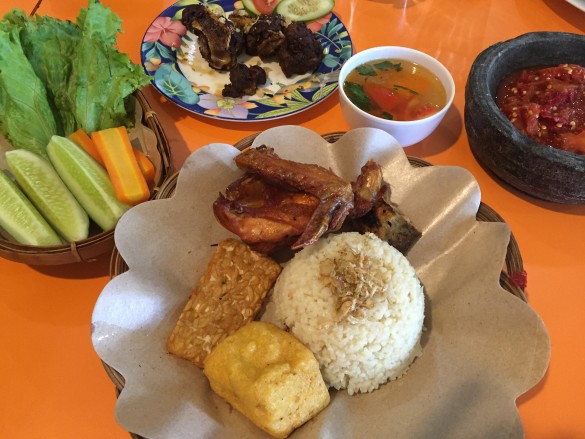 However, on a recent weekend trip to Bandung, I was pleasantly surprised by the local restaurant scene. Around every tree-lined corner, there seemed to be new coffee bars and eateries serving murtabak, burgers, Mexican food, ayam bakar or bakso tahu. Wide pedestrian walkways close to where we stayed also made it easy to explore.
Bandung is an expat foodie's dream: a place where you can find everything from expertly crafted Melbourne-style coffee to traditional Sundanese cuisine all in one neighbourhood.
Admittedly, if there's one thing we can't stand in our family, it's that morning cup of hotel coffee. Usually brewed en masse – in machines that have been used for years and could do with a good break down and cleaning – the beverage usually tastes of burnt toast ends and dregs. If desperate, we bring our own beans and travel with a hand grinder to make our own in the hotel room. In a country like Indonesia, one would think the hotels would serve better coffee considering the associated history; it is called 'Java' after all.
Through a random post on Twitter, we found Cultivar Coffeehouse, located conveniently behind our hotel in the Dago district of Bandung. This led to an amazing discovery of the perfect trifecta of local food retailers. As Cultivar is relatively new and off the radar, we had to trust this one effusive tweet, but the risk paid off.
Cultivar's coffee business is built on using beans that help support the local industry, and promotes fair trade between farmers and retailers. Its special house blend of Arabica from Bali, Sumatra and Sulawesi is outstanding. As the shop does its roasting in-house, the purveyors extract a gorgeous aroma, redolent of creamy milk chocolate with a hint of white pepper. There is an all-day food menu, but we came here especially for the coffee. The single origin coffees are a must-try with most beans having low to medium acidity from areas such as Flores and Aceh. What we would not give for an establishment like Cultivar within walking distance of our residence in Jakarta!
As I was waiting for my flat white one morning, a little shop overflowing with locals caught my eye. I couldn't resist the call of a place this popular, so I meandered over and peered through the front door. What I saw was chaos. Ladies with banana-leaf lined metal trays and tongs jostling each other for colourful local snacks and traditionally prepared meals. It was early in the day so much of the food had just been placed on display, but many items were already sold out. I made a mental note to come back the next day an hour earlier.
Sari Sari is a cake and pastry shop that specializes in Indonesian snacks, sweets and light meals. It is housed in a somewhat generic western house-like setting. The interior is similar to a bakery with rows of food accompanied by labels and prices. There are a few tables that run from the front to back, with patio seats outside. The bakery is air-conditioned and quite lovely if not for the daily morning rush of people trying to grab the tastiest morsels first. A corner is allocated for kerupuk of all different varieties and brands, mostly for visitors to bring back home as gifts.
However inconspicuous this place may be, the popularity is earned and real. Most locals go to Kartika Sari, another famous cake shop just a few minutes down one of the main roads, but Sari Sari is just as good (if not better) because of its limited production. The shop is open from 6am to 7pm daily, but some popular items run out almost an hour or two after opening.
The food I sampled was fresh, delicious and well-made, which is so different from what one usually sees at the traditional markets where sanitation and suspect cooking methods might be an issue. The prepared foods are from a number of regions so there is quite a display. The egg and vegetable murtabak and otak-otak are scrumptious as are the lumpia basah. We returned the next day to load up on snacks (which they arranged meticulously and beautifully in a box) before taking the train back to Jakarta. They made a perfectly light, mid-day meal in the cabin as we sped by scenic terraced rice paddies and tumbling waterfalls.
Karamba is an open-air restaurant located adjacent to Cultivar Coffeehouse. It has a spacious dining room and serves very good Sundanese cuisine. The nasi liwet komplit came with fragrant rice, ayam goreng, an accompanying sayur asem (sour vegetable soup), lalab (a side of fresh vegetables), salted fish, fried tofu and tempeh. Most prominently, there was a massive and intensely spicy mortar of sambal tomate. The amount of sambal rivalled my entire meal, but I was unable to stop. Each bite was highlighted by the sour, spicy and little bit of sweet from the fresh tomatoes and red chillies. My accompanying iga bakar was syrupy from the kecap manis and tender from the long roast time. These two items alone were large enough for two people to enjoy.
Cultivar Coffeehouse
Address: Jalan Sultan Tirtayasa 26, Bandung
Telephone: 022 2051 0521
Website: www.cultivarcoffeehouse.com
Sari Sari
Address: Jalan Sultan Tirtayasa 17, Bandung
Telephone: 022 420 6517
Karamba
Address: Jalan Sultan Tirtayasa 26, Bandung
Telephone: 022 423 3229
Website: www.karambabandung.com