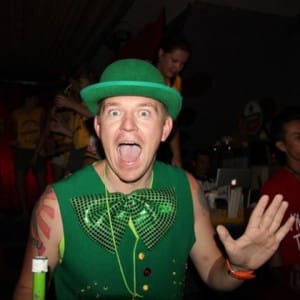 Rick Creamer was born on the Gold Coast in Queensland, but his family moved to Victoria when he was still a child. He grew up in the Geelong region. Rick has worked in the hospitality industry since the age of 15, starting as a dishwasher and working his way up to management positions in restaurants and hotels. Rick has owned a marketing company based in Australia and he's a fully qualified hospitality trainer. In 2005, Rick set up the first pub crawl in Indonesia since the Peanuts Pub Crawl in the late '80s and '90s.
When was your first visit to Bali and why did you visit at that time?
I received a trip to Bali as a gift on my 18th birthday. However, the 2002 Bali bombings happened. We were due to fly to Bali the following weekend, but the Australian government cancelled all flights so we went to Penang instead. We came back to Bali six months later because my mother wanted to show my sister and I the island.
Why did you decide to live and work in Bali?
I lived in Bali in 2005 for 18 months while managing a little pub in Legian called Ye Olde Foo-Kin Pub. It has since been torn down. I also started a small pub crawl at the time, called The Foo-Kin Pub Crawl, which took groups of eight to 12 people around to the local venues in the area. It was very successful. When I decided to leave, I always knew I would be back to give it another go. And that's exactly what happened after I returned in 2012.
What is Rick's Pub Crawl all about?
Rick's Pub Crawl is the best way to get your night started in Bali. With five of Bali's hottest venues on our party map you are guaranteed to have an awesome time! Participants are guided by our own crew along with private security from venue to venue to make sure you are safe and most importantly, having a great time and meeting new people. A lot of the venues, guests would not normally visit, so it is a great way to educate them about the different options available in Bali for a night out.
Why do you call it "The Official Pub Crawl"?
Rick's Pub Crawl is the only organized pub crawl in Indonesia. There are no other party tours like us. Some have tried to open but they have not survived for very long. We trademarked the name Rick's Pub Crawl and our slogan, "Can You Survive…?" so no one can try and trade on our success as happened once back in 2006. That competing pub crawl is no longer around.
Where and at what time does it start?
We meet at Eikon Bar on Jl. Legian Kuta every Tuesday, Wednesday and Thursday nights. Rick's Pub Crawl starts at 8pm, but because traffic can be bad around Kuta we don't really expect people to arrive until 8.15-8.30pm. It's important to be on time as it gives the group time to get to know each other and build friendships that will develop even more during the course of the evening. Every guest receives an official whistle, shot glass and special Rick's Pub Crawl t-shirt that he or she has to wear while on the pub crawl. This allows us to know who they are at all times.
How do you get from pub to pub?
Rick's Pub Crawl is a walking and party bus tour. Fully trained professional party hosts will guide you from club to club. You don't need to worry about a thing. We take care of it all for you. Staff are positioned along the paths to make sure you are guided from club to club in a fun and safe manner. We are here to help you enjoy yourself.
What are pub crawl participants allowed to do in Bali that they would not be able to do in, say, Australia?
As liquor licensing laws here in Bali are a lot more relaxed than in Australia, we are allowed to do a lot more than we could there. But we are playing by the rules at all times and using our knowledge of the rules and regulations to create a fun, safe and entertaining night out. Our guests' safety is our main concern on each and every pub crawl, so we quickly bring people back into line if things start to get carried away.
How long do participants stay at each venue?
Approximately 45-50 minutes; plenty of time to engage in the Rick's Pub Crawl drink specials and bust out on the dance floor.
Are the drinks free?
No. Guests must still pay for their drinks in the venues we visit. The shots that we do provide are included in the ticket price. We have a set amount of bottles that we provide each night and once they run out, that's it. We do not encourage guests to become too intoxicated, as that would be no fun for anyone. If we feel the guests are becoming too drunk, then we will slow down the service of shots, stop them completely or we will leave the venue. We work with our venue partners in order not to cause any damage or create a bad reputation. We want our guests to remember the night free of any issues or injuries.
Are drinks watered down or are they served full strength?
The shots that we provide are a mixture of 9 Vodka, which we buy from Bali Moon, flavoured syrup and filtered water mixed at a ratio of 1/5 vodka to 4/5 syrup and water. We tell all our guests what is in the shots when they arrive. We don't substitute the vodka for anything else. If our guests do not want to drink the shots we do not force them to.
What safety measures do you have in place to prevent mishaps?
As we cap the number of guests we take each night to 50, it allows us to have a great staff to guest ratio; 1:5 (including security). First of all, RPC visits only safe alcohol venues, a very big issue in Bali at the moment. All staff members are fully trained in first aid. As we know which route we take each night, we always go out beforehand in the afternoon to look for any hazards along the path. When crossing roads, we utilize staff and security to stop traffic to allow the guests to walk across safely.
What is the highlight of the evening?
For most, the main highlights are the party buses and the drag queen bar.
For more information on Rick's Pub Crawl, visit: www.rickspubcrawl.com, www.facebook.com/rickspubcrawl, or read the reviews on Trip Advisor.